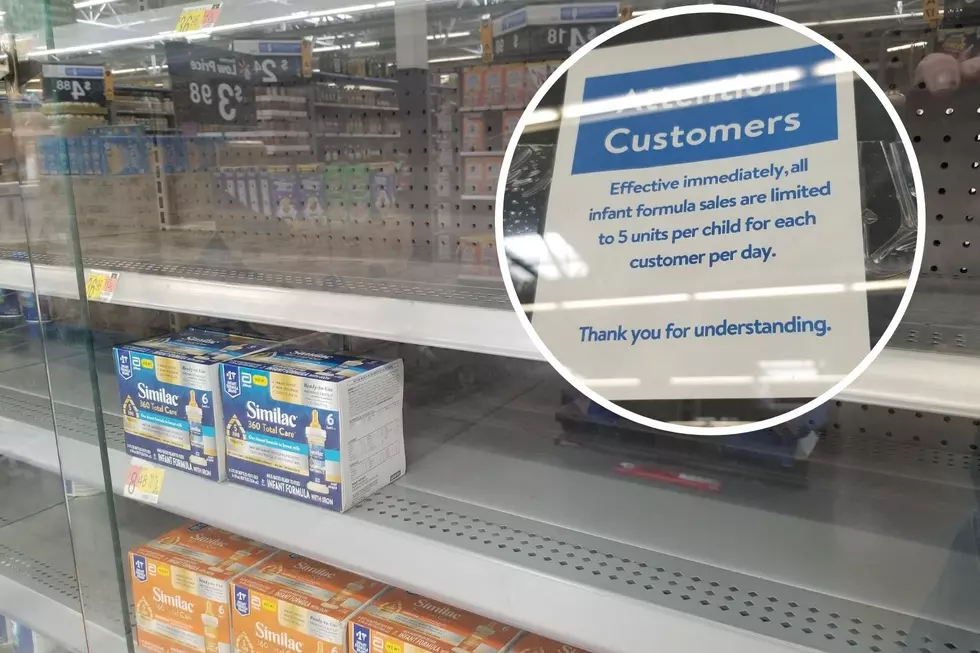 What's Behind the Seacoast's Baby Formula Shortage?
Empty shelves for baby formula at a Walmart (Dan Alexander, Townsquare Media)
Parents, politicians, and your supermarket are just as frustrated as you at the shortage of baby formula.
President Joe Biden and Sens. Jeanne Shaheen and Maggie Hassan all say they are trying to get more product onto store shelves. The White House reiterated that the FDA granted waivers to states in February, so parents using WIC benefits have more options.
New Hampshire has implemented the waiver, according to the NH HHS website.
The President also hit back at criticism saying he didn't respond sooner to the shortage.
"If we'd been better mind readers, I guess we could have, but we moved as quickly as the problem became apparent to us. And we have to move with caution as well as speed, because we got to make sure what we're getting is, in fact, first-rate product. That's why the FDA has to go through the process," Biden said.
The Federal Government has created a website, HHS.gov/formula, to help parents find formulas.
In the meantime, Seacoast retailers are doing what they can to make sure they keep baby formula in stock.
"The grocer at every point is trying to procure everything they can get their hands on. They want you to have that availability and choice," New Hampshire Grocers Association CEO Kevin Daigle told Seacoast Current.
Daigle said the reasons for the shortage are familiar ones.
"There's a shortage on the raw ingredients needed for formula. Then there's the trucking and transportation woes and labor issues within manufacturing plants. There's only a few manufacturing plants in the United States for baby formula. You'd think that would be something that would be a little more robust," Daigle said.
A Recall Killed Supply
The largest plant, the Abbot Nutrition plant in Sturgis, Michigan, halted production in February and issued a recall because four infants consumed formula contaminated with a bacterial infection. Two of the infants died.
"The formula that was on the shelves and in the backrooms and en route in that distribution cycle was recalled and sent back," Daigle said. "That plant as of (Friday) is still closed. They found some of the source of the contamination, but they haven't found it all."
Daigle said that lack of ingredients makes it difficult to ramp up production at other facilities. As a result, many retailers are scrambling to get what formula they can.
"They're trying to get their hands on it. When they do have it, a lot of them are limiting the quantities that someone can buy, so there isn't hoarding like we saw with toilet paper back in 2020," Daigle said.
Shaheen, Hassan Push for Imports
Shaheen on Friday told Seacoast Current that she remembers the challenges of being a mother relying on infant formula. She is working with the Biden Administration on importing more product.
"My heart goes out to families struggling to find baby formula. This is just the latest in how lingering supply chain issues are hurting our families, especially coupled with a product recall," said Shaheen. "I'm working with the administration to address this crisis, and I welcome its swift action to cut red tape, end price gouging around formula products, and increase the supply through imports.
The senator urged anyone in need to reach out to the New Hampshire Department of Health and Human Services for assistance.
Sen. Maggie Hassan, a member of the Health, Education, Labor, and Pensions (HELP) Committee, sent a letter Friday to Mardi Mountford, President of the Infant Nutrition Council of America, calling on infant formula manufacturers to make every effort possible to get parents and families the formula they need.
"Formula is a critical source of nutrition for newborns and infants, and this supply shortage has put their health and development at risk. We are calling on you and your member companies to take immediate action and ensure that infant formula manufacturers are making every effort to mitigate this dangerous shortage and get children the nourishment they need," wrote the senators.
Contact reporter Dan Alexander at Dan.Alexander@townsquaremedia.com or via Twitter @DanAlexanderNH
Trending Stories for Seacoast Current (May 2-8, 2022)
More From Seacoast Current