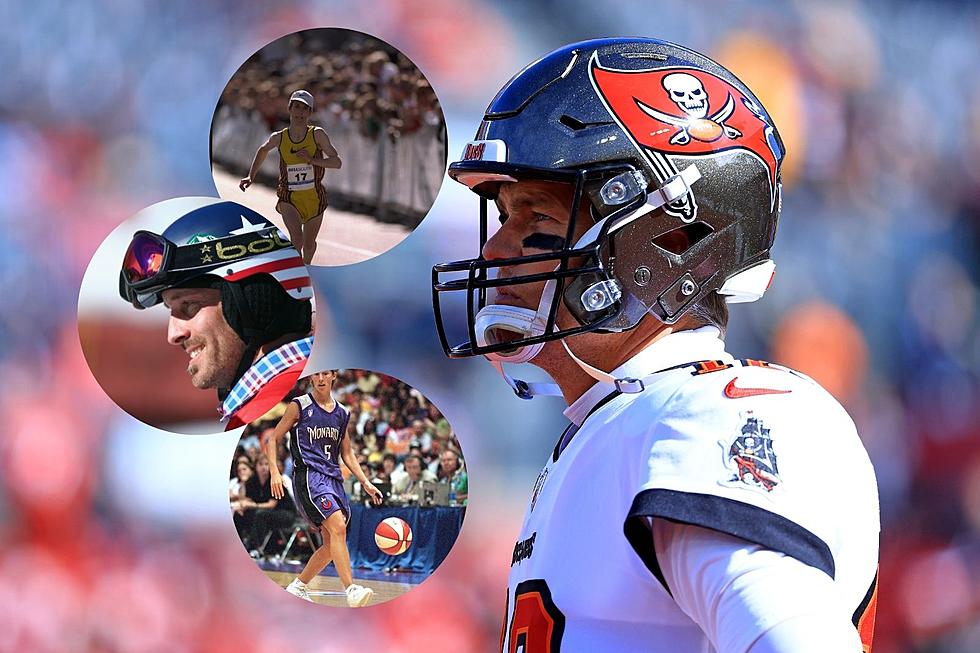 Who Are the Tom Bradys of Maine? Let's Dive Into the State's Best Ever Athletes
Getty Images: Canva
Editor's note: This article was written by a Townsquare Media Northern New England contributor and may contain the individual's views, opinions or personal experiences.
After 22 years of years of dominating the NFL, Tom Brady reportedly is retiring. No longer will we be able to watch the former Patriot tear up the NFL like he's playing a video game.
Brady will easily go down as the greatest quarterback of all time. Heck, he should go down as the greatest player of all time. If his career is indeed finished, Tom will finish with 7 championships, 5 Super Bowl MVPs, 3 League MVPS, 15 pro bowl selections, and about 178 held records. We are undoubtedly lucky to have witnessed his greatness.
With that being said, it got me thinking about the whole GOAT conversation, and who in our great state should be worthy of that conversation. Now, I'm not looking for Tom Brady-like greatness, but athletes who we are proud to call Mainers.
While Maine isn't exactly known for producing a wealth of top level athletes, it doesn't mean there aren't exceptions.
Here is a list of Maine's top GOAT athletes in honor our our guy, Tom.
Joan Benoit Samuelson - 1984 Gold Medal - Marathon 
It would be impossible not to have the most well-known American female distance runner ever on the list. Samuelson is most known for her amazing gold medal marathon performance at the 1984 Summer Olympics in Los Angeles. It was the inaugural event for the women that year, and Samuelson's time of 2:24:52 wouldn't be broken for decades. I could write a book of her accomplishments and positive impact to the Maine running community.
Seth Wescott - 2006, 2010 Gold Medal - Snowboard Cross
Originally born in North Carolina, Seth grew up in Farmington and started snowboarding at 10 years old. He would go on to be a three-time Olympian, bringing home the top prize twice. Wescott also was the 2005 World Champion, and won numerous World Cup and X Games medals.
Cindy Blodgett - Basketball God - University of Maine & WNBA 
The greatest scorer these eyes have ever seen, Cindy absolutely took the Maine basketball world by storm at Lawrence High School and UMaine. She won four state titles, and made four NCAA trips. Cindy was also just the second women ever to lead the NCAA in scoring all four years. Her accolades are simply incredible.
She would go on to be drafted into the WNBA and play a few years before going into coaching.
Billy Swift - 20-game Winner & Silver Medalist - MLB & Team USA
The Portland native had a tremendous career that started with four consecutive College World Series trips at the University of Maine. Swift would go on to pitch for Team USA in 1984, winning a silver medal. He would have a 13 year MLB career that included a second place finish in the Cy Young in 1993, when he won 21 games for the San Francisco Giants.
Eric Weinrich - 20-Year Pro Career & Olympian - NHL & Team USA 
The Virginia native grew up in Gardner before attending the University of Maine. Weinrich would earn second team All-American status in Orono before heading off to the NHL for an impressive 17 years. He would finish as a player/coach for the Portland Pirates, and would also represent Team USA at countless world championships and the 1988 Winter Olympics.
There's many other names that could be mentioned, including Mike Bordick, Dick MacPherson, Brian Dumoulin, John Winkin and some guys from 150 years ago. However, these five are a legitimate representation of what being a champion from Maine is all about.
Now, start the debate...
Some of the NFL's All-Time Most Feared Tough Guys – Part 1
I've been watching the NFL my whole life and while the game has changed drastically in my 42+ years, but one thing remains the same, you must be a "tough guy" to make it to the league. On that level of athleticism, all the players are strong and physical but some clearly are better than others. The following are some of the players who go beyond, passing the eye test and were flat out scary on a football field.
Some of the NFL's All-Time Most Feared Tough Guys – Part 2
In Part 1 of this series, I featured John Lynch, Bill Romanowski, James Harrison, Maxx Crosby and Troy Polamalu. For part 2 I felt the need to go back a bit further for some of these players, guys I was not old enough to see play but I grew up reading about.
More From Seacoast Current