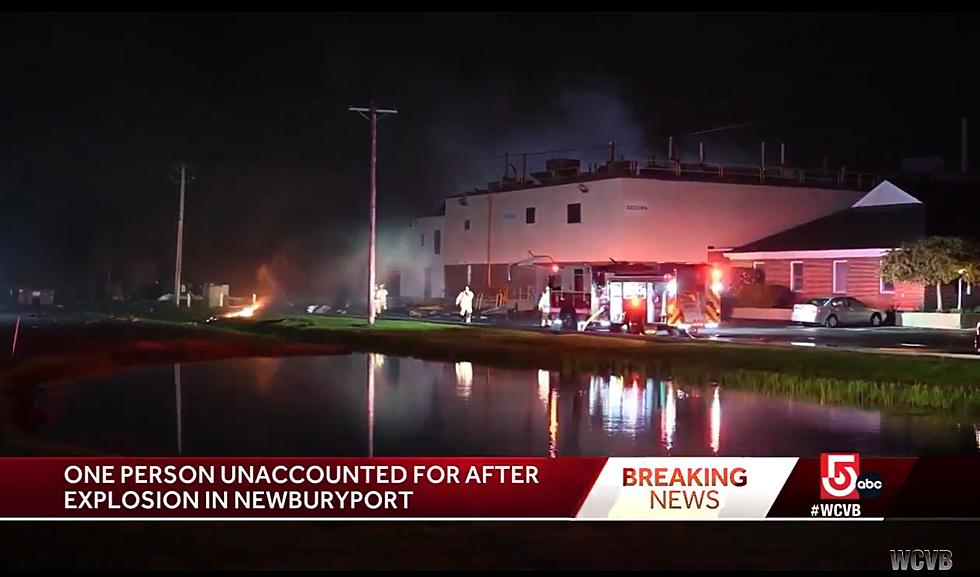 Worker Missing After Chemical Explosion in Newburyport
Response to an explosion at Sequens in Newburyport 5/4/23 (WCVB TV via YouTube)
🔴 The explosion happened around 12:45 a.m. at Seqens on Opportunity Way in Newburyport
🔴 Four workers inside were treated and released for injuries while a fifth is missing
🔴 There were chemical fires at Sequens in 2020 and 2021
---
A chemical explosion inside a building at a Newburyport industrial park caused a large vat to move outside to a parking lot early Thursday morning.
The explosion happened around 12:45 a.m. at the building housing a pharmaceutical company called Seqens on Opportunity Way, causing major structural damage to the building, according to acting Newburyport Fire Chief Stephen Bradbury III. It was not disclosed if anything was in the vat.
A photo of the vat shows it laying on its side. It appears to be burned.
Drone video showed a large hole in the roof of the building.
Bradbury said there is no threat to nearby residents and asked other workers in the industrial park to avoid Opportunity Way.
Four of five employees inside the building at the time were taken to a hospital for treatment of injuries and released. The fifth person is unaccounted for.
The structural damage to the building is preventing firefighters and technical rescue crews from entering the building to begin a search.
Fires in 2020 and 2021
Sequens, which used to be known as PCI Synthesis, offers customers 20 years of experience in chemical manufacturing, according to its website. It is the largest small molecule drug substance manufacturer in New England.
A chemical fire at the facility in June, 2021 led to all operations being halted during an investigation, according to the Newburyport Daily News. There was also an explosion at the facility in February, 2020 that ripped a large hole in the roof, according to the Gloucester Daily News.
This is a breaking story. Check back for additional details.
Contact reporter Dan Alexander at Dan.Alexander@townsquaremedia.com or via Twitter @DanAlexanderNH
These Are the Seven Modern Wonders of Maine
More From Seacoast Current