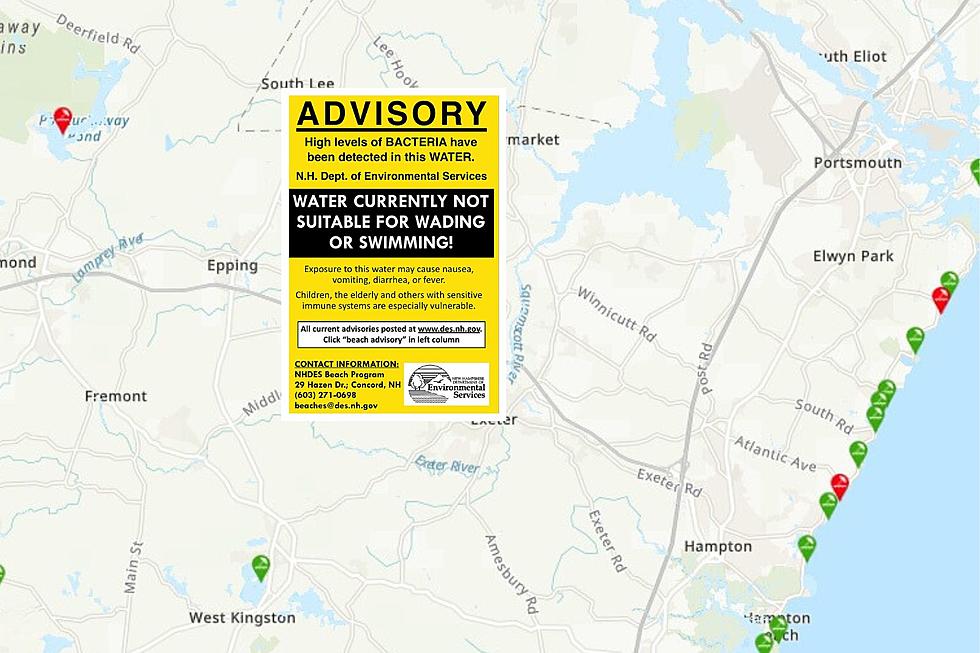 3 New Hampshire Seacoast Region Beaches Where You Shouldn't Swim
Red markers showing Wallis Beach in Rye, North Hampton State Park Beach and Pawtuckaway State Park Beach in Nottingham (NH DES)
A rainy summer is likely to blame for an advisory being issued against swimming at two Seacoast beaches that tested for a high level of fecal bacteria.
North Hampton State Park Beach, as well as Wallis Beach in Rye from Wallis Street Extension south to Concord Point, both have advisories not to go in the water. Pawtuckaway State Park Beach in Nottingham is also under an advisory.
Samples were tested Friday at North Hampton, with results due back Saturday. Another test will not be run on a sample from Wallis Beach until Monday. Pawtuckaway State Park Beach is only tested twice a month. The DES' "healthy swimmer mapper" website does not give a clear indication of when the next test will take place.
Swimming in water contaminated with bacteria can lead to gastrointestinal, respiratory, dermatological, eye, and ear symptoms, and in some cases, more serious illnesses. Children, the elderly, and those with weakened immune systems are particularly vulnerable.
The three beaches have been under frequent advisories.North Hampton has had advisories on 14 days since June, according to the Department of Environmental Services "healthy swimmer mapper" website.
Where is the Bacteria Coming From?
Recent heavy rains are the likely source of the bacterias, as they bring waste material.
The EPA says possible sources of fecal bacteria include leaking septic systems, stormwater runoff, sewage discharged or dumped from recreational boats, domestic animal and wildlife waste, improper land application of manure or sewage, and runoff from manure storage areas, pastures, rangelands, and feedlots.
There are also natural, non-fecal sources of fecal indicator bacteria – including plants, sand, soil, and sediments – that contribute to a certain background level in ambient waters and vary based on local environmental and meteorological conditions.
Contact reporter Dan Alexander at Dan.Alexander@townsquaremedia.com or via Twitter @DanAlexanderNH
New Hampshire's Official 2023 Fair Schedule is Here
More From Seacoast Current