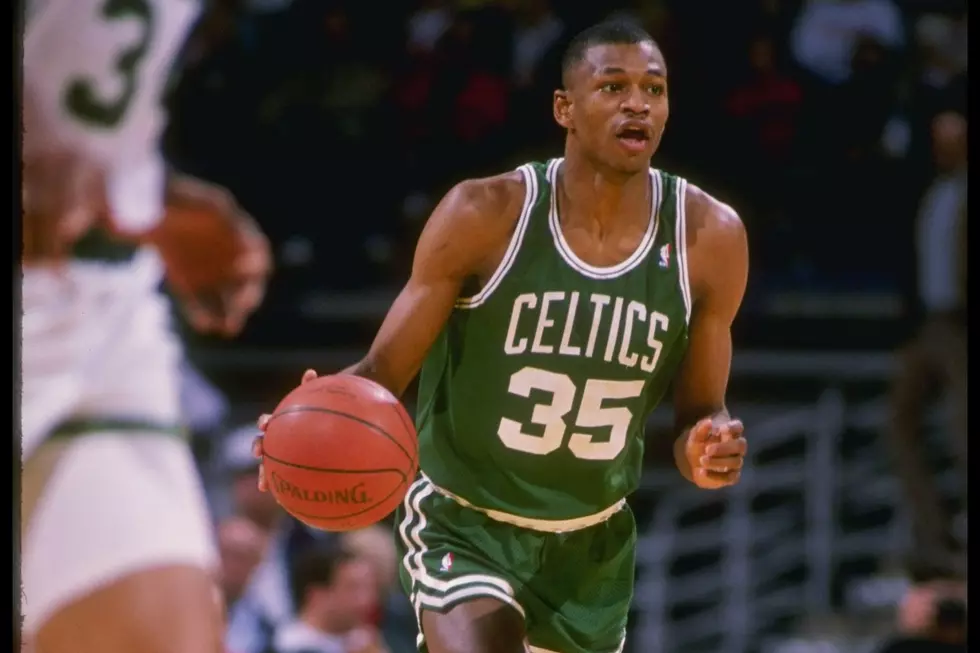 A Painful New England Memory Could Help Guide Parents After NFL Tragedy
Getty Images
Editor's note: This article was written by a Townsquare Media Northern New England contributor and may contain the individual's views, opinions, or personal experiences.
It took no time at all for word and speculation to spread about Buffalo Bills safety Damar Hamlin after he suffered from cardiac arrest during a Monday Night Football game.
In the age of the 24/7 news cycle and social media, even those who weren't viewing the game live saw the frightening clip of the 24-year-old collapsing after making a tackle.
It's a sad and frightening thing to witness, especially as a child. And for New Englanders of a certain age, it no doubt brought back one of our saddest memories.
On April 29, 1993, Reggie Lewis, the All-Star Captain of the Boston Celtics, collapsed on the famed Boston Garden parquet. Though he would walk off the court on his own and there was a feigned "Phew!" from the crowd, it would be his final game in the NBA.
It also happened to be the first game I ever went to. I had just turned 10.
I remember everything very clearly about that day. It was a sunny, warm, summer-like evening, and that very afternoon, crews had broken ground for a new arena now known as TD Garden.
The Celtics now had their new home and seemed to be setting themselves up for the future. There was absolutely nothing in the air to indicate tragedy would soon strike.
I can still taste the papery, watered-down Coke I drank as we watched warmups. Newly-retired Larry Bird got a standing ovation as he made his way to his seat. And Dad took me down to watch Kevin McHale go through his post-up workout with Joe Kleine.
But the story after tip-off was Reggie Lewis. He was everywhere. Blocking shots, making steals, hitting any shot he threw up. Then, on a fast break, he just disappeared.
From our seats a few rows behind the visitors' basket, it looked like a trap door opened up and Reggie just vanished. Only later, as he slowly stood up and made his way to the locker room, did the crowd sense something strange had occurred.
By now, everyone knows that Reggie Lewis suffered a heart attack. Just a couple months later, he was gone. Dead at age 27 after suffering a second major cardiac event during a private offseason workout.
Sadly, we can't control the nonsensical hot takes put out by certain sports pundits about resuming the game or other players "toughing it out." It's as ill-advised as the pressure New England unwittingly put on Reggie Lewis to "get back out there."
Take it from someone who was there: on April 29, 1993, it took no time for the explain-aways to make their way through the crowd. "It was his knee." "I heard he had the flu." "Maybe he tripped on a dead spot." Either way, he'll get back out there.
As we left, our only concern was whether the VCR had taped Cheers as it aired one of its final new episodes. Maybe Kevin McHale would make another cameo.
On the evening Reggie Lewis died, our parents deftly distracted us with an impromptu movie night to avoid the local news coverage. That is, until they had to share the news.
30 years later, things are different. It's harder to control the chatter and hot takes. But we can control the way we approach this moment with our own children. Kids aren't dumb. They see what you see and watch. And to them, this is incredibly frightening and confusing.
In fact, whether they follow sports or not, it's worth a talk so they understand on your terms before they hear about it somewhere else, or even worse, see it.
Don't believe me? Even though I was 10, I can still see that moment where Reggie "vanished" in my head as if it just happened. 30 years ago this April.
And to this day, I still can't sit behind the visitors' basket at the Garden.
Boston Celtics Who Went Hollywood
Celtics legends who starred in film and television.
The 13 Most Hated Boston Celtics of All Time
Boston's most celebrated franchise has also produced a number of players New Englanders still despise.
More From Seacoast Current