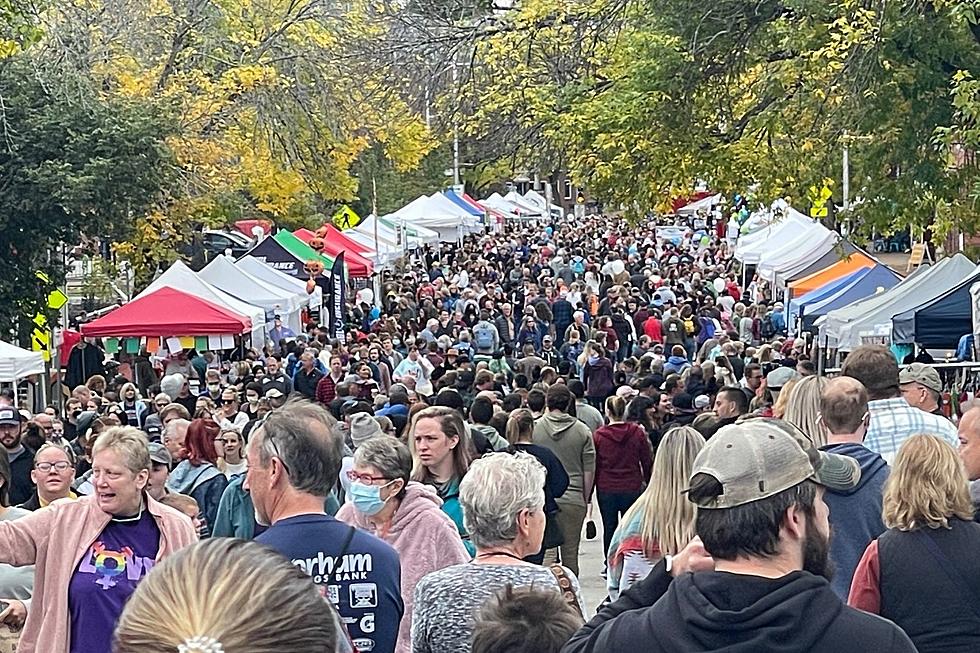 'A Real Apple Harvest Day' — Festival, 5K Return to Dover, NH
Crowd at Dover Apple Harvest Day (Shawn Olsten, Townsquare Media)
Thousands descended upon downtown Dover for the return of Apple Harvest Day on Saturday.
"The number of attendees was lower than in past years but still a very strong crowd," Greater Dover Chamber of Commerce President Margaret Joyce told Seacoast Current. She said the feedback from the community and the City of Dover was that people were happy the festival returned.
"I went up and down the Festival footprint and talked to vendors. What they told me anecdotally was that since it wasn't that traditional crush of people that they engaged with more people. People were willing to stop, look around, talk because they weren't in that massive throng sort of moving them up Central Avenue," Joyce said.
One good thing that came from the virtual 2020 Apple Harvest Day was the event's own website, AppleHarvestDay.com, which lists all the participating vendors. The site gives Dover an edge when they consider where they will go.
"Now we have this website that we can offer vendors as a value add. A lot of these small crafters they just go around and do all of these craft fairs. "We competed this weekend with the Sunflower Festival, there was the Powderkeg Festival, the Deerfield Fair," Joyce said. "The fact that their business will be up on this website until next year is a value add."
The pandemic still cast a shadow over the event as large crowds are still a concern in helping spread COVID-19. Masks and hand sanitizer were available throughout the festival. Fewer vendors allowed them to be spread out more and there were fewer music stages this year to discourage people from congregating.
It's also personal for Joyce who visited the Hampton Beach Seafood Festival to see how they handled crowds.
"We did not enter into this lightly going ahead with the festival.  I am only a year out from chemo treatments and cancer myself so I am very cautious.  We talked to city officials and we felt confident that if people weren't comfortable they wouldn't come.
The 5K race went well too as it tries to attract professional runners, according to Joyce, with an added level of winners.
"We added first Dover female across the line and first Dover male across the line.  It's a feel good for the home ties. It's Dover's hometown race," Joyce said.
The first Dover male to finish the race was city councilman Fergus Cullen wth a time of 17:50. First Dover female was Kelly Goodwin at 20:54.
The top overall male winner of the 5K race was Jeff Moretti of Portsmouth with a time of 16:16. The top female finisher was Corey Dowe of North Conway with a time of 17:40.
The winners of the WOKQ Apple Pie Contest were Ava Airey in the youth division and Carolyn Michaud in the adult division.
2021 Dover Apple Harvest Day
Pictures from the 2021 Dover Apple Harvest Day
Contact reporter Dan Alexander at Dan.Alexander@townsquaremedia.com or via Twitter @DanAlexanderNH
More From Seacoast Current