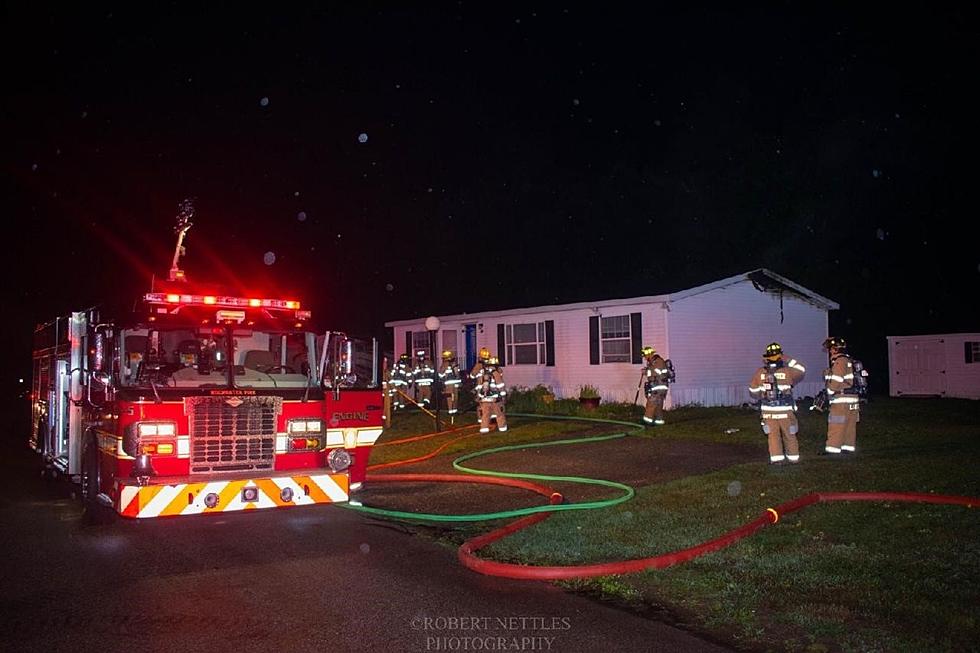 Bathroom Fan Fire Damages Rochester, NH Home
Damage from a fire at a house on Goldrush Lane in Rochester (Robert Nettles)
A fire in a bathroom fan sent flames through a hole in the roof of a Rochester house early Saturday morning.
Crews from Somersworth and Dover backed up Rochester firefighters responding to the fire around midnight at the one-story house on Goldrush Lane as fire and smoke came out from the gable just underneath the roof, Deputy Fire Chief Adam Hughes said.
Firefighters had the fire knocked down within minutes although it caused heavy ceiling damage and the resident was not able to stay in the home.  One engine stayed on scene for an extended period of time to make sure the fire didn't restart.
Hughes said the resident was not able to stay in the home because of damage to the ceiling.
Bathroom fan fires can happen for a number of reasons yet go undetected by residents, according to Dover Fire Chief Paul Haas whose department responded to the Rochester fire.
The chief said that typically the fans are on the second flood, an area with less foot traffic.
"If something starts and its out of sight it's difficult obviously to be aware of it. Bathroom fans if they do malfunction and if there's any type of smoldering or a slow type of burn going on no one would ever know because heat and smoke rise," Haas said. "If you had a smoke detector up there that would eventually lead to it. But frequently something in the ceiling space can smolder and burn completely unobserved by anyone in the house." 

Some tips to avoid bathroom fan fires from American Family Insurance:
Consider replacing older fans. Many are in use long after they should have been retired. If your exhaust fan looks really old, it's probably time to replace it.
Listen for a scraping sound when you start your bathroom fan Over time, your home's framing and timbers can shift as the building settles creating a contact that can cause friction that taxes the engine.
Pay attention to whether your bathroom fan smells like smoke. If you smell burning from your exhaust fan, turn it off and look for melted wires and wire nuts.
Remove dusty build-up to prevent bathroom exhaust fan fires. The small slits on most exhaust vents can quickly become choked up with dust or get blocked altogether when material collects over time.
Wash bathroom exhaust vents and let dry. Wipe down the interior of the fan housing with a rag as well.
Clean bathroom fan ducts. Dust and dirt build-up can cause the exhaust fan to overheat, posing a fire risk.
Use LED light bulbs for your bathroom fans. These bulbs will decrease the electric load placed on the circuit and the exhaust fan, which can help to reduce the risk of a bathroom fire.
Install a timer switch. Leaving the fan on for hours at a time can really put the fan at risk for serious trouble.
Manage bathroom fan dust hazards with canned air.  You can keep the build-up of dust to a minimum with a few bursts from canned air that's typically used for cleaning electrical equipment.
Mark your calendar to check on your bathroom exhaust fan.
Seacoast Current Photographer Robert Nettles contributed to this report.
Contact reporter Dan Alexander at Dan.Alexander@townsquaremedia.com or via Twitter @DanAlexanderNH
TIPS: Here's how you can prepare for power outages
More From Seacoast Current