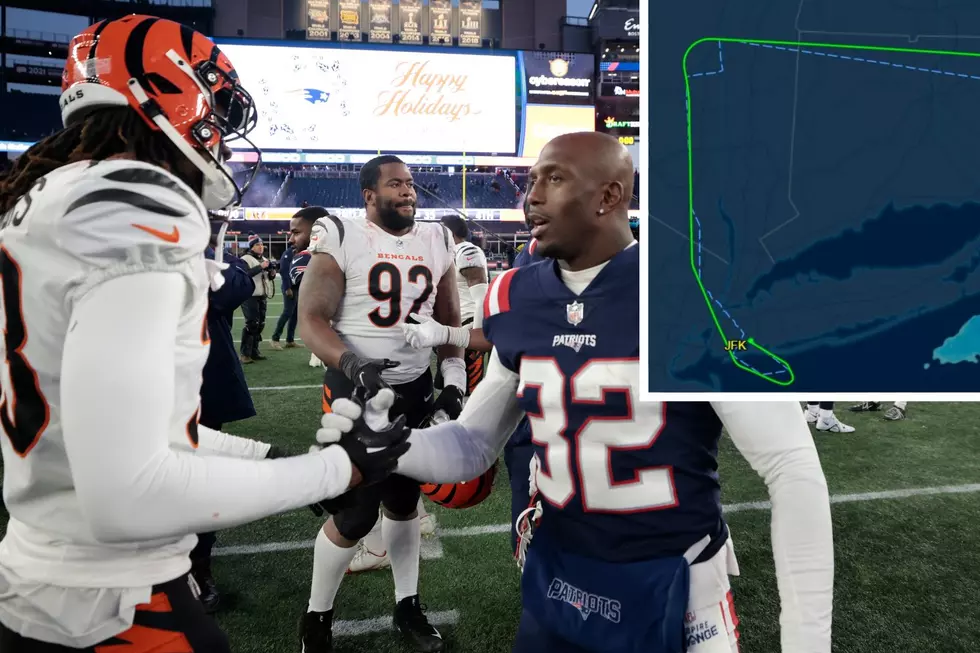 Bengals Flight Makes Emergency Landing at JFK After Patriots Game
Tre Flowers of the Cincinnati Bengals and Devin McCourty of the New England Patriots shake hands after Cincinnati's 22-18 win at Gillette Stadium 12/24/22 (Nick Grace/Getty Images), flight path of Bengals flight (FlightAware.com)
The Cincinnati Bengals team plane made an emergency landing at New York's JFK Airport Christmas Eve.
After holding off the New England Patriots at Gillette Stadium Saturday 22-18, the AFC champions left T.F. Green Airport on-board Delta flight 8861 at 7:30 p.m., according to the Twitter account @SportsAviation, which tracks the flights of sports teams via FlightAware.com.
WLWT reporter Olivia Ray said on her Twitter account that the left engine had problems, which forced the emergency landing.  A witness told WLWT that it was a "rough" landing.
WLW's Lance McAllister tweeted a photo of the team waiting in the terminal with the other passengers waiting to resume their flight.
FlightAware.com reported the flight left JFK at 10:48 p.m.
Contact reporter Dan Alexander at Dan.Alexander@townsquaremedia.com or via Twitter @DanAlexanderNH
Photos Highlight Extensive Damage, Flooding in Maine from Powerful December 23 Storm
Rain and wind hit Maine hard on Friday, December 23, causing downed trees, flooding, and power outages.
More From Seacoast Current