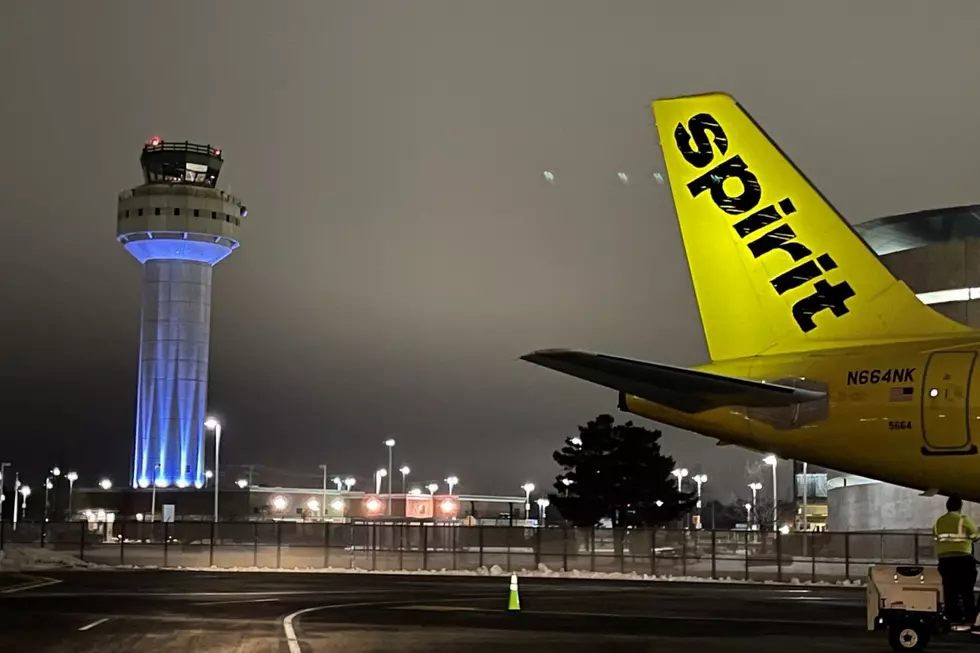 Bomb Threat Evacuates Plane at Manchester, New Hampshire, Airport
A Spirit Airlines plane at Manchester-Boston Regional Airport (Manchester-Boston Regional Airport)
🔴 The threat came into the Manchester-Boston Regional Airport's communications center around 10:50 a.m.
🔴 Several flights were delayed from arriving at the gate while the threatened plane was searched.
🔴 Operations at the airport have returned to normal.
---
A bomb threat made against a Spirit Airlines flight led to the temporary closure of the Manchester-Boston Regional Airport Saturday morning.
Airport Director Ted Kitchens said the threat against flight #2025 headed to Tampa was called into airport's communications center against around 10:50 a.m., prompting the evacuation of the plane. The Airbus, which was scheduled to leave Manchester at 11:25 a.m., was instead evacuated and searched.
The passengers and bags were re-screened before returning to the flight. The flight took off at 3:05 p.m., according to FlightAware.com. Kitchens said passengers on all departing flights were re-screened, and that no flights were diverted from arriving the airport. The arrival of several flights was delayed while the search was conducted.
Kitchens, along with Londonderry Police Capt. Patrick Cheetham, whose department led the initial response, would not disclose the nature of the threat. The FBI will take over the investigation.
State Police K9 unit and the FBI also responded to the threat.
"We take all threats like this as credible. That's the only way to handle these. But I won't get into when we deemed it non-credible," Kitchens said.
The airport was on a ground stop late Saturday morning and the entrance to the airport blocked off for a time, causing a backup along Brown Avenue. The ground stop was lifted around 1:30 p.m.
Contact reporter Dan Alexander at Dan.Alexander@townsquaremedia.com or via Twitter @DanAlexanderNH
24 Things to Do During the New England Winter if You Aren't Into Winter Sports
More From Seacoast Current