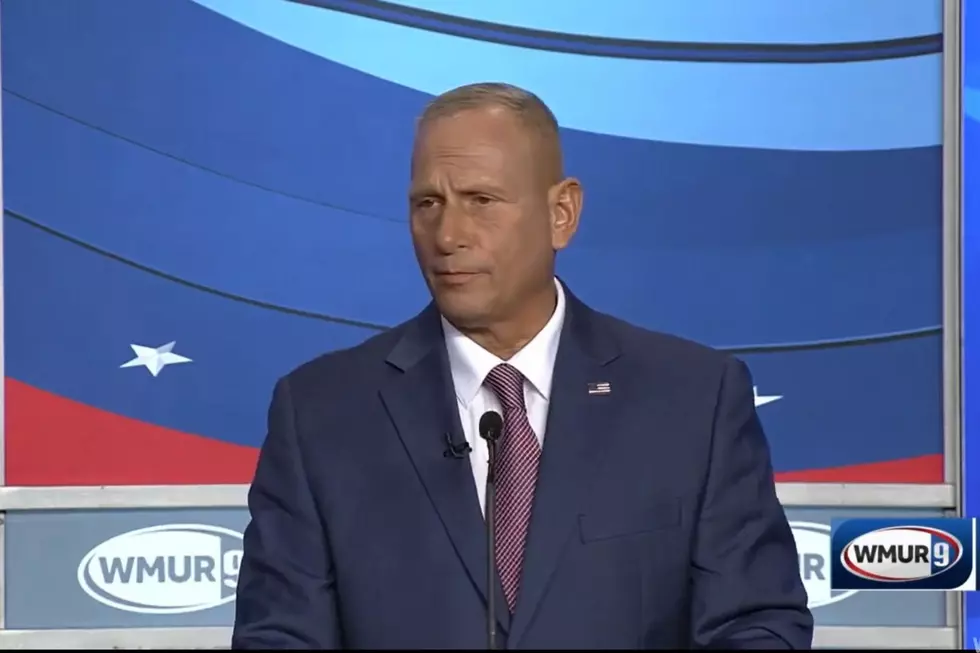 Bolduc Campaign: Candidate Punched Before Debate
Republican candidate Don Bolduc during debate 11/2/22 (WMUR via YouTube)
U.S. Senate candidate Don Bolduc was punched in the arm by someone in a crowd outside St. Anselm College in Goffstown before his debate with Sen. Maggie Hassan Wednesday night.
The Republican referenced an incident while answering a question about political violence during the debate in the wake of the attack on Paul Pelosi, husband of House Speaker Nancy Pelosi, inside their San Francisco home.
"It's a sign of the times. It's a sign of political problems. Republicans and Democrats that fuel issues with people that get them to the point where they are just so upset at an individual that they strike out at them. Happen to me outside just before I came in here," Bolduc said during the debate on WMUR.
Video of the incident shows Buldoc greeting the crowd of both Bolduc and Hassan supporters gathered outside the New Hampshire Institute of Politics on the Saint Anselm College campus. Bolduc is approached by a man, and the retired General points him out to police and says he was hit. Officers move in between Buldoc and the man.
Bolduc is seen rubbing his arm in the video.
Goffstown Police in a statement Thursday morning said Joseph Hart, 37, of Greenville, Rhode Island was asked to leave the college property before Bolduc arrived. Once Bolduc arrived Hart approached the candidate and was separated from him. He was taken into custody and charged with criminal trespass and disorderly conduct.
Hart was processed and released on personal recognizance and will be arrained December 1 in Goffstown District Court.
In a statement to Boston 25 News, the Buldoc campaign said Hart tried to punch the candidate.
He "was quickly apprehended and arrested. We are grateful to the quick response from law enforcement on the scene," the statement said.
A poll released Tuesday by the the Saint Anselm College Survey Center (SACSC) at the New Hampshire Institute of Politics shows Buldoc with a one point lead over Hassan, 48%-47%, with a margin of error of 2.5%.
Contact reporter Dan Alexander at Dan.Alexander@townsquaremedia.com or via Twitter @DanAlexanderNH
You Never Know What You Might Find at These 15 Antique Stores in New Hampshire
More From Seacoast Current