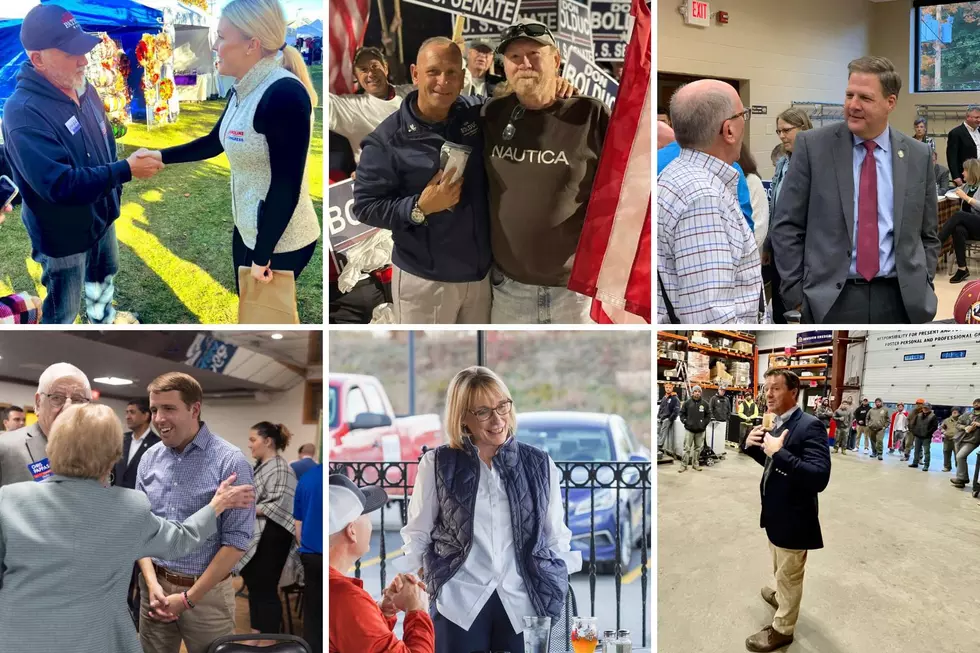 Seacoast's Last Weekend Before Election Day
Karoline Leavitt, Don Bolduc, Gov. Chris Sununu, Rep. Chris Pappas, Sen. Maggie Hassan, State Sen. Tom Sherman (respective campaigns)
It's one more weekend of knocking on doors and shaking hands for the candidates who are bringing in some campaign help in the days before Election Day.
Three polls released in the past two weeks from Emerson College Polling, NH Journal, and the Saint Anselm College Survey Center at the New Hampshire Institute of Politics show close races in the First Congressional District and U.S. Senate races.  Republican Gov. Chris Sununu maintains his consistent wide lead over Democrat challenger state Sen. Dr. Tom Sherman.
U.S. Senate:
Emerson College: Sen. Maggie Hassan 49%, Don Bolduc 45%, Undecided 3%
NH Journal: Hassan 45%, Bolduc 45%, Undecided 7%
SACAC/NHIOP: Hassan 48% Bolduc 47%, Undecided 3%
First Congressional District:
Emerson College: (not surveyed)
NH Journal: Pappas 48%, Leavitt 45% Undecided 8%
SACAC/NHIOP: Karoline Leavitt 51%, Rep. Chris Pappas 45%, Undecided 4%
Governor:
Emerson College: Gov. Chris Sununu 57%, State Sen. Dr. Tom Sherman 36%, 4% undecided
NH Journal: Sununu 52%, Sherman 34%, Undecided 8%
SACAC/NHIOP: Sununu 55%, Sherman 37%, Undecided 6%
"These results are further confirmation that the races for Senate and CD 1 have tightened significantly over the past few months, as both Bolduc, and especially Leavitt, appear to be making headway with independent voters who are focused on economic conditions," Dean Spiliotes, SNHU Civic Scholar and founder of NH Political Capitals said. "The race for governor does not seem particularly competitive at this point, with Sununu in reasonably good shape."
Big Names for the Last Weekend
The candidates are bringing in some party star power for the final weekend of campaigning.
Former Boston Mayor and current Secretary of Labor Marty Walsh will campaign with Hassan, Pappas, and 2nd Congressional District Rep. Annie Kuster on Saturday in Manchester and Nashua.
Hassan, Pappas, and Kuster will be joined on Sunday campaigning in Exeter, Manchester, and Nashua.
Sununu and Leavitt stopped at the Red Arrow Diner in Manchester Saturday morning while Bolduc and Leavitt will campaign at Exeter Town Hall Monday night.
Tennessee Sen. Bill Hagerty campaigned with Bolduc on Friday. Politico reports former UN Ambassador Nikki Haley will campaign for Bolduc on Sunday.  Sununu and Bolduc made a joint appearance on Sean Hannity's program on Fox News Channel Thursday night.
Massachusetts Sen. Elizabeth Warren was in New Hampshire with Hassan on Friday.
Contact reporter Dan Alexander at Dan.Alexander@townsquaremedia.com or via Twitter @DanAlexanderNH
The Perfect Playlist for Thanksgiving in New England
These songs are the soundtrack for your hometown Thanksgiving visit.
More From Seacoast Current