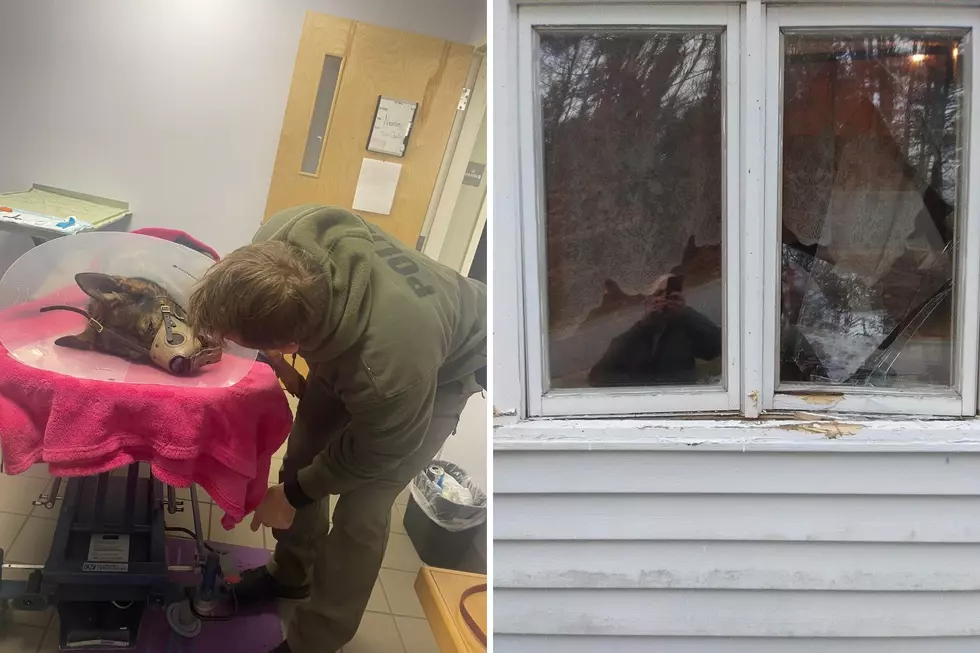 Cornish, Maine, 24-Hour Standoff: Injured K9, Disassembled House
K9 Gunther recovers, damage to house during standoff (York County Sheriff's Office)
A K-9 was injured and police dismantled part of a house during a 24 hour standoff with a man inside his house in Cornish.
The York County Sheriff's Office responded to a house on Spur Road Thursday morning after an initial report of the tires on a neighbor's SUV being slashed, and a house damaged with a tractor by Edward Kalinoski, 66. The attack was later discovered to be unprovoked and not over a landscaping dispute, according to Sheriff William King.
After Kalinoski went back to his own house, the Southern Maine Special Response Team (SMSRT) was brought to the scene because of previous interactions with law enforcement.
Kalinoski refused to communicate with police, although several attempts were made by crisis negotiators and mental health first responders, according to King.
Trying to Talk
K9 Gunther of the York Police Department was stabbed in the rear left leg and rear inner right leg when an attempt was made to subdue Kalinoski who, unbeknownst to police, had a knife. Guenther was treated and released from Scarborough Animal Hospital.
Police also dismantled a section of the house to use "chemical munitions" to subdue Kalinoski as he was seen holding "edged and improvised weapons", according to the Sheriff.
Nearly 24 hours later, Kalinoski was taken into custody when he left his house around 6:30 a.m. Friday morning with what was later determined to be a replica firearm. He was taken to a hospital for treatment of non-life threatening injuries.
Kalinoski faces charges of reckless conduct with a dangerous weapon, criminal threatening, criminal mischief, and refusal to submit to arrest or detention.
Contact reporter Dan Alexander at Dan.Alexander@townsquaremedia.com or via Twitter @DanAlexanderNH
These Thanksgiving Food Items Must Be Homemade, According to Granite Staters
What Thanksgiving food MUST be homemade?
More From Seacoast Current