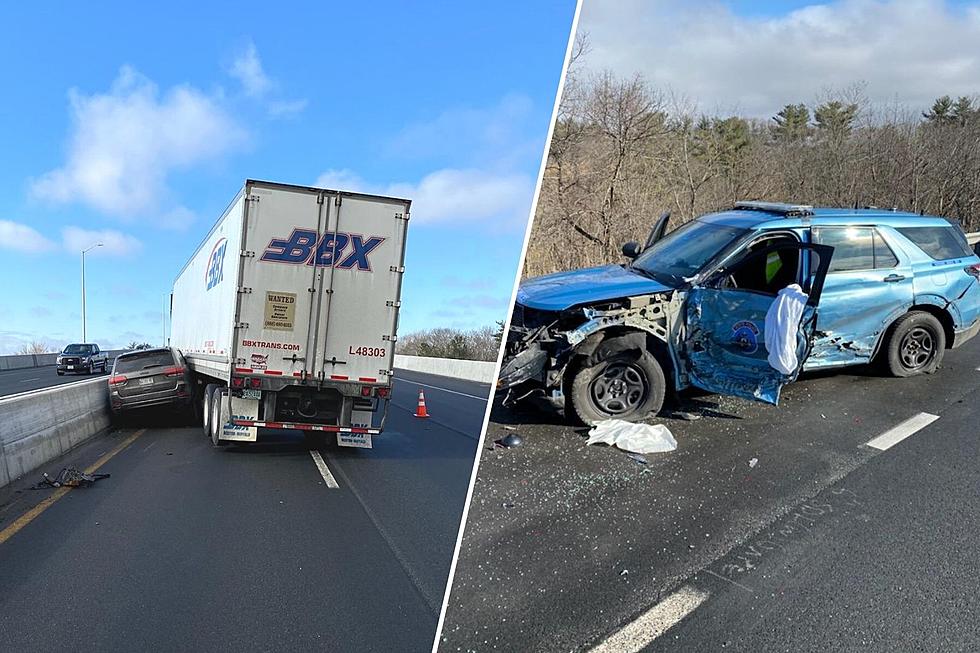 Drifting Tractor Trailer Damages Several Vehicles on Route 95
Jeep pinned by a tractor trailer on Route 95 in Kittery, damaged trooper vehicle (Maine State Police)
A Maine State Police trooper, disabled Jeep, flatbed truck, and tow truck were all struck by a tractor trailer that drifted on Route 95 in Kittery on Wednesday morning.
A tractor trailer driven by Johnny Rogers, 52, of Canastota, New York heading south just before the Piscataqua River Bridge drifted into the right shoulder and struck the trooper's SUV, according to Maine State Police spokeswoman Katy England.
Rogers then veered back into the travel lanes and wound up in the far left lane, striking and pinning a Jeep Cherokee with man, woman and their children inside against the concrete barrier in the median.
Minor Injuries in Crash
The tow truck driver was underneath the flatbed trying to make repairs when it was struck, but was not injured. The flatbed driver who was out of the truck while repairs were being made was struck by a piece of debris from the trooper's SUV.
All were taken to Portsmouth Regional Hospital for evaluation of minor injuries.
Rogers was charged with failure to move over for an emergency vehicle and distracted driving.
A Maine State Police trooper's vehicle  was struck in a construction zone on the Piscataqua River Bridge on February 1.
Contact reporter Dan Alexander at Dan.Alexander@townsquaremedia.com or via Twitter @DanAlexanderNH
Trending Stories for Seacoast Current (March 7-13, 2022)
More From Seacoast Current