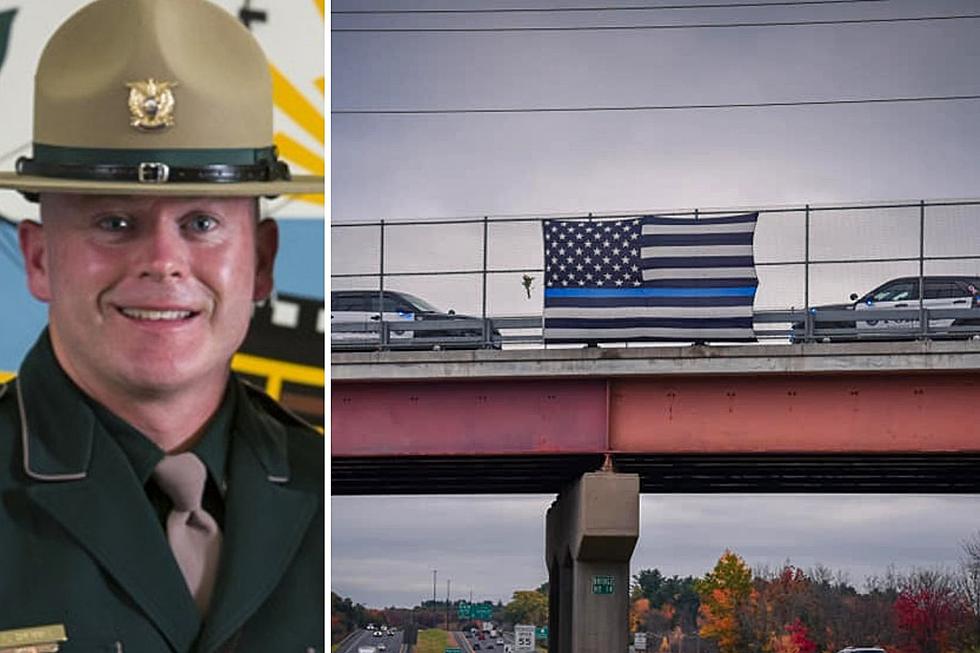 Flag Hung by Greenland, NH Police for Fallen Trooper Still Missing
NH State Police SSgt Jesse Sherrill (NH State Police) flag hung from Ocean Rd. overpass by Greenland Police (Greenland Police)
The flag honoring fallen State Police Staff Sgt. Jesse Sherrill stolen from a Greenland overpass has still not been recovered.
Greenland Police officers hung the thin blue line flag on the Ocean Road overpass over Route 95 so it would be displayed as the procession taking Sherrill's body from Concord to a Dover funeral home. The plan was to keep it on the overpass through the trooper's "Celebration of Life" on Wednesday but it went missing Monday night.
It was one of two flags hung in Sherrill's honor that were stolen.
"While someone has been charged in connection with the stolen flag in Newington, no suspects have been identified in the Greenland case and it appears the two incidents are unrelated," Greenland Police wrote on their Facebook page.
"Offended by the flag"
Newington Police Chief Michael Bilodeau said a witness who saw a woman remove the flag from the Woodbury Avenue overpass helped recover his department's flag.
"A witness saw her steal the flag and get into her vehicle which was parked off of Woodbury Ave. He called Newington Police and was transferred to Rockingham Dispatch. He updated dispatch as he followed her to her residence in Durham. Durham PD was notified and arrested her for receiving stolen property," Bilodeau told Seacoast Current.
Caitlin Hegarty, 19, of Durham told police she was "offended by the flag." She was charged with theft by unauthorized taking and criminal mischief for damaging the flag.
When told the reason the flag was hung for support and solidarity with Sherrill, his family and the law enforcement community, she said she didn't know the trooper was killed and the meaning of the flag for support.
"Great work by all involved, including the witness."
While the thin blue line flag is intended to be a sign of support for law enforcement some see it as a controversial and divisive symbol opposing the Black Lives Matter movement.
Fixing The Flag
Witnesses told police they saw a male and female in their late teens or early 20s at the flag around 5 p.m. Monday but it appeared to them they were fixing the flag.
"As difficult as this week has been, we were overwhelmed by the outpouring of support and offers to replace the stolen flag," police wrote. "Thank you to all who reached out as we move forward and remember Ssgt. Sherrill for his commitment to service and the sacrifice he made."
Sherrill was working a construction detail on Interstate 95 in Portsmouth when he was struck by a tractor trailer near Exit 3 in Portsmouth around 12:30 a.m. on Oct. 28.  He was taken to Portsmouth Regional Hospital where he died.
Contact reporter Dan Alexander at Dan.Alexander@townsquaremedia.com or via Twitter @DanAlexanderNH
Fallen NH State Police Trooper SSgt Jesse Sherrill Comes Home
The body of New Hampshire State Police Staff Sgt. Jesse Sherrill who died in the line of duty early Thursday while working a construction detail was brought from Concord to Dover on Friday.
More From Seacoast Current