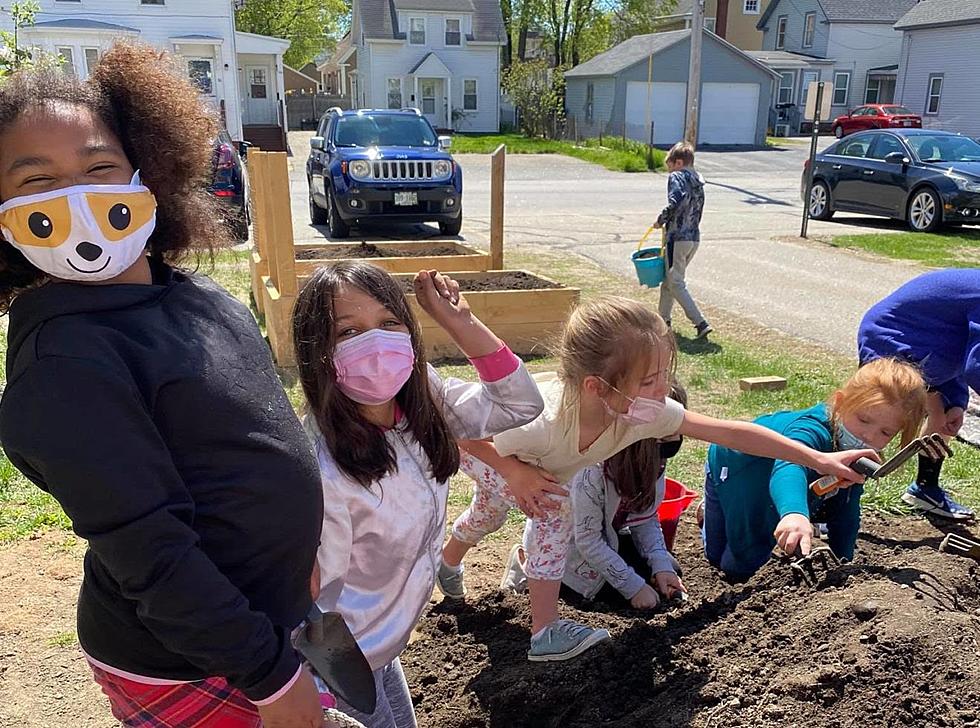 Growing Time! Two Rochester, NH Schools Help Community Gardens
Courtesy Photo
Students in the Rochester public school system are updating the community garden at Maple Street Magnet School and building a new garden at Nancy Loud School on Cocheco Avenue with the help of some grant money.
According to a press release from city officials, Maple Street Magnet School received the Master Gardener School Grant on March 20 to assist with the building of new community garden boxes around the school.
UNH Extension Master Gardener Lisa Peters O'Brien assisted teachers Melissa-Lynn Wheeler and Indra Edmonds in surveying the grounds and assessing the school's current garden materials and plan. Students in kindergarten through fifth grade also walked the grounds and were able to submit ideas for improvement, according to the press release.
After the assessment was completed, teachers transported the materials to build the boxes - including air compressors and power tools - to the school. They also purchased lumber to build the new boxes, according to the press release.
Once the weather warmed up, students were able to plant and care for seedlings, according to the press release.
At the magnet school, kindergarten students studied cause and effect, first graders studied bees and other animals, second graders studied erosion, third graders learned about the composition and life cycles of plants, fourth-graders measured potential garden bed plans and created a mock budget.
Fifth-graders tied their work together through tools learned through the University of New Hampshire Citizen Science, Stream Safari project.
Maple Street Magnet School Principal Erin Mahoney said, "We look forward to seeing students and teachers continuing to work collaboratively on the effort to provide our community with a sustainable food source."
The magnet school has operated a community garden since 2014.
Kindergarten teacher Sarah Wormstead and first-grade teacher Monique Boudreau recently spearheaded an effort to establish a community garden at Nancy Loud School.
In April, students at the school began growing plants in the classroom by placing soil and seeds in milk cartons.
Then on May 27, staff and volunteers filled the new garden beds with soil.
"This is a great way to involve students, teachers and the surrounding community in a collaborative and sustainable initiative," Principal Suzanne Baczewski said. "I am proud of the work our students and staff have already done and want to extend a special thanks to the donors who helped make this effort possible. We hope that this garden will be a great addition to our school and our neighborhood."
First-grade students at that school have learned about the plant cycle and the importance of bees for pollination. The kindergarteners studied the different parts of plants, according to the press release.
Science shows these school-based community gardens work.
According to research conducted over the years, the benefits of school-based community gardens include academic success on science achievement tests, increased physical health because children eat more fruits and vegetables, and better social and emotional health because children have the opportunity to unwind and work with others.
Contact Managing News Editor Kimberley Haas at Kimberley.Haas@townsquaremedia.com.
New Englanders List Their 20 Biggest Grocery Shopping Annoyances
More From Seacoast Current