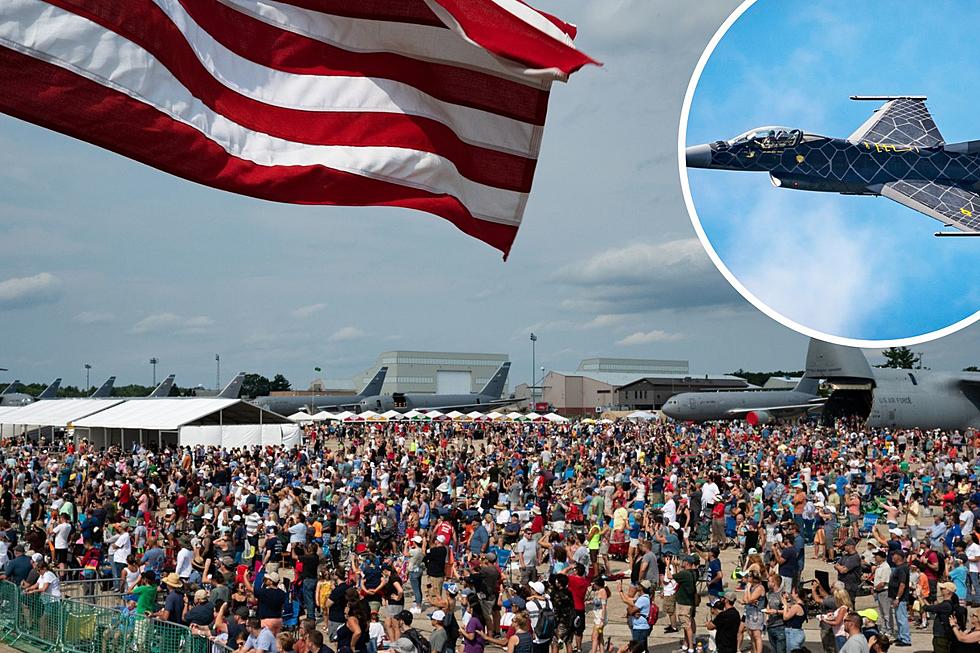 More Thunder Over New Hampshire Parking Passes Available
Thunder over New Hampshire Air Show crowd in 2021, F-16 Viper (Thunder over NH)
Good news for those who missed out on parking passes for September's Thunder Over New Hampshire Air Shows, as more tickets go on sale Friday.
Free parking passes made available first to those who signed up for the show's Insights email club in March were claimed in less than two days, leaving only premium seats for non-members. Organizers said that the Pease Redevelopment Authority has made available a limited number of additional on-site parking available.
They will go on sale to the public on Saturday at 8 a.m. The announcement did not disclose how the tickets will be sold or their cost.
"We appreciate the enthusiasm for the event. We want you to know that it is our desire to host as many guests as is safely possible at this year's show. Our goal is to provide an enjoyable guest experience for those attending the show," the organizers of the show wrote on their website.
All other premium packages are nearly sold out, according to an email air show organizers sent Thursday.
The organizers said they do not want a return to the long lines to exit the Pease Tradeport from the air show 10 years ago. The successful plan used in 2021 is being implemented this year.
The F-16 Viper Demo Team out of Shaw Air Force Base in South Carolina was announced as the headliner in December. They will be joined by the New Hampshire Air National Guard KC-46A and the New Hampshire Army Guard UH-60 Blackhawk.
Air National Guards from around New England, including the F-35A Lightning IIs from the Vermont Air National Guard Base and the F-15s from Barnes Air National Guard Base in Massachusetts, will also be at the show.
Nashua's Rob Holland, Kent Pietsch, and US Special Operations Command Para Commandos round out the other announced performers.
Contact reporter Dan Alexander at Dan.Alexander@townsquaremedia.com or via Twitter @DanAlexanderNH
Thunder Over NH Air Show
The Thunder Over NH Air Show celebrated the return of the Thunderbirds to the Pease Air National Guard Station for the first time since 2011.
More From Seacoast Current