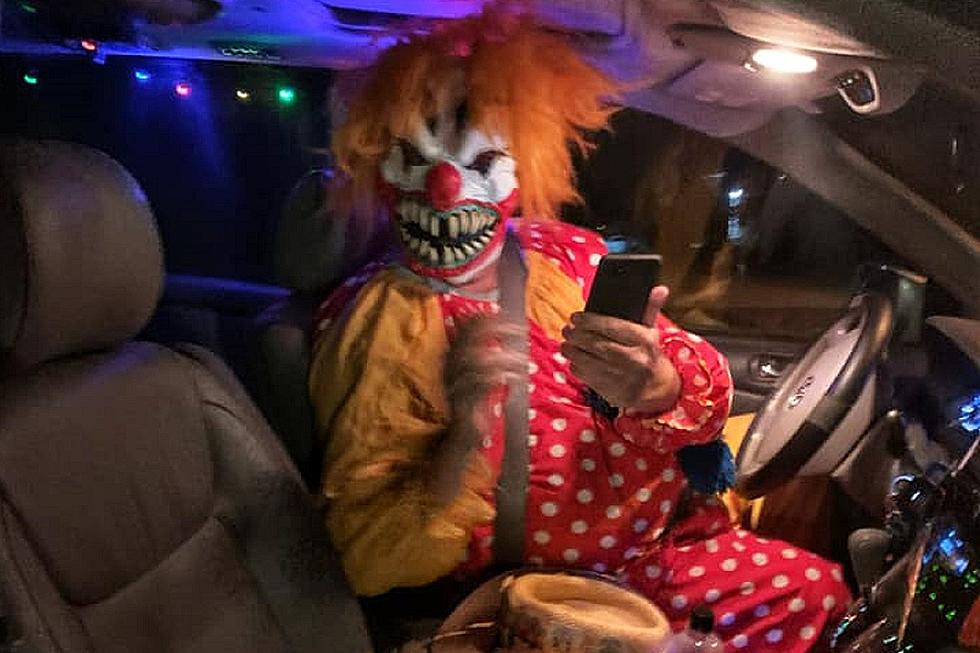 Seacoast Halloween Trick-or-Treat Dates and Times for 2023
Scary clown (Bud McCormick)
Halloween is back, with treats to be collected and costumes to be admired.
Most towns have announced official times for trick-or-treating, many of which are not on the actual holiday. Exeter has activities planned two weeks before Halloween, while Portsmouth spreads the holiday out over two days. Trick-or-treating takes place the Monday before Halloween, and then a parade is scheduled for Halloween night.
The parade is a "grassroots, all-inclusive celebration of community, creativity and free expression that walks, stalks, dances, trumpets and drums its way through downtown Portsmouth," according to its organizers. It is not a city-sponsored event.
Dates and Times
Here are the official dates and times for trick-or-treat on the Seacoast for Halloween 2023, listed alphabetically by town. All times are subject to change without notice due to weather and other factors. We'll add to the list as we learn of more dates.
Amesbury - Tuesday, October 31 - 5:30 p.m. - 7:30 p.m.
Berwick - Saturday, October 28 (Ghost & Ghoul Trail followed by Trunk or Treat), Memorial Field, 4:30 p.m. - 7:30 p.m.
Dover - Monday, October 30, 5 p.m - 8 p.m.
Durham - Sunday, October 22,  2 p.m - 4 p.m.
Exeter - Tuesday, October 31 4 p.m. - 7 p.m. The town's Halloween parade and costume contest is Saturday, October 21 starting at 10:30 a.m.
Hampton - To be announced
Hampton Falls - Monday, October 30 5 p.m. - 7 p.m.
Kingston - Monday, October 23 - 6 p.m. - 8 p.m. (Trunk or Treat)
Kittery - Monday, October 30 5 p.m. - 8 p.m.
Newington - To be announced
Newmarket - Monday, October 30 5 p.m. - 7 p.m.
Portsmouth - Monday, October 30 5 p.m. - 7 p.m. The Halloween parade is Tuesday, Oct. 31 at 7 p.m.
Rochester - To be announced
Rye - Monday, October 30 5 p.m. - 7 p.m.
Somersworth - Sunday, October 30 5:30 p.m. - 7:30  p.m. The Halloween Hoopla is Tuesday, October 31 5:30 p.m. - 6:30 p.m.
Stratham - To be announced
The city of Portsmouth offered some suggestions for celebrating the holiday that are applicable in any community.
Outdoor activities are much safer than indoor activities.
Travel in small groups. Small children should be accompanied and supervised at all times.
Carry a face mask, just in case (for example, when going to a door for candy vs. taking candy from a table or other container, away from others).
Maintain distance between your "ghouls" and other groups.
Residents who do not want to participate should leave their front houselights turned off, or put a sign on the driveway or sidewalk. Trick-or-treaters should respect that notice.
It is still best for children and those providing candy to maintain physical distance or wear masks. You may wish to put treats in individual paper bags or spread out on trays (rather than a communal bowl) and placed on a table on the front walk, porch, or driveway. Be creative!
Trick-or-treaters should use flashlights, walk on sidewalks where available, travel in familiar, well-lit areas, and only go to homes with outdoor lights on. Phones down, heads up. Be aware of your surroundings.
The city also had suggestions for drivers on Halloween:
Enter and exit driveways slowly, watch for children.
After dark, watch for trick-or-treaters in dark clothing.
New or inexperienced drivers should avoid driving after dark on Halloween.
Contact reporter Dan Alexander at Dan.Alexander@townsquaremedia.com or via X (Twitter) @DanAlexanderNH
Guy Fieri Highlights These 10 New England Restaurants on 'Diners, Drive-Ins and Dives'
Here are 10 New England restaurants that were featured on Diner, Drive-Ins, and Dives. Let me know if you've ever been to these places!
Gallery Credit: Riley
More From Seacoast Current