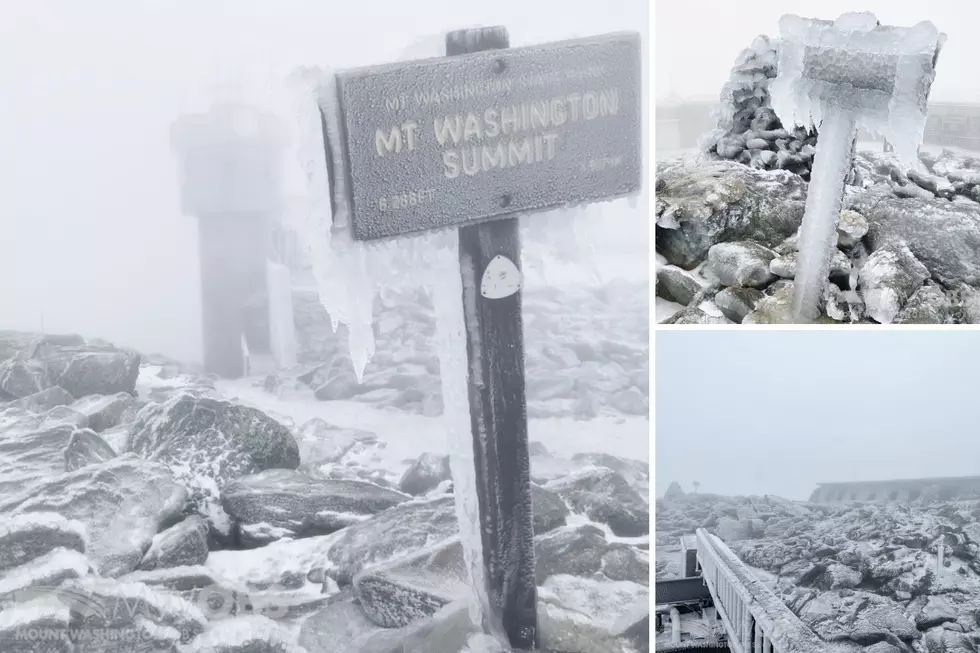 Is That Really Snow and Ice on Mount Washington in New Hampshire Already?
Mount Washington Observatory via Facebook: Canva
Editor's note: This article was written by a Townsquare Media Northern New England contributor and may contain the individual's views, opinions, or personal experiences.
"It's beginning to look a lot like Christmas..."
I'm sorry, but I just had to do it.
It may not even be October yet, but here we go. The snow has begun to fall in the higher elevations of northern New England. Of course, this means the legendary New Hampshire peak of Mount Washington is already white as can be.
As you can see in these incredible images posted by the Mount Washington Observatory, there's already a fresh and healthy layer of wintery mix. According to the station's post, nearly an inch of snow and sleet has already fallen on Mount Washington's summit, which has an elevation of over 6,200 feet.
While it does seem a little early for a white cap, it's not unheard of for Mount Washington to have a winter blanket early and late in the cooler months. Sometimes it even sneaks into the warmer months, including this year, when the mountain still had a patch of snow in late June due to above average snowfall.
Mount Washington's summit weather is nightmarish in general. It truly is one of the most extreme weather spots in North America. According to weather.com, the highest temperature ever recorded there was just 72 degrees. Meanwhile, below zero temperatures have been recorded in every month except June, July, August, and September.
Then there's the wind, which is the true leading actor. According to the Weather Channel, the mountain's weather station observes hurricane-force winds one out of every three days. The highest gust ever recorded was 231 mph in 1934. That would rate well beyond your standard Category 5 hurricane.
While a little snow isn't the most extreme of weather events, it certainly is a nice reminder of what's to come next. And for us lovers of winter, it's right on time. Bring on the snow.
Top 10 Most Visited Maine State Parks in 2021
Here are the 10 most visited Maine state parks in 2021, according to the Maine Bureau of Parks and Land.
9 Majestic Maine Lakes
One of the things that attracts boaters, fishermen, nature lovers, and outdoor adventurers to the State of Maine are our majestic lakes and ponds. The state has close to 100 decent sized lakes and thousands of much smaller lakes and ponds. We have selected 9 of the most striking lakes for our list.
More From Seacoast Current