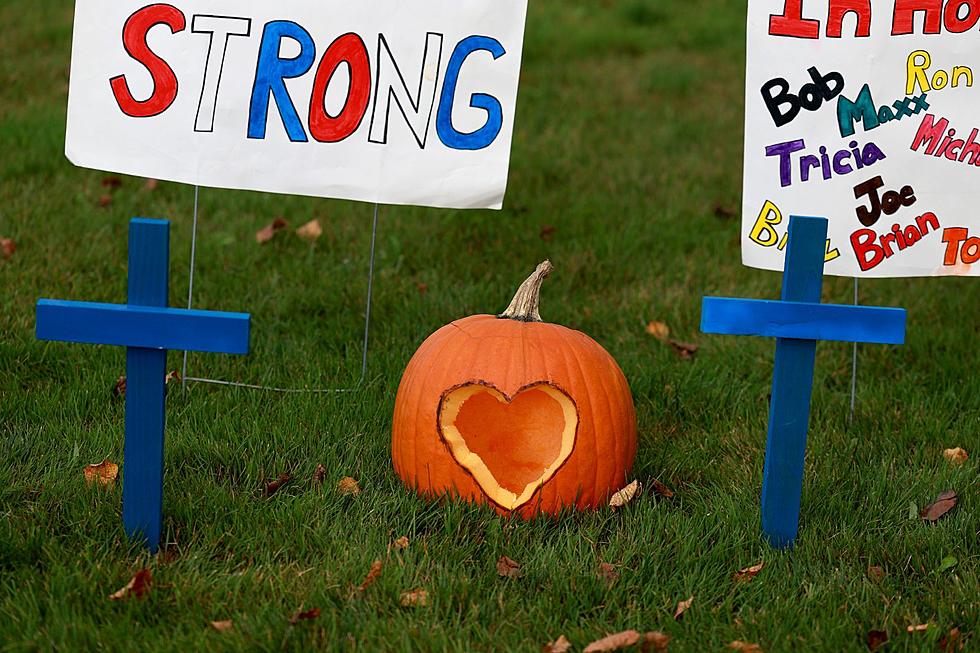 Lewiston, Maine, Comes Together to Heal From Shootings
A pumpkin with a heart-shaped cutout sits in a makeshift memorial in front of Just-In-Time Recreation in Lewiston (Joe Raedle/Getty Images)
💗Two vigils took place Saturday night in Lewiston and Lisbon.
💗Governor Janet Mills is expected to attend a vigil Sunday in Lewiston.
---
The victims of the shootings in Lewiston were remembered with two candlelight vigils Saturday night.
Dozens gathered at Kennedy Park in Lewiston and Lisbon Falls Park in neighboring Lisbon as the two communities begin to recover from the siege of terror and staying in their homes after the shootings at the Just-in-Time Recreation bowling alley and Schemengees Bar & Grille Wednesdsay night. Gunman Robert Card was found dead in a trailer Friday night at the Maine Recycling Corporation in Lisbon. Police did not disclose how long he had been there.
One of those who spoke to those gathered in Lewiston at a service was Arthur Barnard, father of victim Arthur Strout. He said they were playing pool at Schemengees Wednesday night.
"He was supposed to leave with me, and he said, 'Dad, I just want to play my friend a couple more games of pool.' I left, and less than 10 minutes later, he was shot," Barnard said, according to a WMUR report. "I'm just glad I had that last couple of hours with him."
"We will be okay."
"The violence that happened this past Wednesday was senseless and tragic, but we will be okay. Lewiston is a strong city full of resilient people. And I have no doubt that we'll be okay." Lewiston Mayor Carl Sheline told CNN Saturday.
The father of William Brackett stopped at a makeshift memorial set up near Just-In-Time Recreation. He told the Associated Press that when he heard Card was dead, he would have opened up a bottle of champagne if he had one. Brackett said he felt the tension drain from his body.
Amazing Grace
At the Lisbon memorial organized by Positive Change, Pastor Jonathan James spoke to the crowd, according to a Sun Journal report. He read several psalms and ended the service with the crowd singing Amazing Grace.
Len Lednum of Positive Change Lisbon told WGME that vigils are an opportunity for the community to speak with each other as they try to move past the shooting.
"I have four children myself, and we were in one of the search patterns. So, every five minutes, we had a helicopter going by. And we weren't alone in that. Every part of this town, roads closed, everybody felt it," Ledmnum told WGME.
"Trying to come to grips with the reality that 18 people died."
On his Facebook page, WGME photojournalist Month Orrick wrote that he went through the shootings in Clackamans Town Center in 2012 and Thurston High School in 1998, both in Oregon, and believes that nothing will be ever be the same in these communities.
"These folks tonight are trying to come to grips with the reality that 18 people died: human beings many of them knew personally, were related to or close to in their work or social network. There is a lot of connection between people here," Orrick wrote.
A vigils is planned for Sunday at the Basilica of Saints Peter and Paul on Ash Street in Lewiston. There will be prayers from multiple faith leaders and music, with therapy dogs in attendance. Maine Governor Janet Mills is also expected to attend, according to CBS Boston.
Contact reporter Dan Alexander at Dan.Alexander@townsquaremedia.com or via X (Twitter) @DanAlexanderNH
Learn About the Victims of the Lewiston, Maine Shooting
The 18 people victims of the shooting in Lewiston on October 25 have been identified.
Gallery Credit: Dan Alexander
Shooting in Lewiston 10/25/23
Gallery Credit: Dan Alexander
More From Seacoast Current