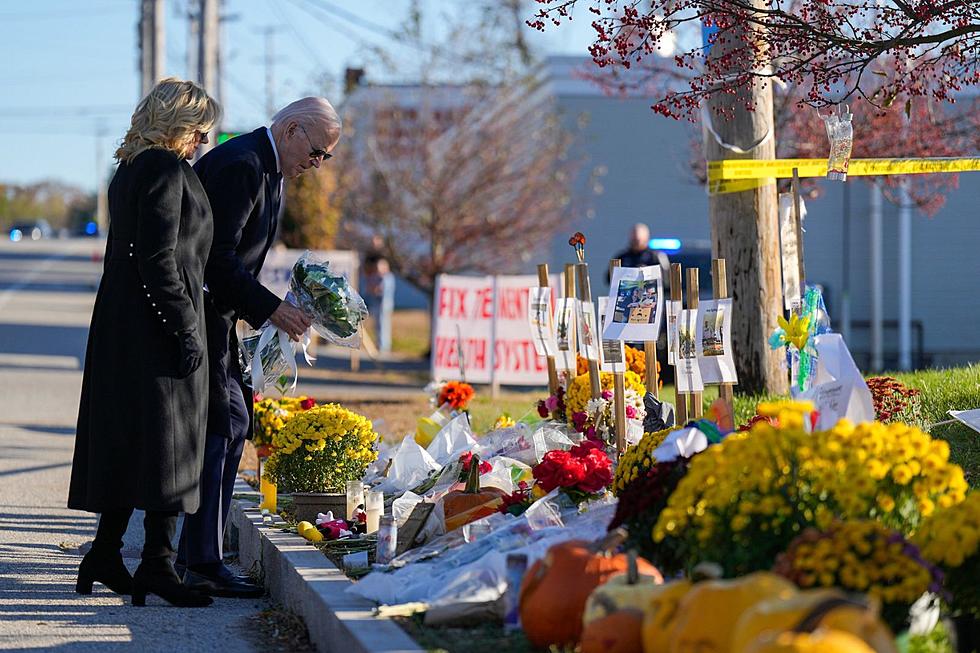 'You Are Not Alone' – President Biden Comforts Lewiston
President Joe Biden and First Lady Jill Biden in Lewiston, Maine 11/3/23 (The White House)
🔴 President Joe Biden visited both shooting locations in Lewiston
🔴"You're not alone," the president said in front of Just-In-Time Recreation
🔴 Biden met privately with each victim's family
---
President Joe Biden traveled to Lewiston to visit with the families of the 18 victims of the October 25 shooting and thank first responders.
The shooting was the largest mass shooting in the United States this year and the worst ever in Maine, leaving 18 dead and 13 wounded.
Accompanied by Senators Susan Collins and Angus King and Rep. Chellie Pingree, who joined him on board Air Force 1 for the flight from Washington, the president's first stop was Schemengees Bar and Grille Memorial, one of the two locations where gunman Robert Card opened fire. Rep. Jared Golden was unable to make the trip.
Speaking in front of Just-In-Time Recreation, one of the locations where Robert Card opened fire, Sen. Angus King called the shootings a "tear in the fabric" of the state he often describes as a "big small town."
Carrying a bouquet of white flowers and holding the hand of First Lady Jill Biden, the president then stopped at a memorial with pumpkins carved with messages of support, flowers, and signs outside Schemengees Bar and Grille. He then spoke in front of a crowd outside Just In Time Bowling.
"Jill and I are here on behalf of the American people to grieve with you and make sure you know that you're not alone," Biden said after meeting with first responders at Schemengees. "18 precious souls stolen. 13 wounded. Children. Grandchildren. Spouses. Siblings. Parents. Grandparents. Bowling coaches. Union workers. Beloved members and advocates and friends of Lewiston's deaf and hard of hearing community. All of them lived lives of love and service and sacrifice."
"We know your heart is broken, but we also know your spirits are strong," Biden said.
The president also touched on the the issue of gun violence and semi-automatic weapons like the one used by Card.
"This is about common sense. Reasonable, responsible measures to protect our children, our families, our communities. Because regardless of our politics, this is about protecting our freedom to go to a bowling alley, a restaurant, a school, church, without being shot and killed," Biden said.
The president also spoke privately with the families of the victims of the shootings for two hours at Geiger Elementary School.
Auburn City Council member Leroy Walker, whose son Joseph was one of the shooting victims, told the Portland Press Herald a dozen tables were set up that were visited by the president. Walker estimated Biden spent about 15 minutes with each family.
Flags will fly at half-staff through Monday in honor of the victims, per an an order from Biden.
The White House said the president left Maine on board a different plane after Air Force 1 experienced an unspecified "minor maintenance issue" while landing in Brunswick.
Contact reporter Dan Alexander at Dan.Alexander@townsquaremedia.com or via X (Twitter) @DanAlexanderNH
Funeral Plans for Victims of the Lewiston, Maine Shootings
The families of the victims of the Oct. 25 shootings in Lewiston, Maine are announcing the funeral plans for their loved ones. Note that the services are subject to change and may not be open to the public. Victims whose arrangements have not been made public are not included.
Gallery Credit: Dan Alexander
More From Seacoast Current