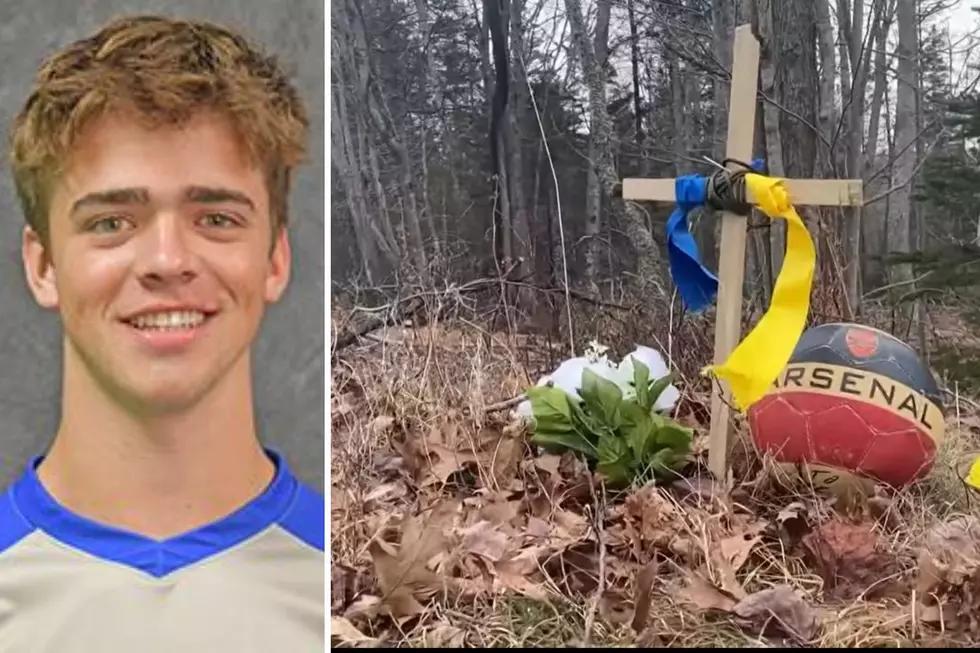 Maine Maritime Academy Student From York Remembered After Crash
Brian Kenealy (MMA), Crash scene on Route 166 in Castine, Maine (NewsCenter Maine via YouTube)
A vigil was held for the four Maine Maritime Academy students who died in a car crash early Saturday morning, including Brian Kenealy, 20, of York.
A 2013 Range Rover with seven people driving south on Shore Road (Route 166) in Castine went off the road, struck a tree, and burst into flames around 2:05 a.m., according to Maine State Police spokeswoman Shannon Moss.
Three other passengers identified as Chase Fossett, 22, of Gardiner, Luke Simpson, 22, of of Rockport, Massachusetts, and Riley Ignacio-Cameron, 20, of Aquinnah, Massachusetts, were pronounced dead at the scene. The driver, Joshua Goncalves-Radding, 20, of North Babylon, NY, Noelle Tavares, 20, of North Falmouth, Massachusetts, and 20-year-old Dominick Gecoya of Middleton, Massachusetts, all survived the crash.
Eight Bells Toll
MMA students braved the cold Sunday night as eight bells tolled across the lawn of Leavitt Hall. The U.S. and Maine flags were lowered to half-staff in their memory.
"They were your friends. They chose Castine. They chose Maine Maritime. They chose the mariner way," MMA President Jerry Paul said during the vigil, according to WGME's coverage of the vigil.
Kenealy was a sophomore majoring in marine transportation operations. He was a member of the school's soccer team.
Counselors at York High School
Counselors were on hand at York High School Monday, where Kenealy graduated in 2021.
"Brian was an outstanding student-athlete who was beloved by his classmates, faculty, and staff. He took his skills to the Maine Maritime Academy, where he continued to excel academically and on the soccer field. Our thoughts and prayers are with Brian's family and all who knew and loved him. Brian will be greatly missed," York School District Superintendent Lou Goscinski told Seacoast Current in a statement.
Funeral arrangements have not yet been announced for Kenealy.
Contact reporter Dan Alexander at Dan.Alexander@townsquaremedia.com or via Twitter @DanAlexanderNH
Northern New England's Best Holiday Light Displays for 2022
Here are just some of the best holiday light displays you can find in Maine for 2022.
More From Seacoast Current