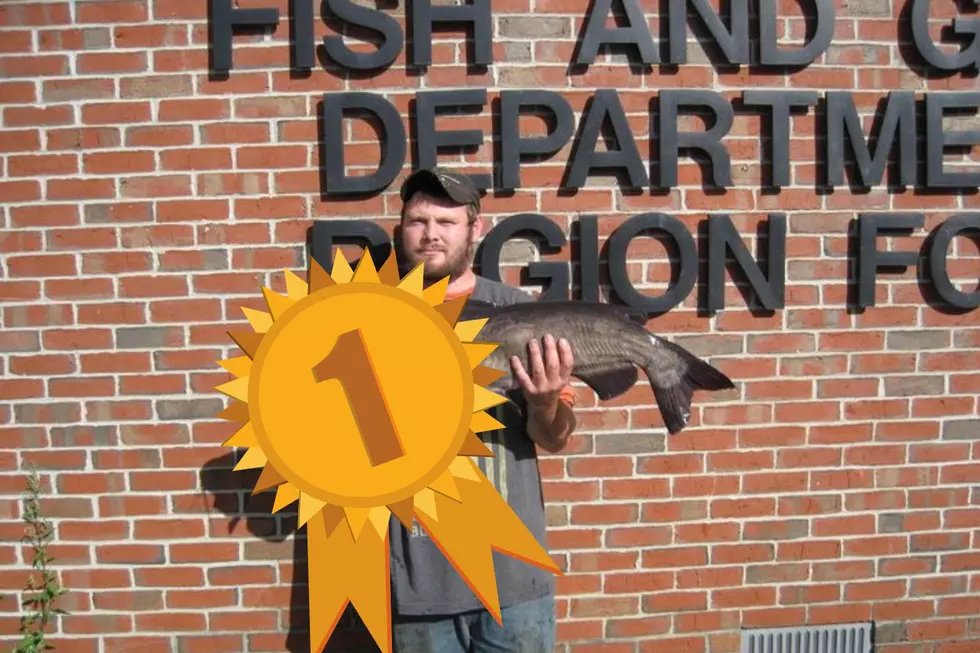 New Hampshire Man Sets New State Record for His Channel Catfish Catch
Facebook via NH Fish and Game, Canva
Editor's note: This article was written by a Townsquare Media Northern New England contributor and may contain the individual's views, opinions, or personal experiences.
Record alert, repeat, RECORD  ALERT.
On September 27, 2022, Scott Alexander, Jr. of Sullivan, New Hampshire, broke the current record for the largest channel catfish caught in the Granite State, according to the NH Fish and Game Facebook page.
Sullivan's catfish was pulled out of the Connecticut River near Hinsdale. It was 31.9 inches and weighed 15 lbs 12.8 oz.
He beat the the previous record holder by a half an inch and 7 oz. The record was previously held by Matt Smith with a 31.3-in 15 lb-5.28 oz catfish in August of 2020.
Ironically enough, they were both pulled out of the Connecticut River.
According to the official post by New Hampshire Fish and Game, channel catfish come up from Connecticut and Massachusetts, as they are not native to New Hampshire.
"The New Hampshire portion of the Connecticut River has been slowly populated with channel cats over the past decade as fish from Massachusetts have moved upstream," according to the New Hampshire Fish and Game. "These fish are currently found in the New Hampshire section of the Connecticut River from the Bellows Falls Dam (Walpole, NH) to the Massachusetts border."
A very big congratulations to Alexander for his haul. It's the largest in the state history.
Now, other states where catfish are more common means catfish are bigger...MUCH bigger.
Strictly sticking with the theme of channel catfish, the largest ever recorded was in South Carolina at 58 pounds, according to a Karls report.
For New England, the report states that the records are:
Massachusetts: 36.96 lbs according to this article.
Maine: 37.10 lbs in 2019.
New Hampshire: 31.9 lbs in 2022.
Rhode Island: N/A - isn't that crazy. Not one channel catfish.
Vermont: 35 lbs 15 oz.
Connecticut: 23 lbs 6 oz.
States with the most registered hunters
Stacker
analyzed data from the U.S. Fish and Wildlife Service to determine which states have the most registered hunters. Read on to see how your state ranks on Stacker's list.
27 Responses You'll Get if You Ask a Mainer "Where is Good Fishing Spot?"
It is safe to say that Mainers are some of the most secretive individuals when it comes to fishing. Here are some responses when asked where is a good place to go fishing in Maine.
More From Seacoast Current