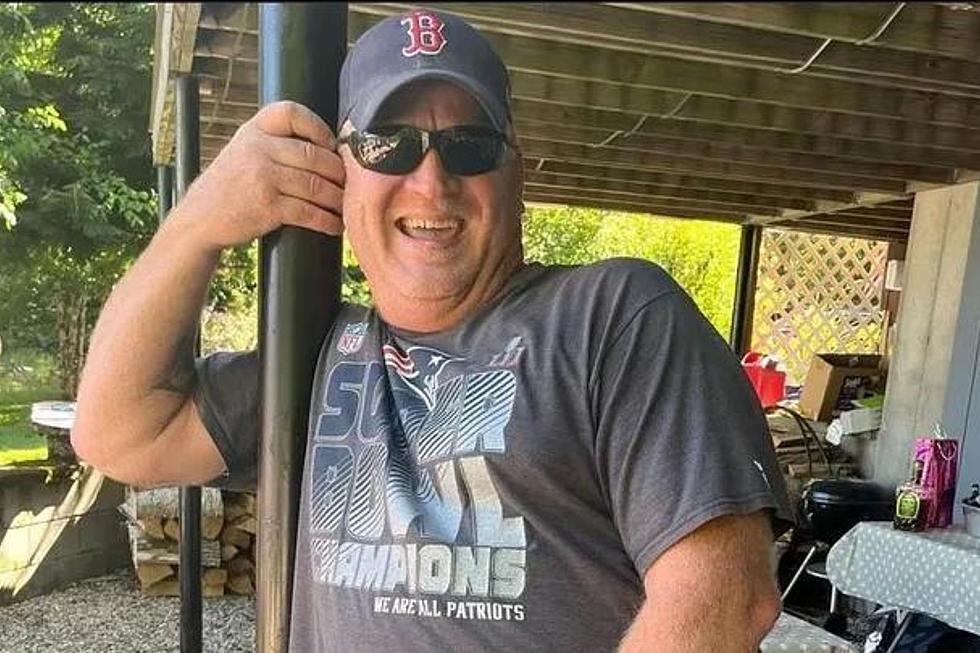 Newmarket, New Hampshire, Man Who Died at Gillette Stadium Had Medical Issue
Dale Mooney (Michael Giangregorio via GoFundMe)
Brutal videos show a Newmarket man being punched in the stands at Gillette Stadium in the 4th quarter of Sunday's game.
Dale Mooney, 53, was taken to a hospital where he died. Initial reports from the Norfolk County District Attorney's Office said Mooney was in need of "medical attention", but did not disclose details.
A video obtained by WCVB TV shows Mooney standing in a walkway in the 300 section as a fight breaks out. Mooney walks down some stairs and is punched at least twice before collapsing.
His wife Lisa told WCVB that her husband, who is a season ticket holder, was being "taunted" during the game by Dolphins fans.  Fan Joseph Kilmartin said that a fan in a Miami jersey walked up to Mooney and punched him three times, knocking him unconscious.
In a statement, District Attorney's Office spokesman David Traub said Mooney's autopsy did not suggest traumatic injury, but did identify an undisclosed "medical issue". The cause and manner of death remain undetermined pending further testing.
"Our investigation has included numerous law enforcement interviews and the examination of multiple angles of video capturing the scuffle prior to Mr. Dale Mooney's collapse during the Sunday night game at Gillette Stadium," Traub said.
Investigators asked eyewitnesses and anyone with video to contact Massachusetts State Police at 781-830-4990.
A family friend has created a GoFundMe page for Mooney's wife Lisa of 20+ years and their two children.  He said Mooney was a "hard working family man" who had Patriots season tickets for over 30 years.
"Dale Mooney was a loving soul who cared so much for those he loved," Michael Giangregorio wrote. "Dale was a proud father to Aaron and Brandon, constantly laughing and creating moments with them throughout their lives."
On its Facebook page, the Seacoast Dart Association said it will raise a dart for Mooney at its meeting Wednesday.
"He was a good friend and a great competitor on the toe line. Dale my brother, you will be sorely missed and never forgotten," the group wrote.
Contact reporter Dan Alexander at Dan.Alexander@townsquaremedia.com or via X (Twitter) @DanAlexanderNH
Meet Townsquare Media Portland, Augusta and Portsmouth Contributors
More From Seacoast Current