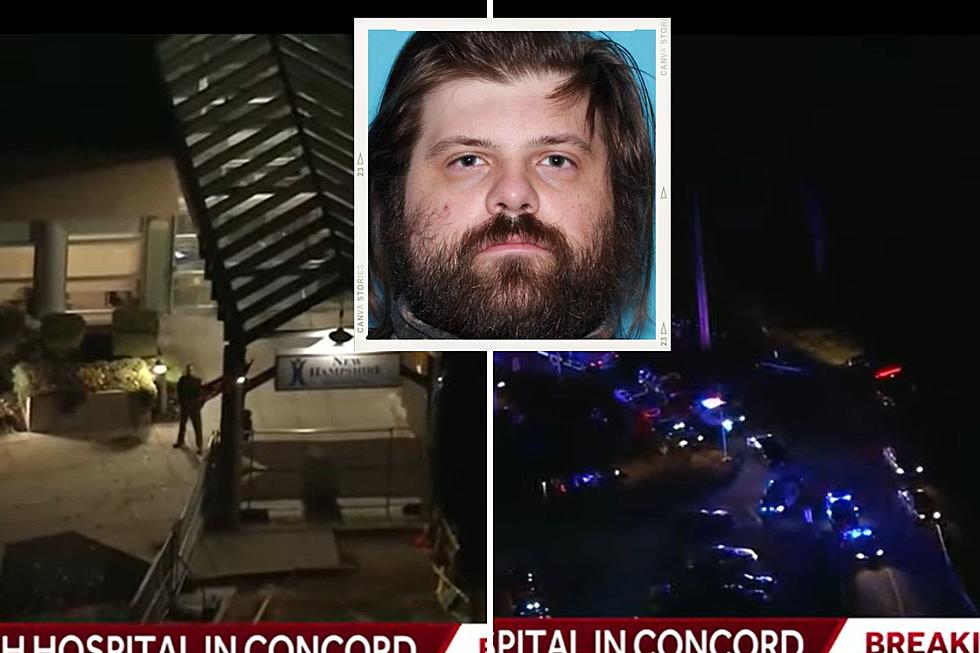 New Hampshire Hospital Gunman Identified, Many Questions Remain
NH Hospital during shooting (WCVB via YouTube), suspect John Madore (NH DOJ)
✅ The gunman was identified as transient John Madore.
✅ The action of the trooper who shot him dead 'saved a lot of lives'.
✅ Madore's connection to the hospital was undisclosed by AG John Formella.
---
The gunman who killed a security officer at New Hampshire Hospital in Concord Friday was a transient who spent time on the Seacoast as many questions remain about the shooting.
"At this point, there is a lot of investigative work to do. We are shifting now into a homicide investiagtion," Attorney General John Formella said during a Saturday morning press briefing. He asked anyone with information about the shooting to call the State Police Major Crime Unit tip line at 603-MCU-TIPS (603-628-8477).
Formella identified the gunman as John Madore, 33. Madore entered the hospital around 3:40 p.m. and fired a 9mm handgun, killing security officer Bradley Haas, 63. Haas was a veteran of the Franklin Police Department and former police police chief. A New Hampshire State Police trooper fired at Madore, killing him.
"The actions of this trooper saved a lot of lives and this trooper's actions were heroic," Formella said, who did not disclosed the trooper's identity, how many shots Madore fired, nor his motive for the shooting. Haas was not armed at the time.
Connection to NH Hospital and a U-Haul unknown
Formella would not disclose Madore's possible connection to the hospital or if he had been treated there.  He said that several people were in the lobby at the time of the shooting, but did not say if they were patients, staff, or visitors.
Formella said that a U-Haul in the parking lot of the hospital contained an AR rifle, tactical vest, and magazines of ammunition. State Police Col. Mark Hall said its connection to Madore remains under investigation. Formalla could not say where it was rented.
Health and Human Services Commissioner Lori Weaver said operations are normal at the hospital, although visitation was still prohibited as of Saturday morning. She was complimentary of the staff that worked through the initial shooting and hours afterwards.
"They have demonstrated courage and skill as the incident unfolded following the protocols of an emergency of this type," Weaver said.
Formella is confident New Hampshire remains one of the safest states in the country, with one of the lowest homicide rates and highest "solve" rates.
"Certainly I understand that in the wake of Lewiston and in the wake of the shooting Friday there may be concern in the community. I can tell you we have the best law enforcement in the country," Formella said.
Contact reporter Dan Alexander at Dan.Alexander@townsquaremedia.com or via X (Twitter) @DanAlexanderNH
Meet Townsquare Media Portland, Augusta and Portsmouth Contributors
More From Seacoast Current