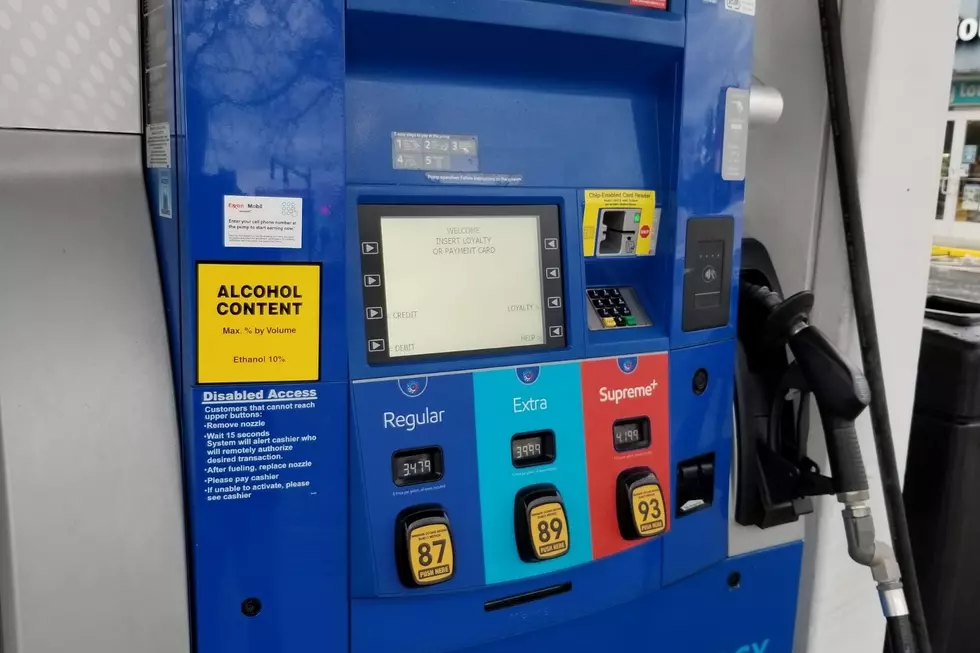 NH, ME Gas Prices Trending Down: How Low Will They Go?
Gas pump at a Mobil station (Dan Alexander, Townsquare Media)
Gas prices continue their yo-yo-like trends and are headed down again after hitting all time highs in June, but experts advise not to get used to it.
A month ago, the average price for a gallon of regular gas in New Hampshire was $4.98, just shy of the record high of $4.99, according to AAA's survey of prices. The average price was down 30 cents as of Sunday at $4.69. The difference was similar in Maine.
A decrease in demand is behind the drop, according to Dan Goodman of AAA Northern New England.
"Domestic gasoline demand has dipped recently, which took some pressure off pump prices. As of Thursday, about 85% of stations across the country are selling gas for under $5 per gallon," Goodman told Seacoast Current.
Goodman said the price of crude oil has plummeted on a larger scale, with Brent crude just over $100 per barrel on Friday. A month ago, it was trading at $120-$123 per barrel.
"We know that price of gas is linked to the cost of crude oil from which it is refined. Goodman said. "It's a combination of demand as well as some economic concerns with motorists."
Drop Not Unexpected to All
The drop in prices is not a surprise to oil analyst Patrick DeHaan of Gas Buddy, who saw the drop coming a month ago. The amount of the drop was predicated on a suspension of the federal gas tax at the request of President Joe Biden, which has not materialized.
"We're in the midst of one of the steepest declines in gas prices ever. The national average tied for its second largest single day drop in the last decade yesterday," DeHann tweeted on Saturday. "The national average is now $4.699/gal. Every day, Americans are spending $125 million less on gas vs 25 days ago."
The downward trend could come to an end soon as demand typically increases in July after the Independence Day holiday, which could make the declines short lived, according to Goodman. There's also unknowns like political upheaval, Russia leveraging oil supply, or a tropical storm that threatens production in the Gulf region.
"There are really too many things that could send gas prices higher," Goodman said.
Analyst Tom Kloza of Oil Price Information Service told Yahoo Finance he thinks prices will ricochet back up in the next 90 days and that the highest prices of the year are still to come. He is especially concerned about the potential of a Gulf hurricane beyond the gas pump.
"I'm more worried about the price increases that are coming for diesel and jet fuel. Those products globally are in very, very short supply, particularly in the northeast," Kloza said.
A new AAA poll of 8,437 drivers nationwide in June shows that high prices are not keeping drivers off the road. Instead, many are cutting their spending and driving in other areas, although half of those who took the surveys still plan at least one road trip this summer.
More than two thirds (67%) of drivers say they have adjusted their daily driving behaviors because of gas prices by consolidating errands. About 20% say they are working from home more often.
Contact reporter Dan Alexander at Dan.Alexander@townsquaremedia.com or via Twitter @DanAlexanderNH
Trending Stories for Seacoast Current (June 27-July 3, 2022)
More From Seacoast Current