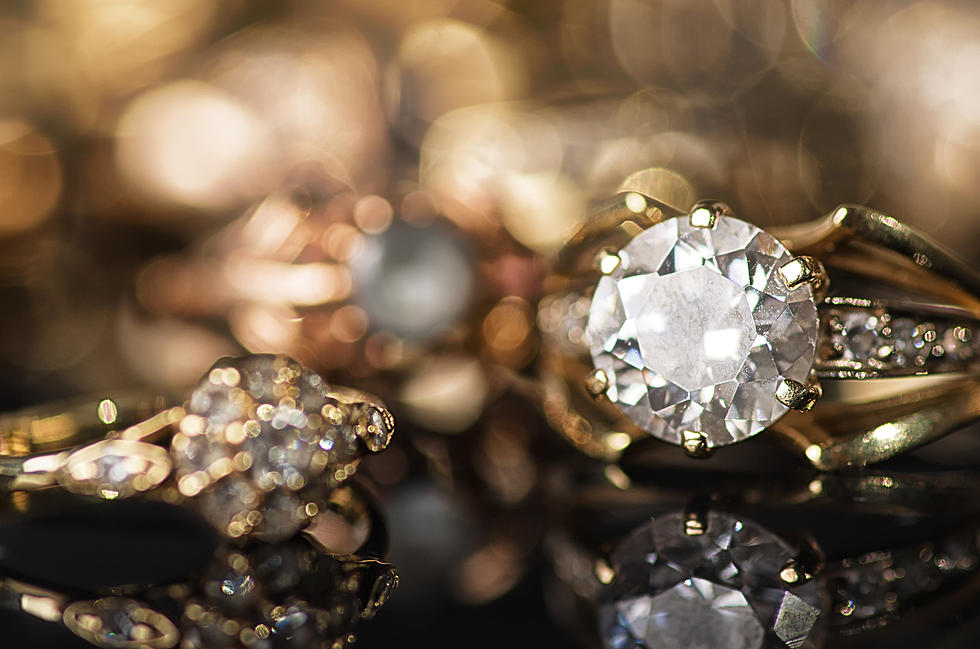 Portsmouth, New Hampshire Woman Accidentally Threw Away Four Diamond Rings
Getty Images
Editor's note: This article was written by a Townsquare Media Northern New England contributor and may contain the individual's views, opinions or personal experiences.
It took a lot of courage and saving for me to get down on one knee and ask my girlfriend, now fiancé, to marry me.
The most nerve-racking part was not whether or not she would say yes, but making sure she got the ring that she wanted and deserved. Now that she wears that ring religiously, I can't imagine her taking it off.
If she doesn't have it on for whatever reason, you know we are dropping everything to find it and get it back on her finger. She would lose her mind if she ever lost that one ring - wouldn't every woman?
Well, imagine losing four?
Patty Casey, a Portsmouth resident, lost all four of her significant diamond rings last Thursday, April 13, 2022, according to a WMUR article. Casey's 25th wedding anniversary band, wedding band, engagement ring, and fifth-anniversary wrap were all wrapped up in a paper towel and tossed in the garbage, according to WMUR.
Every woman's worst nightmare.
She left the rings on a paper towel on the counter for one minute. The next thing she knew, Patty Casey was calling the Portsmouth, New Hampshire Department of Public Works hoping for a miracle.
The trash was taken out, collected by the truck, and gone - a miracle is exactly what Casey needed.
"We received a call from a woman that was distraught because she had accidentally thrown away four diamond rings," said Peter Rice, director of Portsmouth Public Works in an WMUR article.
The DPW went right to work.
After digging through what I am sure felt like endless bags of garbage, the trash bags from Casey's home were located. Nothing was guaranteed, however.
After ripping the bags open, no one found the rings. Hope was diminishing.
Finally, "one of the gentlemen opened up a paper towel, and there were all my rings, and I gave him the biggest hug," Casey said to WMUR. "I cannot thank them enough for doing that for me."
While I am overjoyed for Casey (and family), I am thrilled yet again to live in this community. There is no way that every town, city, or state's public works department would jump through all of the hoops that the Portsmouth DPW went through.
I applaud Peter Rice, director of Portsmouth Public Works, and the workers who were willing to go through this extra digging.
This small anecdote is yet another reason I call this place home.
See Inside Garth Brooks and Trisha Yearwood's Malibu Beach House:
Garth Brooks
and
Trisha Yearwood
's former beachside house in Malibu offered a gorgeous vacation paradise for the country music power couple to relax.
Brooks and Yearwood bought their 4-bedroom, 3.5-bathroom, 4,200-square-foot house in Malibu for slightly less than $5 million in June of 2008. The house itself is fairly modest, but very well-appointed, featuring an open floor plan.
The living room boasts a corner fireplace and multiple sets of French doors that open to the backyard. The kitchen includes marble countertops, while skylights offer plenty of natural California sunlight. The den features floor-to-ceiling bookshelves on either side of a fireplace of white brick.
The backyard is spectacular, featuring a loggia, an outdoor fireplace, a half-court basketball court and elaborate landscaping. The house provides direct access to the world-famous Malibu beach via a set of steps.
The couple sold the house in Malibu in late 2016 for $7 million.
LOOK: Here is the richest town in each state
Just saying the names of these towns immediately conjures up images of grand mansions, luxury cars, and ritzy restaurants. Read on to see which town in your home state took the title of the richest location and which place had the highest median income in the country. Who knows—your hometown might even be on this list.
More From Seacoast Current