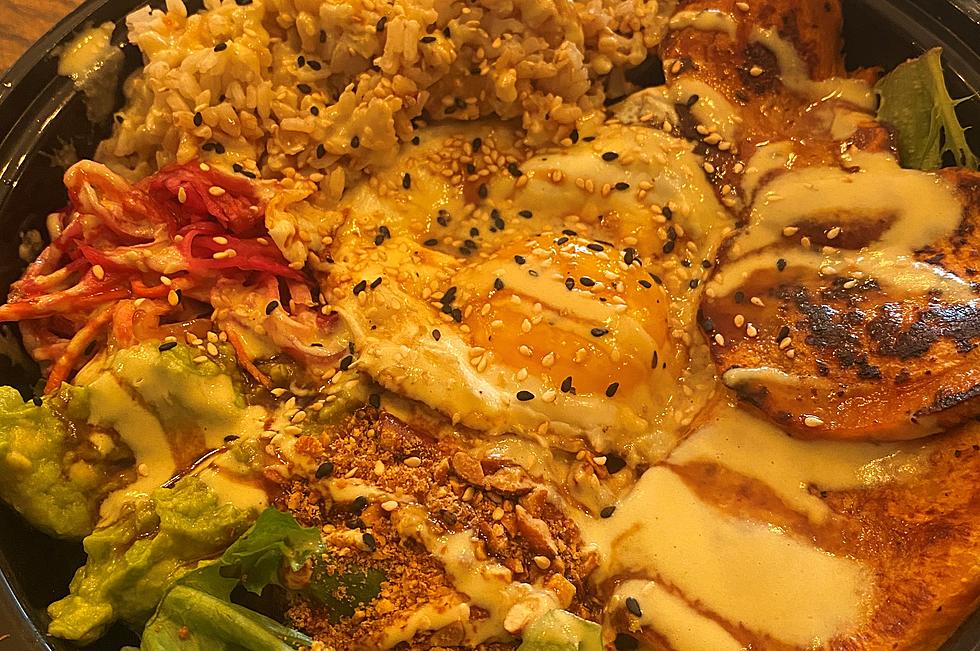 This Dover New Hampshire Coffee Place Has My New Favorite Lunch On The Menu
Sully Pix
During Apple Harvest Day this past weekend, I decided to go in search of food.  Even though the radio stations were parked right next to all the amazing food trucks at Henry Law Park, I decided to walk up Central Ave because... SHOPPING!
After I stopped by a few booths and bought a beautiful pair of earrings from Jewelry Creations, I got a little hungry but wasn't in the mood for the food truck stuff.  I needed something healthy.
I passed one of my favorite places, Flight Coffee in Dover and I thought I could just get an iced coffee and wait until I got home to have a "real" lunch, but when I found this delicious menu item, I couldn't resist.  It sounded so good!
Here's the name and description:
THE PACKED BOWL (GF) (VN W/O EGG)  brown rice bowl with sunny egg, roasted sweet potato, pickled veggies, avocado, sriracha cashews, greens, garlic tahini, sweet tamari
I couldn't wait to get it and let me tell you, it didn't disappoint!  The first bite I took was packed with avocado and sriracha cashew... Oh my oh my.  I was in heaven.
Not only was the bowl delicious, but the vibe in the place is super cool.  You can hang out and eat and feel super hip without even trying.
Flight also has live music at night. If you come to the shop after 6:30, you can expect to hear the best live music from all kinds of genre's - jazz, rock, soul, acoustic - there's something for everyone!  The performers are paid from donations, so it's a great way to support local musicians too!
LOOK: Best Beers From Every State
To find the best beer in each state and Washington D.C., Stacker
analyzed January 2020 data from BeerAdvocate
, a website that gathers user scores for beer in real-time. BeerAdvocate makes its determinations by compiling consumer ratings for all 50 states and Washington D.C. and applying a weighted rank to each. The weighted rank pulls the beer toward the list's average based on the number of ratings it has and aims to allow lesser-known beers to increase in rank. Only beers with at least 10 rankings to be considered; we took it a step further to only include beers with at least 100 user rankings in our gallery. Keep reading to find out what the best beer is in each of the 50 states and Washington D.C.
50 Most Popular Chain Restaurants in America
YouGov investigated the most popular dining brands in the country, and Stacker compiled the list to give readers context on the findings. Read on to look through America's vast and divergent variety of restaurants—maybe you'll even find a favorite or two.
More From Seacoast Current