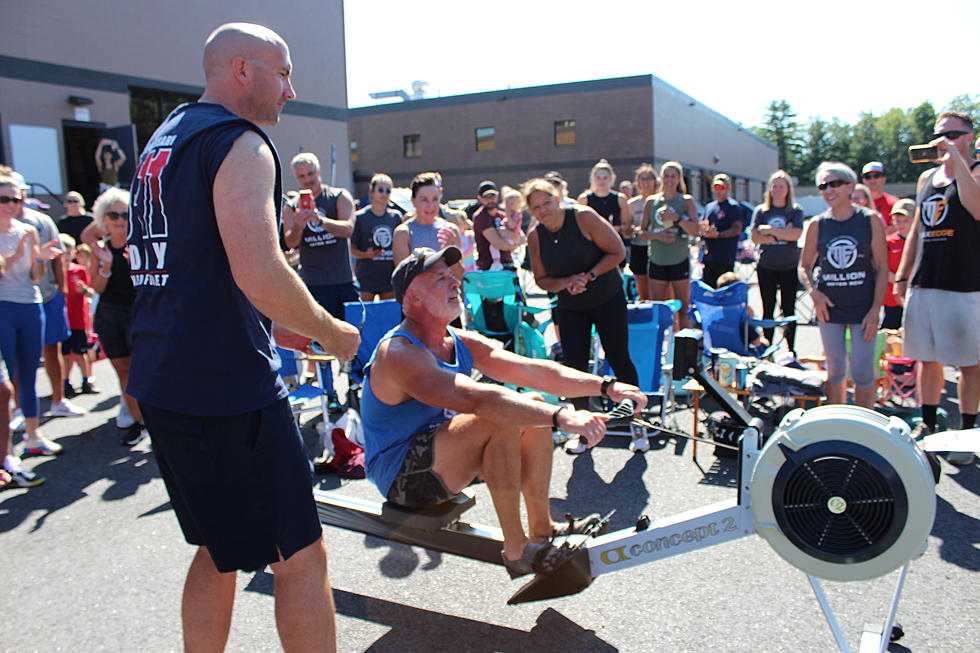 Thousands Raised at One Million Meter Row-A-Thon Will Benefit Hampton, NH Police and Fire Departments' Charitable Work
Courtesy Photo
An exhausting one million meter row-a-thon will benefit the Hampton police and fire departments in a big way.
Calling it one of their largest donations, the Hampton Police Association and the Hampton Fire Fighters Charitable Organization on Monday received a whopping $14,200 gift from MaxEdge Fitness Training and LeMay Family Goodworks.
The row-a-thon was held at MaxEdge in Hampton on the 20th anniversary of 9/11 and featured 20 rowing machines - each set to 50,000 meters - with participants who took turns rowing until the 1 million meter mark was reached.
After about four hours and a lot of sweat, the teams met their goal.
"We wanted to do something that would incorporate all of our members," MaxEdge owner Jay Collins said.
LeMay Family Goodworks, a North Hampton-based charitable organization, agreed to match the money raised by MaxEdge's row-a-thon.
The $14,200 will be split between the police association and the firefighters' organization to support their charitable work. 
The row-a-thon was a way to celebrate the gym's 10-year anniversary and also give back to the community.
"We do like to keep things as local as we can and we thought, what better way than to incorporate police and fire. They see the needs that happen that a lot of people don't see," Collins said.
The bulk of MaxEdge's portion was raised through a raffle featuring numerous donated items and the sale of event T-shirts.
"We'll be able to do a lot of things with this," said Craig Jordan, a Hampton firefighter/paramedic and president of the Hampton Fire Fighters Charitable Organization.
Jordan took part in the row-a-thon on a team of five members who began by rowing in 1,000-meter blocks, which took about four minutes to complete.
"There was plenty of rest time, but it was exhausting at times," he said.
Hampton police officer Clay DeMarco, president of the Hampton Police Association, said the donation was the biggest he's seen in his nine years with the association, which uses the money for charitable work in the community.
The association donates to the schools, helps children in need during the holidays, replaces children's bicycles when they're stolen or damaged, and donates to local homeless shelters and food pantries.
"We all love working here and giving back to our community every way we can. We'll be able to do a ton of good with it and we're excited," he said.
Michelle LeMay of LeMay Family Goodworks said the organization was founded last year and is in its 39th week of a 52 weeks of giving campaign.
"We talk to family, we talk to friends, we talk to local people we know to see what's important to them, what charitable organizations are meaningful to them and why. We figure out what we're going to do every week," said LeMay, who is a member of MaxEdge.
Over the past several months, LeMay said she's found that veteran, police, fire and children's charities may become the organization's focus, but for now it will continue to support a variety of causes.
Hampton firefighter Sean Murray has been a member of MaxEdge for 10 years and participated in the row-a-thon.
"Jay does a lot of things to help inspire people and push them to do things you wouldn't typically think of doing," Murray said.
CHECK IT OUT: 100 sports records and the stories behind them
More From Seacoast Current