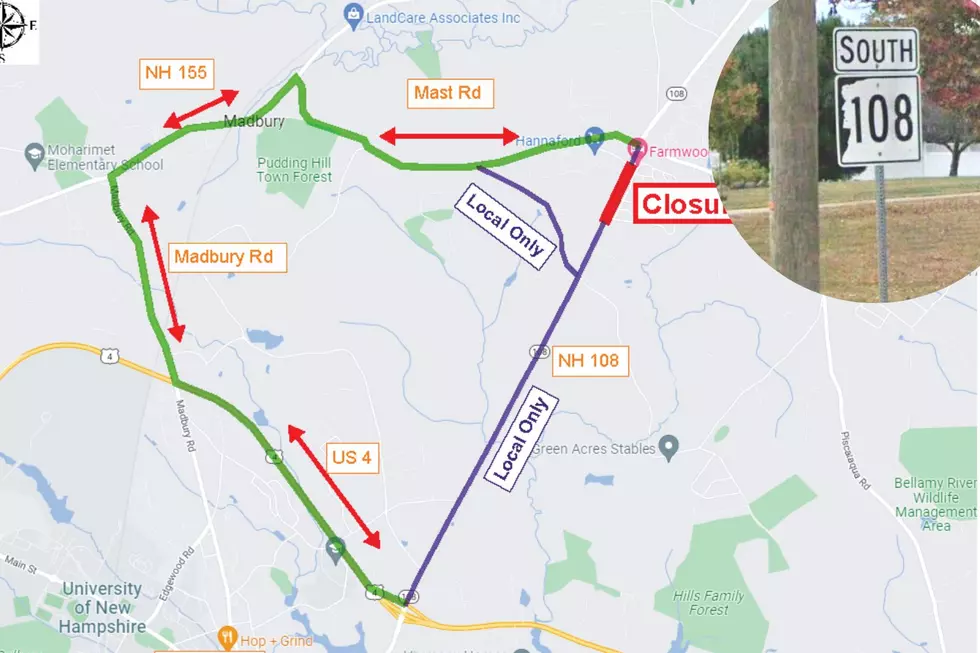 Traffic on Routes 108, 202 Detoured on Monday
Detour map for the Route 108/Durham Road closure that will begin at 9 a.m. Monday, June 20 (City of Dover)
Seacoast area drivers will face two challenges starting Monday with the closure of Route 108 for five days.
The New Hampshire Department of Transportation will close the highway between Grapevine Drive near Hannaford and Freshet Road in Madbury Monday at 9 a.m., as a culvery replacement and utility line rotation get underway.
Through traffic will be detoured via Mast Road/Pudding Hill Road, Route 155/Knox Marsh Road, Madbury Road, and Route 4.
The DOT is also closing the Route 202 bridge over the Isinglass River in Barrington from 6 a.m. - 3 p.m..
Route 202 westbound through traffic will be directed to use Exit 12 to Route 125. Eastbound through traffic on Route 202 will be directed to use Route 9 to Route 125.
When the bridge reopens, traffic will flow using one lane of alternating traffic regulated by signals.
Completion of the projects is dependent on the weather.
Contact reporter Dan Alexander at Dan.Alexander@townsquaremedia.com or via Twitter @DanAlexanderNH
Trending Stories for Seacoast Current (June 6-12, 2022)
More From Seacoast Current