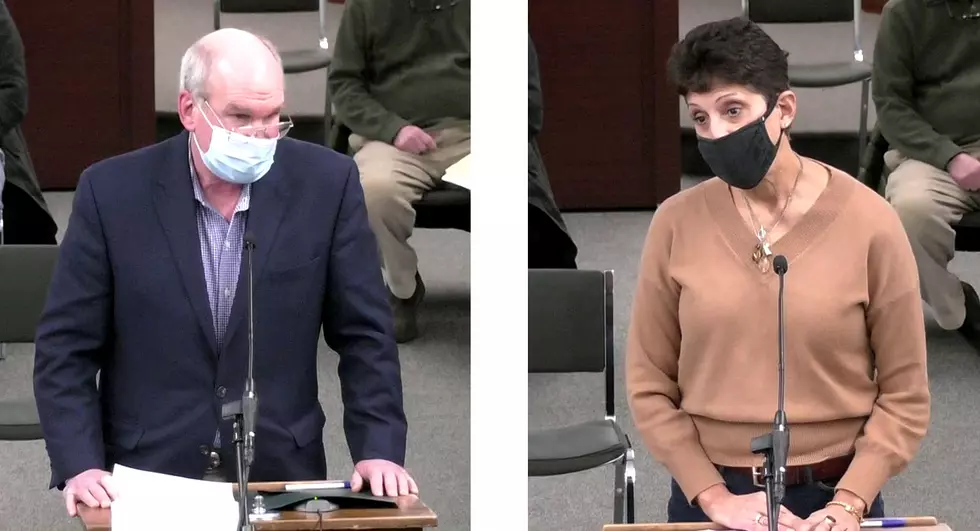 Meet The Two Finalists For Dover City Council's Open Position
Courtesy: City of Dover
The Dover City Council declared on January 6 they had a vacancy for the Ward 4 Councilor position, accepting Councilor Joshua Manley's resignation and agreeing to the process of filling the vacant seat at its January 27 meeting.
Two people ended up filing to be considered for this position. They were Mark Speidel and Marcia Gasses. Applicants had until Wednesday to file in order to be considered.
City Council's Wednesday meeting began with Speidel, a resident of Ward 4, outlining the reasons why he is running for the vacant seat. Speidel said he was a 1980 graduate of the University of New Hampshire where he received his B.A. in Business Administration. He then became a financial advisor in Dover for more than 20 years, he said, where as a resident of the town "made contributions to the community in a few different ways," Speidel said at the meeting.
To a seated and socially distanced audience, Speidel noted his wife was the past president of the Dover Music Club as well as his experience as coach of the Dover Middle School cross country team. Speidel was also the previous president of the Dover track boosters and is currently a trustee of the Dover Knights of Columbus as well as on the board of directors at the Woodward Museum.

Enter your number to get our free mobile app
"Instead of watching, I'm someone who has always preferred to help", Speidel said during his five-minute presentation Wednesday, "so this seat is a logical next step for me. I love Dover, it's been a great place to raise his family, and there is truly something here for everyone and because of that, (Dover) is a desirable place to live. But it is also becoming a more expensive place. This challenge seems to be one that will continue in the years to come."
Given his financial background, Speidel added, he believes himself the right guy for the job.
In order to mitigate the increased costs associated with more people moving to Dover, Speidel says he wants to "balance the needs and desires of the community" and then mentioned a few reasons as to why to vote for him, including his recent retirement, financial background, desire and commitment, as well as his Ward 4 ties.
Gasses, meanwhile, is a known entity to the council as well. She has served in the past on City Council from 2016 to 2019 and on multiple other communities, commissions, and boards, most notably as the chair of the Planning Board and currently serving on the Storm Water and Flood Funding committee, which she mentioned as a particular interest of hers.
She mentioned she came forward to bring "continuity to the council until the next regular election next year," she said Wednesday.
Gasses said she is a lifelong Dover resident with 36 years in Ward 4 where she raised her family, which, like that of her competitor, also went to Dover schools.
"With Covid-19, it's brought challenges that none of us could have possibly thought would happen last year," Gasses said. "Soon, we are heading into the budget process and I've been through it 3 times."
As a Town Planner, she said she brings a diverse amount of skills to the council and since there are four schools in Ward 4, Gasses noted she is concerned about the potential for increased congestion on the roads when kids eventually go back to school and if elected, she wants to work with the council to address this potential issue.
5 Old NH Seacoast Slang Words and Names
More From Seacoast Current