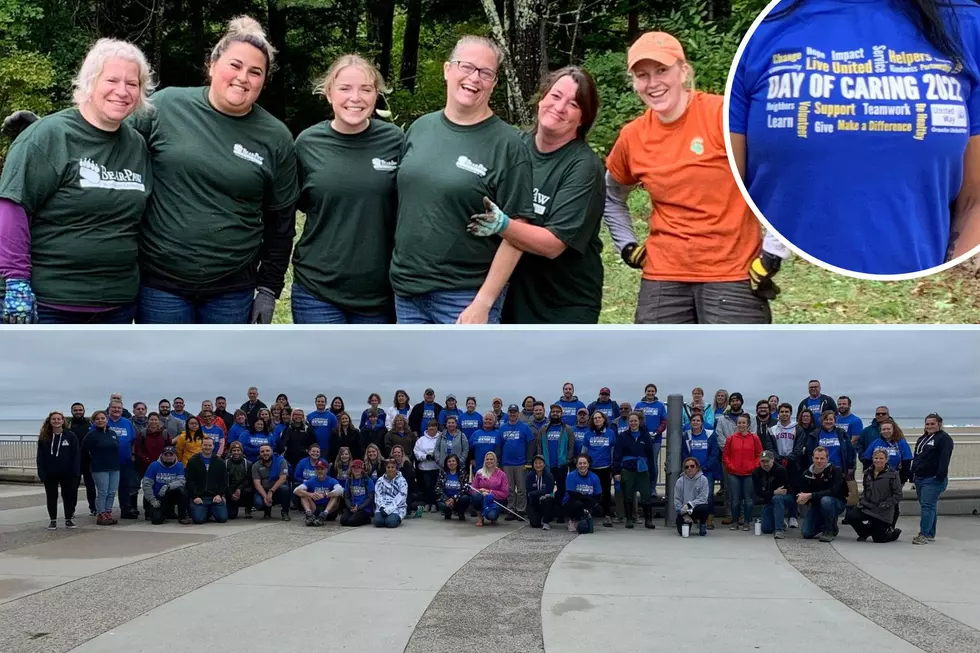 Back Together: United Way's Day of Giving Returns After 2 Year Hiatus
Fed Point volunteers at the Strafford County Homeless Center, volunteers at Hampton Beach (9/20/22) (Granite United Way)
450 volunteers spread out around the Seacoast as the annual Granite United Way's Day of Caring returned for the 29th time on Tuesday after a two-year pandemic hiatus.
The day started with breakfast at the Community Campus Gym in Portsmouth for the volunteers, who hailed from 12 businesses and banks. The group then headed out to tackle projects at 25 non-profits. The event also acted as a reunion of sorts, according to Kerry Folkins, the United Way's Director of Corporate Relations, who organized the Seacoast effort.
"Everyone is itching to get back out in person. Teams calls are great, Zoom has been wonderful to still be able to have meetings and function as a business, but interacting with other people and putting names with faces has been so refreshing," Folkins told Seacoast Current.
Anxious to Work
There was a lot of excitement among companies whose employees had volunteered in the past and hoped that they had not missed this year's event. Folkins said she got so many emails that she started her signup list early.
"One point of contact at Service Federal Credit Union reached out to me three separate times. 'Just checking in again to make sure I didn't miss the date for signups for Day of Caring. Our staff is really excited to volunteer this year,'" Folkins said.
Granite United Way President and CEO Patrick Tufts was also at the breakfast, and echoed the sentiment of being together again.
"There is real spirit of volunteerism here, and we're thrilled to be helping our nonprofit partners with projects," Tufts said.
Portsmouth Mayor Deaglan McEachern also thanked the volunteers on behalf of his city.
Landscaping, Gardening, and Cleaning Puppy Prints
The New Hampshire SPCA was one destination for some of the volunteers to fix fences and do some cleaning.
"Who doesn't love puppies and kittens? They had people cleaning windows inside the facility. As you can imagine, the animals like to jump up on the glass, so they got to clean up puppy prints and spend time with the animals," Folkins said.
Volunteers from Lincoln Financial Group and BearPoint did some gardening, weeding, and playground cleaning at the Strafford County Homeless Center in anticipation of their opening on October 1.
The Granite YMCA got help closing and winterizing its kids camps for the season, including Camp Coney Pine and Camp Gundalow. Blue Ocean Society coordinated a cleanup at Hampton Beach.
"They were saying it was so nice to be out meeting people with the common goal of providing help to these non-profit agencies and feel like they are giving back, however small or large the job," Folkins said.
Some retirees and individuals signed up for Day of Caring who were not affiliated with an organization.
Sponsors of the Day of Giving are:
• NextEra Energy
• Polite Mail
• Connexus Care
• FedPoint
Famous Comedians From New Hampshire
A look at famous, funny faces from the Granite State.
More From Seacoast Current