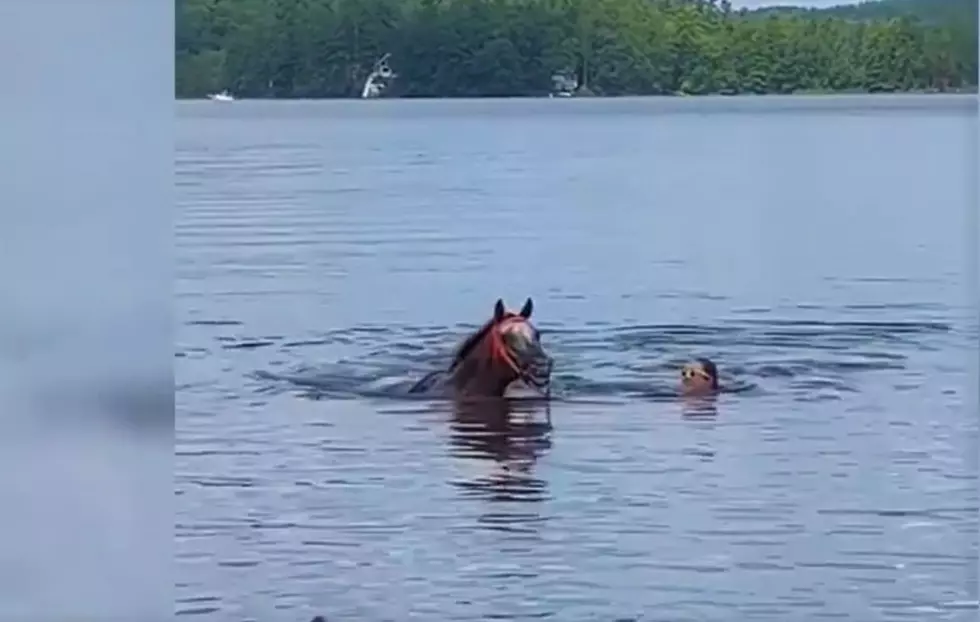 Video: Smiling Horse Swimming in New Hampshire Brings Giggles to Lake Goers
WMUR via Instagram
Editor's note: This article was written by a Townsquare Media Northern New England contributor and may contain the individual's views, opinions or personal experiences.
What a fun video to run across.  It's not like we don't know horses enjoy swimming, it's just pretty rare that we actually see it happening.  Just like watching any animal having fun and playing in the water, it's an adorable sight to see.  Of course, seeing it live would be so incredible, especially for someone like me who has never really been around horses, but this video is the next best thing for sure.
I'm guessing the extra humid August day warranted this nice dip in Lake Winnisquam in Belmont, New Hampshire. The horse is literally swimming circles around its owner.
If you listen to the original video and the WMUR one that I attached at the end of this article, you can hear the horse swimming around while kids watch, giggle, and enjoy the fun.  They even comment that the horse is smiling. At one point, the horse excitedly drinks some of the Lake Winnisquam water.
According to Volunteer Encounter, horses are incredible swimmers because of their huge lung capacity, and can naturally float because of those lungs.  Swimming is an innate part of horses because it's a form of survival for wild ones, according to Volunteer Encounter.
Horses are born with an instinct to swim. They have survived for thousands of years, due to their innate ability to adapt and travel.  This is a vital trait, as their ability to find richer food sources as ensured the survival for the equine species.
The Best New England School Field Trips
Thanks to its history and geological variance, New England offers some of the best field trip opportunities in the nation. Here are some of them.
These Are 10 of the Best Towns in New Hampshire, According to Locals
Be sure to scroll to the bottom to see what town was deemed the best according to Granite Staters.
More From Seacoast Current