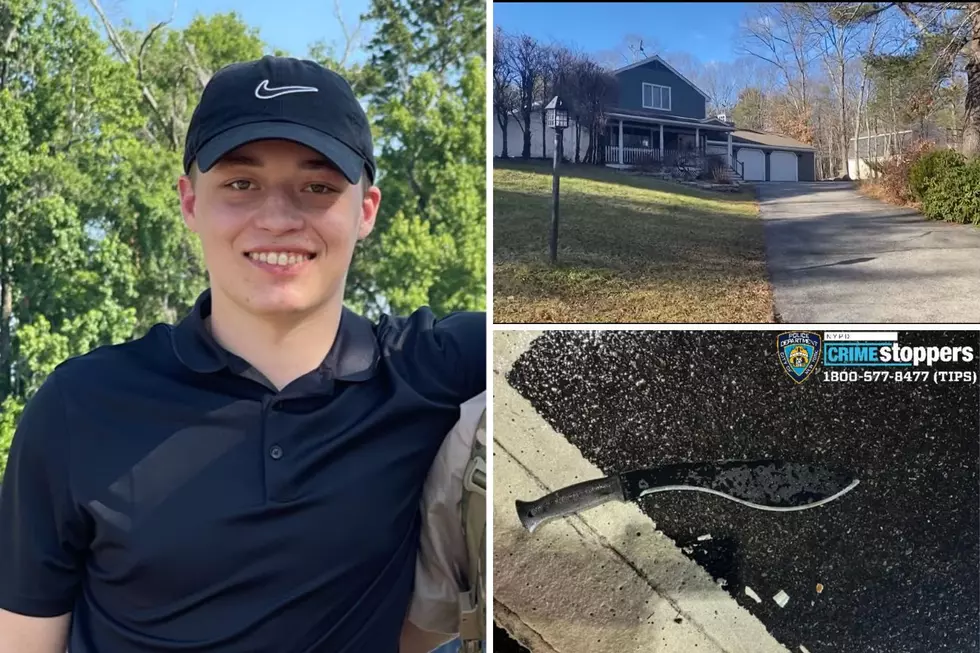 Wells, Maine, Man Charged in Machete Attack on NYPD Officers
Trevor Bickford (Audra Simpson via Facebook), Trevor Bickford's home in Wells (NewsCenter Maine via YouTube), machete used in attack (NYPD)
A 19-year-old from Wells has been charged in an attack with a machete on two NYPD offices New Year's Eve near Times Square with a machete.
The NYPD Monday charged Trevor Bickford with two counts each of attempted murder on a police officer and attempted assault in the attack on a rookie officer and eight-year veteran at West 52nd Street and 8th Avenue outside a security screening zone around 10:10 p.m.
Bickford allegedly hit two of the officers in the head with a machete and unsuccessfully tried stabbing a third. One of the officers struck Bickford in the shoulder.
The officers have been released from the hospital, the NYPD told Seacoast Current. Their identities have not been disclosed.
A Motive for the Attack
A motive for Bickford's attack was not disclosed. The Associated Press reported law enforcement was investigating whether or not Islamic extremism influenced his decision to attack the officers.  His social media posts are also under scrutiny by law enforcement.
A sleeping bag, bedroll, and food belonging to Bickford were found in Forrest Park in Queens early Monday morning, unnamed sources told the New York Post. He traveled to New York via Amtrak on Thursday, according to the source, which told the Post it appears Bickford spent the night before the attack at a hotel on the Bowery on Manhattan's Lower East Side.
The sources told the Post that Bickford told his family he was going to New York just to visit. A diary in which has asked family to "repent to Allah and accept Islam" was found on him during the attack.
Neighbors told the Post that Bickford began wearing religious clothing after his father's death in 2018. Another person told the Post that Bickford worked for Resurrection Golf, which maintains the grounds of the Old Marsh Country Club in Wells.
The FBI spent Sunday searching the home of Bickford, according to WMTW TV, with agents carrying boxes of items out of the house on Alpine Drive.
Bickford was still hospitalized at Bellevue Hospital in New York as of Monday afternoon.
Contact reporter Dan Alexander at Dan.Alexander@townsquaremedia.com or via Twitter @DanAlexanderNH
12 Celebrities Spotted in Maine and New Hampshire in 2022
A number of celebrities made a trip to Maine and New Hampshire throughout 2022. Take a look to see which ones.
More From Seacoast Current