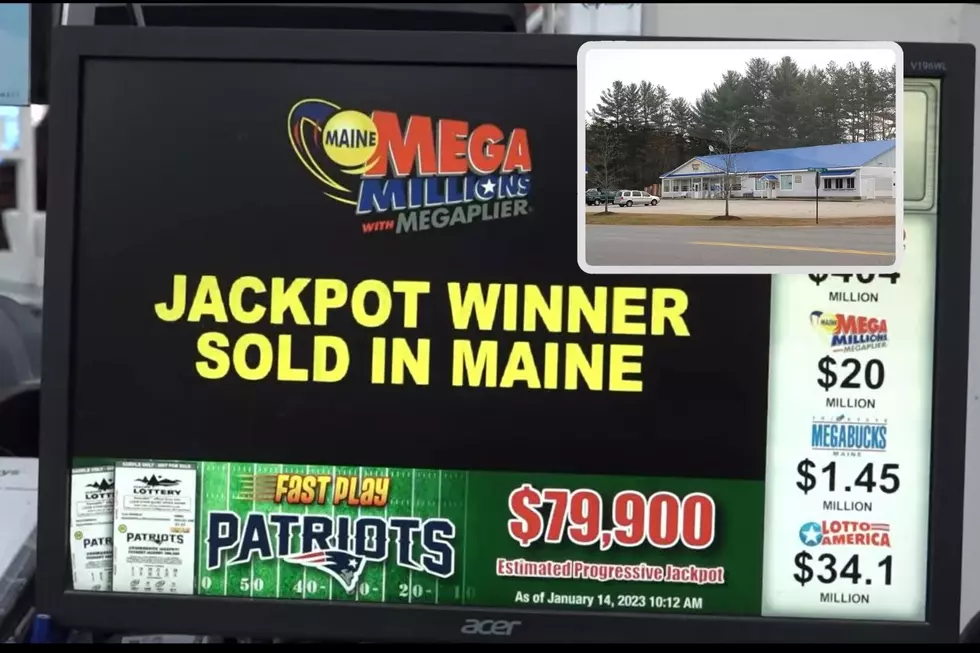 Who Won $1.35B Mega Millions Jackpot Bought in York County, Maine?
Mega Millions machine at Hometown Gas & Grill in Lebanon (NewsCenter Maine via YouTube) (Hometown Gas & Grill)
Excitement is high with mystery in the air as employees at the Maine Lottery that sold the Mega Millions ticket with an annuity jackpot of $1.35 billion wonder who bought it.
The sole jackpot winning ticket with a cash value of $724.6 million was purchased at Hometown Gas & Grill in Lebanon. When it was purchased, where, and by whom are still unknown.
The winning numbers were: white balls 30, 43, 45, 46 and 61, plus the gold Mega Ball 14.
"Lebanon is in the news (for good reasons). Thanks for all the support from our customers. We are anxiously waiting to see if it is someone we see regularly here in town that won a whopping 1.3 BIILLLLION DOLLAS," the store wrote on its Facebook page.
Owner Fred Cotreau told NewsCenter Maine he thought it was prank when he got a call from someone in August at 6 a.m. Saturday morning.
The store's employees don't have any idea who bought the ticket or who purchased it for that matter. Worker Karen Downs told NewsCenter Maine she could have been one of three people who sold it.
The store receives a $50,000 bonus for selling the ticket, Michael Boardman, Maine Lottery Deputy Director of Operations told Seacoast Current.
The store and restaurant, which Cotreau told the Portland Press Herald is nicknamed "The Lebanon Social Club," was full of excited customers hoping it was a local resident. However, the winner could easily be from New Hampshire as the store on Route 202 is minutes from the border with Rochester.
What to Do if You Won
The free advice from financial planner Lou Scatigna, with AFM Investments of Toms River, New Jersey, is for the winners to keep the news to themselves. No matter the amount of the jackpot, the rules are the same for such a life-changing event, he said.
"The first thing you need to do is shut up," Scatigna told Seacoast Current.
"You can't let people know your fortune. A lot of times you'll see people on TV three days after they win. That's probably the biggest mistake you can make because you're not mentally prepared for the onslaught of press you're going to get as well as people who want to take advantage of your fortune."
Scatigna advised that the winner should surround themselves with a great accountant, a great financial planner, and a great lawyer that have experience with things like this to make sure you're counseled properly.
"You don't do anything without vetting it through your personal committee," Scatigna said.
The holder of the winning ticket should sign the back and store it in a safe place until they are ready to claim their prize at lottery headquarters in Augusta, according to the Maine Lottery website. Tickets can be validated at any lottery retailer.
Lou Scatigna hosts "The Financial Physician" program Sunday 7 a.m. - 9 a.m. on WOBM-FM, which like Seacoast Current is owned by Townsquare Media.
Contact reporter Dan Alexander at Dan.Alexander@townsquaremedia.com or via Twitter @DanAlexanderNH
Live in This Elegant, Historic $7.9M Home for Sale in Massachusetts
More From Seacoast Current