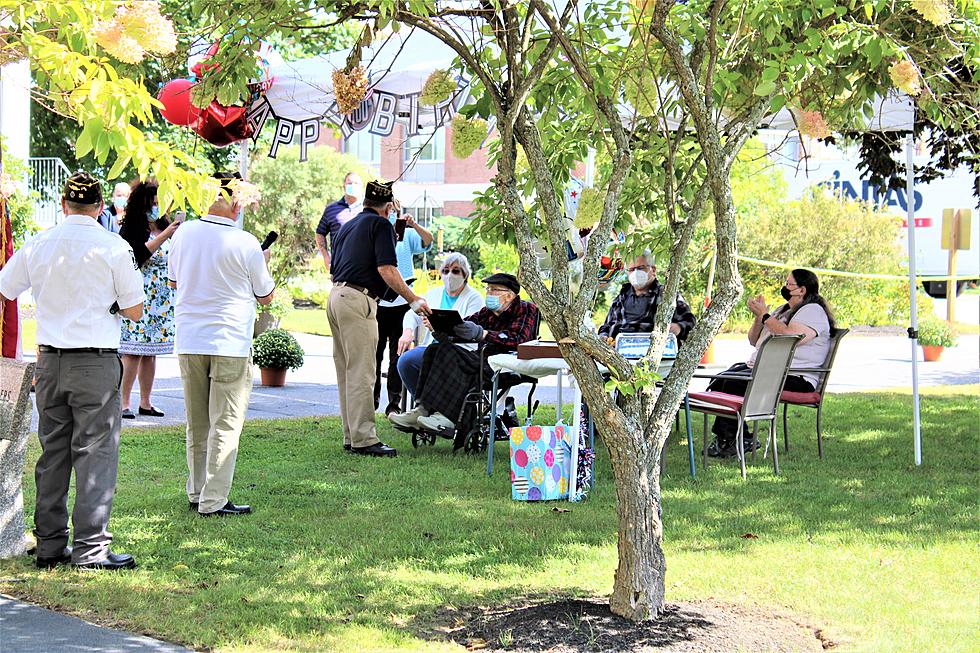 WWII Vet Celebrated With Cards, Outdoor Crowd for 100th Birthday
By Kimberley Haas
A number of people gathered outside of Wentworth Home in Dover, NH on Tuesday to celebrate the 100th birthday of a World War II veteran who served in the Navy and was part of the Sicilian campaign.
Frank West can be seen in the photo below and then again on Tuesday afternoon holding an American flag. He removed his face mask for the photo.
To keep West safe, the staff at Wentworth Home had a small group gather on the grounds and then everyone else stayed on the sidewalk on Central Avenue.
Some people held signs. Others held American flags.
"Happy Birthday" was sung by the crowd.
A proclamation from Dover Mayor Robert Carrier was read.
It was a diverse group of people who turned out for the event. The woman in the photo below said she was there with students who are homeschooled.
She wanted to say a prayer for West.
"God, thank you so much for him and his willingness to serve for our freedoms," the woman said.
There were also members of the Pease Greeters at the event.
Event Organizer and Friend Malcolm Kenney, of South Berwick, Maine, said West moved to the facility next to the hospital about six years ago.
Prior to that, West used to live across from the Post Office and would eat daily at Harvey's Bakery and Coffee Shop.
Kenney told the crowd on Tuesday that West is a lifetime member of VFW Post 5744 in South Berwick.
Kenney said West was part of five invasions during his time of service and at one point in time he and his crew members washed ashore and took cover in sand dunes.
"There was aircraft flying over, shooting at them. Not just that time, but other times as well. He's earned the honor to be called a hero," Kenney said.
West was sworn in with the Navy on Aug. 28, 1942, according to his records. He earned a European Theatre Ribbon with one star, an Asiatic Pacific Ribbon with five stars, a Philippine Liberation Ribon with two stars, an American Theatre Ribbon and a Victory Ribbon.
West's date of separation is listed as Jan. 21, 1946, according to his records.
In a copy of a newspaper from Millville, NJ, dated Aug. 23, 1943, West was featured talking while on leave. He was back from the Sicilian campaign.
West said he was assigned as signalman and machine gun operator during the campaign.
"I wouldn't trade that experience for anything in the world," West told the reporter. He was 21 years old at the time.
West spoke with Seacoast Current on Tuesday and said he was surprised by the turnout but mostly by the number of birthday cards he has received so far.
"I'd have to say, so many cards, from so many people," West said.
People who want to send cards can address them to:
Frank West
c/o Wentworth Home
795 Central Avenue
Dover, NH, 03820
Contact Managing News Editor Kimberley Haas at Kimberley.Haas@townsquaremedia.com. 
See 20 Ways America Has Changed Since 9/11
For those of us who lived through 9/11, the day's events will forever be emblazoned on our consciousnesses, a terrible tragedy we can't, and won't, forget. Now, two decades on,
Stacker
reflects back on the events of 9/11 and many of the ways the world has changed since then. Using information from news reports, government sources, and research centers, this is a list of 20 aspects of American life that were forever altered by the events of that day. From language to air travel to our handling of immigration and foreign policy, read on to see just how much life in the United States was affected by 9/11.
More From Seacoast Current