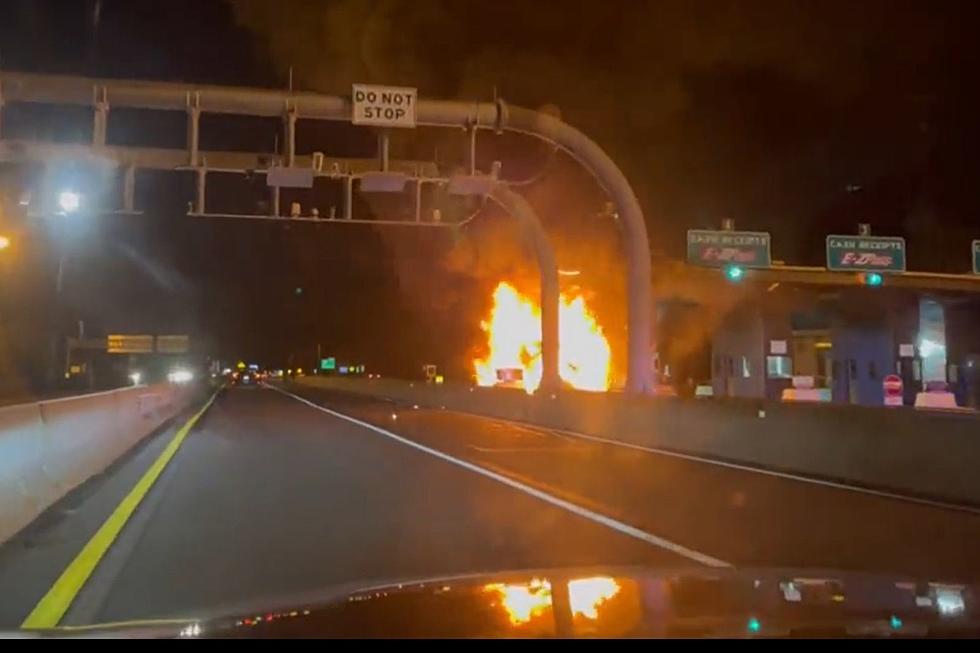 2 From NH Killed in Fiery Crash on NJ Highway
Fire at the Egg Harbor toll plaza on the Atlantic City Expressway 12/26/21 (Shane B. Murphy via Twitter @shanermurph)
Three people were killed on the eastbound Atlantic City Expressway in New Jersey including two from New Hampshire when a vehicle hit the Egg Harbor toll plaza Sunday night and burst into flames, according to State Police.
The vehicle struck the plaza in Hamilton Township (Atlantic County)  around 9:10 p.m. and quickly became completely engulfed in flames, according to State Police spokesman Philip Curry. The driver, Reachthon Khiev, 31, of Manchester and two passengers, Reachsieh Khiev, 27, of Manchester and Keotepie Khiev, 14, of Atlantic City died in the crash.
A third passenger, a 12-year-old girl. was hospitalized for non-life-threatening injuries while a worker in the toll plaza sustained moderate non-life-threatening injuries.
Curry did not know the relationship between the occupants of the Honda.
Photos and video of the crash show a Honda sedan on fire inside Lane 5 of the toll plaza. Some of the letters on the sign above the lane were melted by the heat of the fire.
Emergency repairs close lanes
The eastbound lanes were closed for several hours after the crash for the initial investigation and cleanup.  The cause of the crash remains under investigation.
The Atlantic City Expressway  runs east-west between Atlantic City and the Philadelphia suburbs in southern New Jersey.
Contact reporter Dan Alexander at Dan.Alexander@townsquaremedia.com or via Twitter @DanAlexanderNH
Seacoast Kids Roll Up Their Sleeves for COVID-19 Shots in NH
Around 1,000 kids in the Dover and Rochester public schools received the COVID-19 vaccine in the past week.
More From Seacoast Current