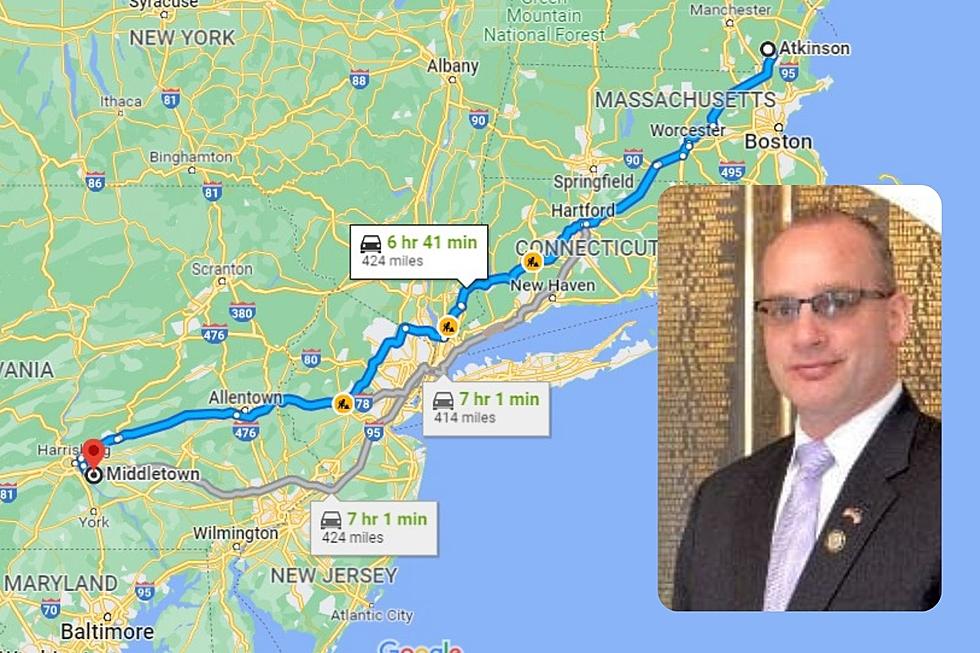 Atkinson, NH Selectman Fired From Job…in Pennsylvania
Map (Google), William Baldwin (Middletown Borough Police Officer's Association)
William Baldwin is a four-term Selectman in Atkinson. He's also the Public Safety Director for a Dauphin County, Pennsylvania town over 400 miles away.
Or at least he was, until things began to unravel following a drunk driving crash in Pennsylvania.
Baldwin was involved in a single vehicle crash in Derry Township, Pennsylvania during the evening of March 16 in which he went off State Route 466 and crashed into a tree, according to police. He was charged with driving under the influence of alcohol and DUI: high rate of alcohol for a blood alcohol level between .10 and .16, and driving on roadways laned for traffic.
Middletown Mayor James Curry announced on March 18 that Baldwin, who held his job since May 2021, had been placed on unpaid administrative leave.
At a special meeting that lasted five minutes on Saturday, the Borough Council voted unanimously to fire Baldwin from his position. Two residents spoke against firing Baldwin and letting the case play out. The position in Atkinson was not mentioned.
Atkinson's Next Move Not Clear
Atkinson Selectmen Chair Robert Worden told the Eagle-Tribune that the board is aware of Baldwin's arrest but unaware of his second position.
Worden spoke highly of Baldwin at the board's last meeting on March 14, which he attended in person.
"Mr. Baldwin has served heroically in the U.S. Coast Guard as well as the Marines, and is entering his fourth term as selectman. He wears Atkinson on his sleeves and he's all about the residents, and that's what I love about Mr. Baldwin."
A review of attendance records by the Eagle-Tribune showed that in the 30 selectman meetings since Baldwin accepted the Pennsylvania position, he missed six meetings and attended 17 by phone.
Contact reporter Dan Alexander at Dan.Alexander@townsquaremedia.com or via Twitter @DanAlexanderNH
Here Are 14 New Hampshire Restaurants That Have Been Featured on Food TV Shows
More From Seacoast Current