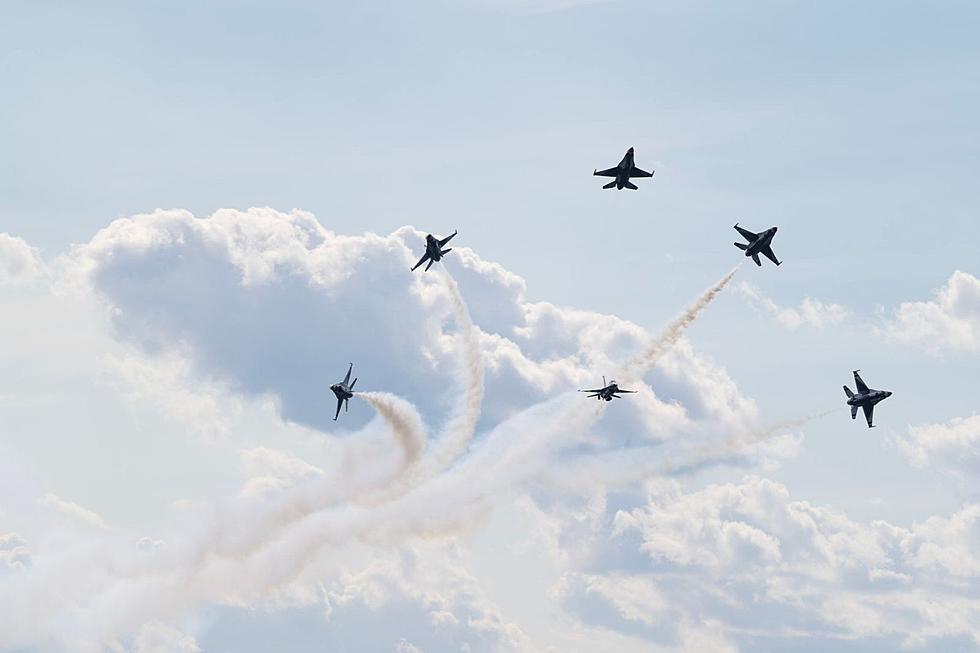 Blue Skies, Excited Fans For Day 1 of Thunder Over NH Air Show (PICTURES)
Thunderbirds fly on Saturday at the Thunder Over NH Air Show (157th Air Refueling Wing)
The first day of Thunder Over New Hampshire was a huge success for its organizers who had a near-perfect day weatherwise.
"It was a fantastic day, huge crowd, beautiful weather, the performers were outstanding, things went very smoothly," spokesman Herb Gillen told Seacoast Current.
40,000 people made their way to the show, according to officials at the 157th Air Refueling Wing. One of the goals of this year's show was for a smooth exit from the air base which was achieved in part by making parking available by passes only.
"The steps we took to alleviate the parking situation helped. Yes, it still took some time to get out when everyone's trying to leave. We cleared out 10,000 cars in less than an hour and fifteen minutes," Gillen said.
Attendees to the show left positive comments on the show's Facebook page although some did say it took nearly two hours to exit.
"Great day and amazed at how traffic was controlled... we were in at 9 a.m. ... and out of parking lot in about 20 minutes!!! Great job to everyone working there today," Jane Isnor wrote.
"Fabulous show. Parking was effortless and we had no issues leaving. We headed out right as the T-Birds landed. Thanks to all for your hard work," Lynda Hadlock wrote.
"Great show! I hope you have one again next year! My heart is so full and happy seeing all the jets fly! Thank you for this organized event," Andrea Alberto-Wong wrote.
The day started with a commemoration of the 20th anniversary of the terror attacks of September 11, 2001. The ceremony included the unveiling of a replica of the twin towers of the World Trade Center made by the sheet metal shop at Pease.
The memorial will be placed at a location on the base to be determined and will have lights to illuminate it at night.
Thunder Over NH Air Show
The Thunder Over NH Air Show celebrated the return of the Thunderbirds to the Pease Air National Guard Station for the first time since 2011.
Contact reporter Dan Alexander at Dan.Alexander@townsquaremedia.com or via Twitter @DanAlexanderNH
The Seacoast Remembers 9/11 Twenty Years Later
A ceremony at the Thunder Over NH Air Show at Pease marked the 20th anniversary of the terrorist attacks on the World Trade Center, the Pentagon and a plane that crashed in Schwenksville, Pennsylvania. Ceremonies were also held by the Portsmouth Police Department and Dover Fire & Rescue.
More From Seacoast Current