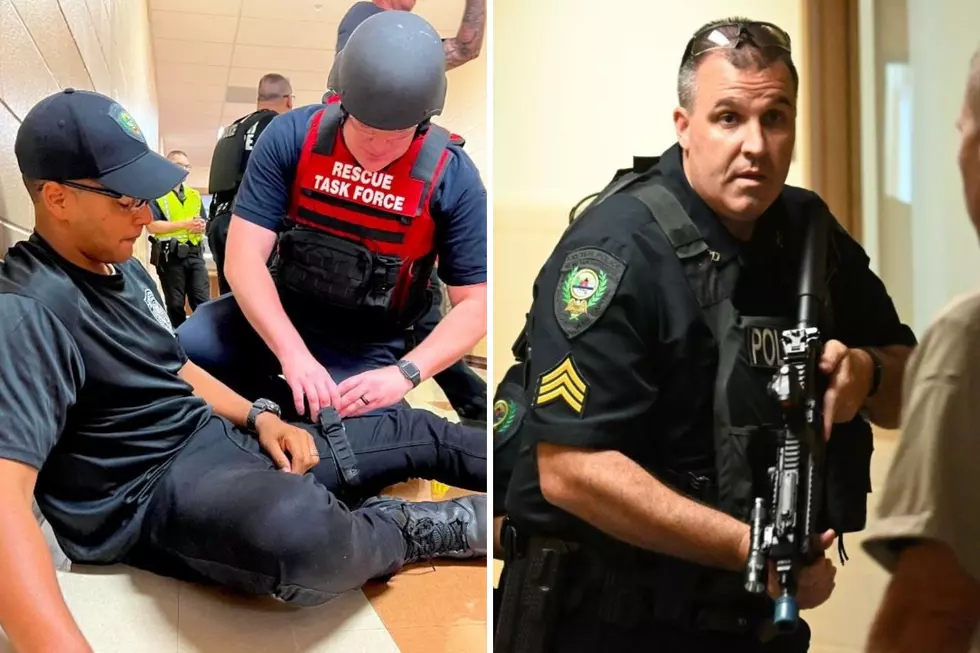 Exeter, NH, Police Host Active Shooter Training
Officers participate in an active shooter drill at Exeter High School 7/20/22 (Exeter Police)
It was only a drill at Exeter High School Wednesday as two dozen officers took part in an active training exercise.
Two months after the shooting at the Uvalde, Texas, that left 19 students and two students dead, officers from Exeter, Kensington, and Hampton Falls arrived at the school and learned the situations for their yearly drill. One involved shots fired during a sporting event, and another a shooter inside a classroom holding hostages.
The exercise was planned before the Uvalde shooting, Exeter Police said on the department's Facebook page.
"We do this once a year at a minimum, and we try to switch up the venue from churches to schools to large corporations so we're not just focusing on schools, because this can happen anywhere," Exeter Police Lt. Steven Bolduc said in a statement. He led the exercise along with Sgt. Tad Sierad and Officer Michael Ingenito.
The chief said that even for officers who have gone through active shooter training, there is something new to learn.
"There are a number of learning points through the training. Even somebody that's been through the training before is hopefully going to pick up a handful of new techniques that maybe they saw the first time they did it or the second time, but they were focused on other parts of the training at the time," Bolduc said.
Contact reporter Dan Alexander at Dan.Alexander@townsquaremedia.com or via Twitter @DanAlexanderNH
More From Seacoast Current