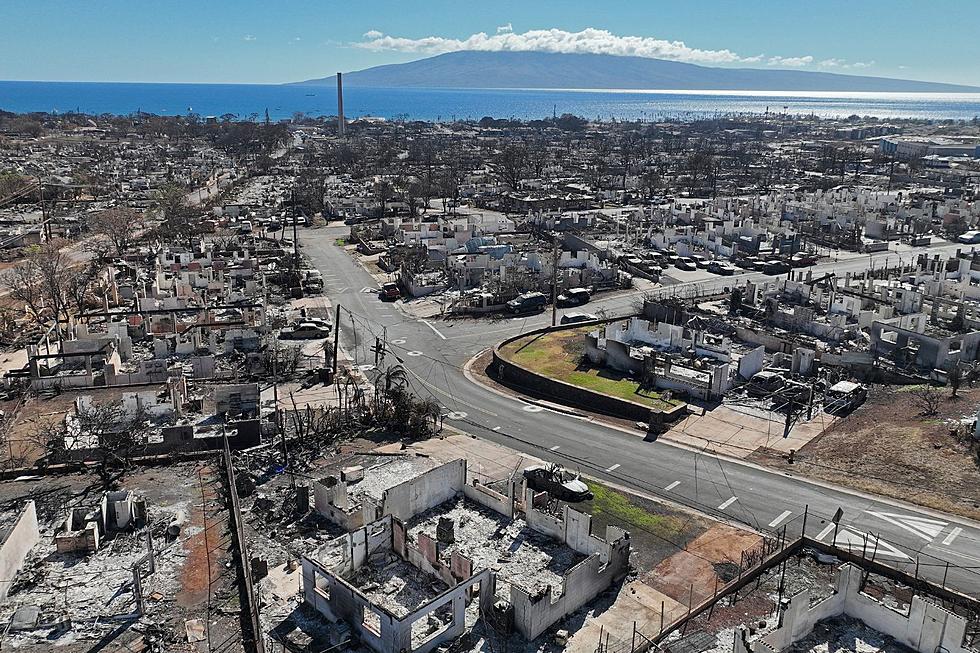 Flatbread Company Restaurant Helps Maui Wildfire Victims
Burned cars and homes in a neighborhood that was destroyed by a wildfire in Lahaina, Hawaii 8/17/23 (Justin Sullivan/Getty Images)
A Portsmouth pizza restaurant with a location in Maui offers a chance to help the victims of the wildfire that destroyed hundreds of homes and left 115 dead and hundreds more missing.
The Flatbread Company at all its locations – including Portsmouth, Amesbury, and Portland – will donate $1 from the purchase of every Jay's Heart and Mopsy pizza in support of Maui wildfire relief through Thursday. The funds will be distributed to several relief agencies including the Maui Food Bank, Hawaii Community Foundation, Chef Hui Maui Relief Fund, World Central Kitchen and Habitat for Humanity.
How did a New England-based restaurant open up a location at the other end of the country in the first place?
"Our founder, Jay Gould, is an avid skier as well as surfer, and surfed for many winters on Maui and met a local Hawaiian windsurfing champion by the name of Josh Stone, and they became friends. Josh pitched the idea of them opening a flatbread location on Maui, and it took off from there. We opened in 2006," Jason Lyon from the Portsmouth store told Seacoast Current.
The inclusion of the Mopsy is appropriate because it originated at the store in Paia-Maui. Its main ingredient is pulled pork, and includes roasted pineapple and red onion.
"When the restaurant was being built, a local Hawaiian lady by the name of Mopsy, who lives out behind the restaurant with her husband Henry, befriended Jay and offered him family secret mango barbecue sauce recipe," Lyon said.
While much of Lahaina on the western end of the island of Maru was destroyed by the fires, Paia on the north shore was not impacted.
"We're very fortunate that all of our team members as well as their family members live in relatively close proximity to Paia, so we had no casualties or losses," Lyon said.
While they are emotionally affected by the fire, they have been able to help with the relief efforts and provide meals and gift cards to displaced residents.
"They certainly immediately rose to the challenge of doing what we do on a regular basis and providing assistance to the community when there's a need. The day after the fires, they started donating upwards of 50 pizzas a day to different charitable organizations of relief such as different food shelters as well as first responders and the hospitals, and then of course, volunteers," Lyon said.
The Flatbread Company also has locations in North Conway and Providence, Rhode Island.
Contact reporter Dan Alexander at Dan.Alexander@townsquaremedia.com or via Twitter @DanAlexanderNH
Whose Face Was Spotted in the New Hampshire Clouds? Here's What Locals Say
After a woman
shared a picture
of clouds resembling a man's face, Granite Staters offered hilarious responses as to who they think he is.
More From Seacoast Current