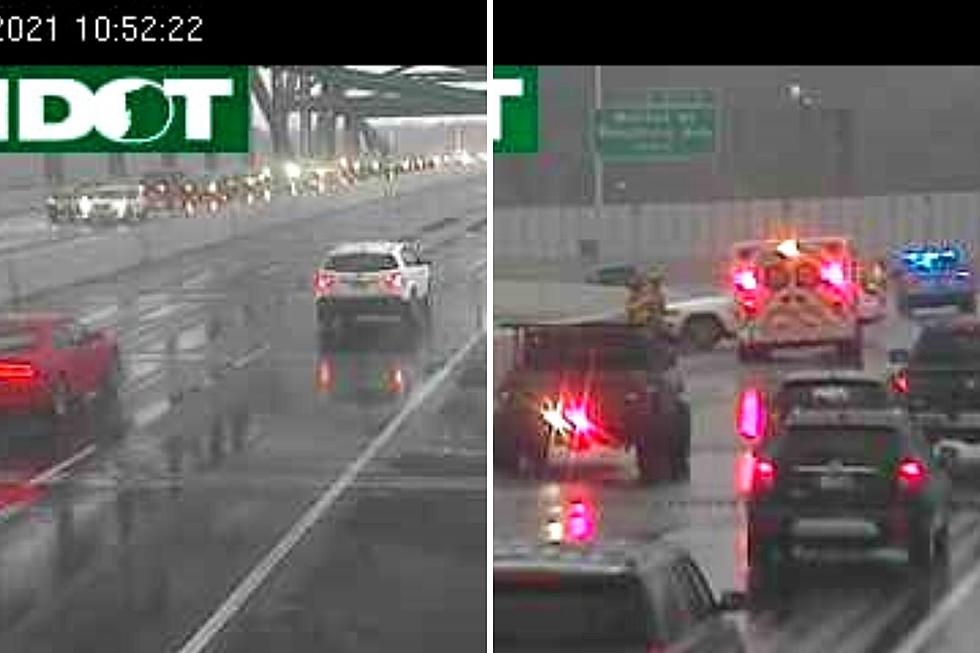 Freezing Rain Leaves Icy Glaze on NH, ME Roads
Crash on I-95 south south of the PIscataqua River Bridge (NH DOT)
Freezing rain on Christmas morning turned Interstate 95 into a skating rink with at least two crashes.
Massachusetts DOT spokeswoman Jacquelyn Goddard on her Twitter account said NH State Police alerted her agency of a "pileup" involving "dozens of vehicles" over the border from Salisbury, MA. around 10:15 a.m.
A picture posted by Hampton Falls Police showed a guard rail through the drivers side door of one of the cars involved.
A delay indicted earlier on Google Traffic maps near Exit 1 for Route 107 was no longer showing at 11:10 a.m.
There was also a crash on southbound Route 95 entering New Hampshire from the bridge over the Piscataqua River causing a delay that spanned the bridge into Kittery. NH DOT cameras showed two left lanes blocked after an SUV crashed into the concrete barrier.
The scene was cleared as of 11:45 a.m., according to a tweet from State Police.
NH State Police in a tweet said that troopers are responding to calls for crashes all over the state.
"Many areas of the state are experiencing freezing rain making the driving conditions challenging," State Police said.
A crash on the Everett Turnpike in Nashua involving 15 cars earlier Christmas morning closed the northbound lanes, according to Nashua Police.
Ice and Snow All Over
The National Weather Service in Gray, Maine said that ice accumulations in southern NH could reach up to a half-inch while 2-3 inches of snow could fall in northern New Hampshire and western Maine.
A Winter Weather Advisory is in effect until Sunday morning for mixed precipitation to fall through the afternoon into the evening.
Contact reporter Dan Alexander at Dan.Alexander@townsquaremedia.com or via Twitter @DanAlexanderNH
Best Cross-Country Ski Centers in Maine and 1 in New Hampshire
Here are nine of the best places to go for cross-country skiers in Maine (and one in New Hampshire.
More From Seacoast Current