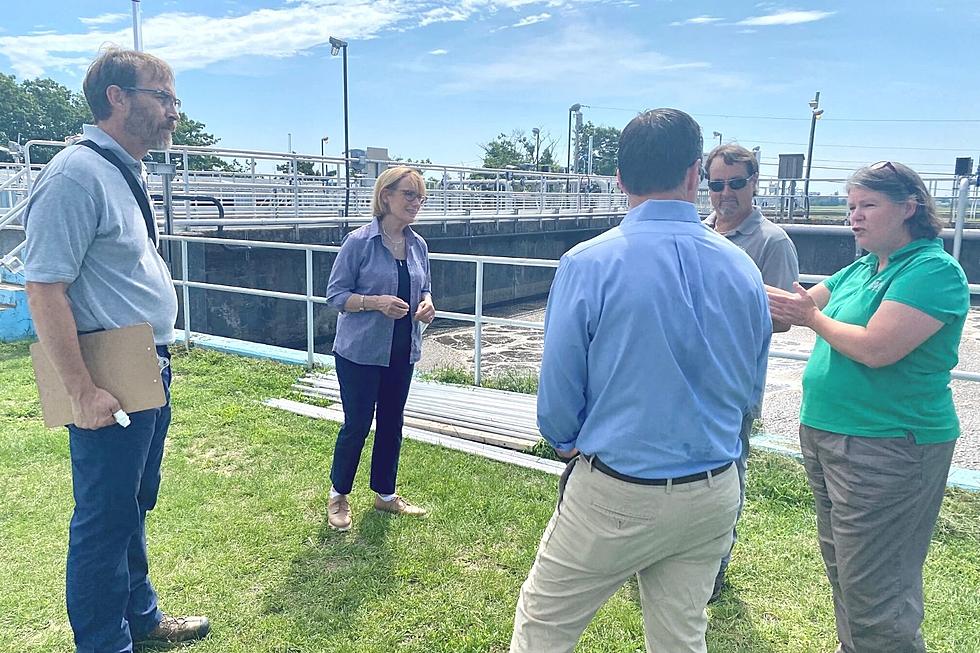 Hassan Shows How NH Benefits from Infrastructure Bill
Sen. Maggie Hassan visits Hampton's wastewater treatment plant (Sen. Maggie Hassan)
US Sen. Maggie Hassan, D-N.H., visited the Hampton Wastewater Treatment Plant on Friday, one of the facilities she says will benefit from the federal infrastructure bill being negotiated in Congress.
The $1.2 trillion spending bill focuses on passenger rail, high-speed internet access, coastal resilience, clean energy, and cybersecurity. $54 billion is earmarked to strengthen water infrastructure for communities in New Hampshire and across the country, according to Hassan.
The Hampton plant, formally known as the Leavitt E. Magrath Wastewater Treatment Plant, has been undergoing upgrades recently paid for with a low-interest loan from the state Department of Environmental Services' Clean Water State Revolving Fund. The infrastructure bill would provide additional federal funding for the program, according to Hassan.
"The Hampton Wastewater Treatment Plant is an important public utility that provides significant value to the entire community, and I was glad that the infrastructure bill that I worked to negotiate and pass through the Senate included significant funding to support public water systems like this one," Hassan said. "This historic investment in our water infrastructure will be a game-changer for communities across New Hampshire, including on our Seacoast, that can use this funding to address their aging infrastructure."
The bill also includes $10 billion specifically to address PFAS contamination, according to Hassan.
"I was also pleased to help secure dedicated funding to address PFAS contamination, which will help bring peace of mind to parents who should not have to worry about whether the water flowing from their tap is safe for their children," Hassan said.
A House Vote Not Coming Soon
The Senate passed the bill by a 69-30 vote Tuesday with support from both Hassan and US Sen. Jeanne Shaheen, who called the bill a victory for the state.
"From the largest investment in safe drinking water in U.S. history to significant resources to expand access to broadband across our communities and so much more, this bipartisan infrastructure legislation is a win for New Hampshire," Shaheen said.
The House will not likely take a vote soon on the infrastructure bill as House Speaker Nancy Pelosi wants a vote to be taken first on a $3.5 trillion budget resolution.
Rep. Chris Pappas in a statement to WMUR said the House should take action on the bill "without delay."
A group of representatives including Jared Golden from Maine's 2nd congressional district wants the infrastructure bill vote first because of the jobs he said will be created.
"Our state needs this funding now. We shouldn't hold it hostage for months for a reconciliation bill that isn't even written yet," Golden wrote on his Facebook page.
Contact reporter Dan Alexander at Dan.Alexander@townsquaremedia.com or via Twitter @DanAlexanderNH
LOOK: Answers to 30 common COVID-19 vaccine questions
While much is still unknown about the coronavirus and the future, what is known is that the currently available vaccines have gone through all three trial phases and are
safe and effective
. It will be necessary for as many Americans as possible to be vaccinated in order to finally return to some level of pre-pandemic normalcy, and hopefully these 30 answers provided here will help readers get vaccinated as soon they are able.
More From Seacoast Current