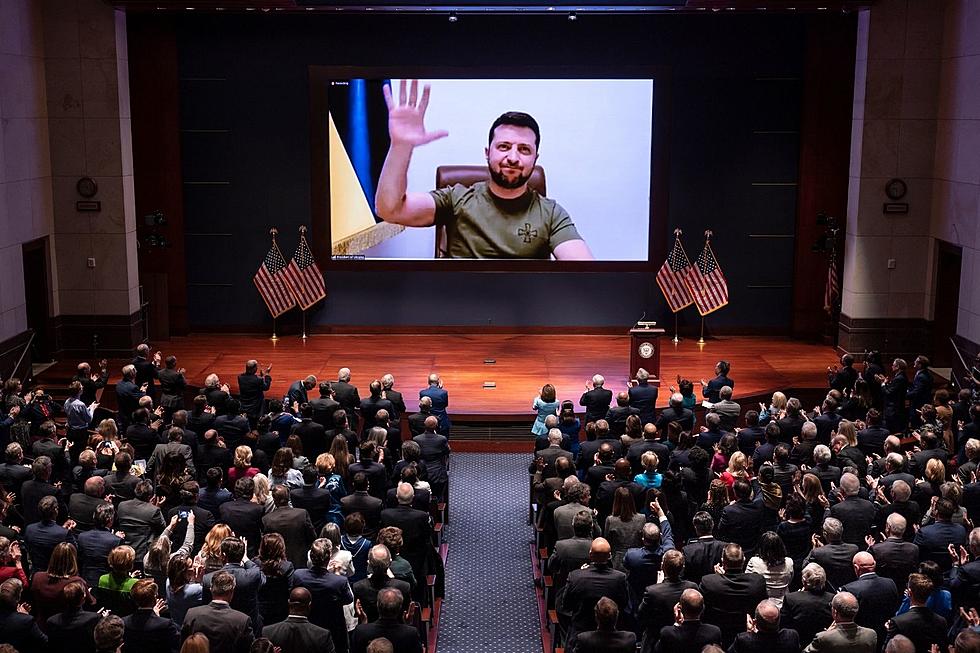 Help for Ukraine is Coming; NH Warns About Donation Laws
Ukrainian President Volodymyr Zelenskyy speaks to the U.S. Congress by video (J. Scott Applewhite-Pool/Getty Images)
The New Hampshire Attorney General's Office has warned two Seacoast real estate offices about collecting donations for Ukrainians. While these offices mean well, it is illegal, as Ukrainian President Volodymyr Zelenskyy addressed Congress.
The Charitable Trusts Unit notified the agencies in a letter obtained by Seacoast Current that there are a number of state laws regulating charitable solicitations, including that any person or business holding funds for charitable purposes must register with the state.
One of the agents who received the letter, Roxanne Barnes at Verani Realty in Portsmouth, was the subject of a segment on WMUR.  The agency on its Facebook page said Barnes was able to get Walmart to donate an entire truckload of diapers, wipes, and a variety of other toiletries. Lisa Brochu in Exeter also received a letter.
Diane Quinlan, Assistant Director of Charitable Trusts, told Seacoast Current that her office did not order the agents to stop collecting donations.
"We encourage businesses to connect with existing charities to conduct charitable fundraising, including fundraising for relief for the people of Ukraine," Quinlan said.
WMUR was the first to report on the letter.
A Plea from President Zelenskyy
Zelenskyy spoke to members of Congress Wednesday morning via video from Kyiv and urged the United State to do more to assist Ukraine through a ban on Russian imports and sanctions against Russian lawmakers.
He also compared the horror of daily attacks on Ukraine by Russia to American tragedies.
"Understand us now, when we need you right now. Remember Pearl Harbor. Terrible morning of December 7, 1941, when your sky was black from the planes attacking you. Just remember it. Remember September the 11th, a terrible day in 2001 when evil tried to turn your cities, independent territories in battlefields. When innocent people were attacked from air, yes, just like no one expected it, you could not stop it. Our country experiences the same every day," Zelenskyy said.
The speech cemented support from New Hampshire's U.S. Senators for Ukraine.
"President Zelenskyy's steadfast leadership and unwavering resolve has not only inspired the fighting spirit among Ukrainians as they defend their land, freedom, and future, but also people throughout the world watching Ukraine hold the line for liberal democracies around the globe," said Sen. Jeanne Shaheen in a statement. "Much like I've experienced in conversations with President Zelenskyy, today he was clear on what his country needs at this precarious time as Putin's unprovoked, premeditated war reaps chaos, death and devastation throughout Ukraine."
Sen. Maggie Hassan also shared her support of Zelenskyy
"President Zelenskyy's message to Congress was clear and unwavering: Ukraine needs our help. The world has seen the heartbreaking toll of Russia's brutality, and the incredible bravery and determination of Ukrainians in the face of harrowing attacks." Hassan said in a statement. "In this critical hour, we must provide additional aid and equipment to Ukraine and continue to impose even more severe sanctions on Putin, his cronies, and the Russian economy, as we work to avoid further escalation."
Several hours after Zelenskyy spoke, Biden committed another $800 million in security assistance to Ukraine, bringing the total U.S. security assistance committed to Ukraine to $1 billion in just the past week.
The assistance includes 800 Stinger anti-aircraft systems, 2,000 Javelin, 1,000 light anti-armor weapons, 6,000 AT-4 anti-armor systems, grenade launchers, 2,000 Javelin, 1,000 light anti-armor weapons, and 6,000 AT-4 anti-armor systems, body armor, and helmets.
Contact reporter Dan Alexander at Dan.Alexander@townsquaremedia.com or via Twitter @DanAlexanderNH
Trending Stories for Seacoast Current (March 7-13, 2022)
More From Seacoast Current