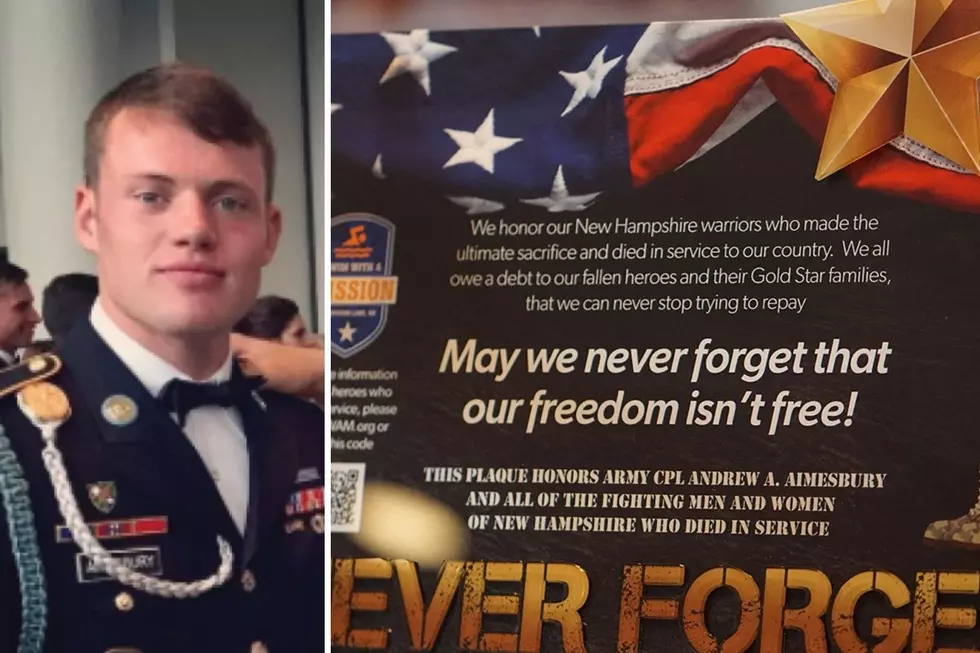 How a Seacoast Gold Star Mother Shares Her Son's Memory
Army Ranger CPL Andrew A. Aimesbury (Dover Adult Learning Center), plaque from the New Hampshire Military Coaching Alliance (Scot Villeneuve, Big Hit Media)
After six years, Karen Kelsey, the mother of U.S. Army Ranger Cpl. Andrew A. Aimesbury, is ready to share her son's story and use it to help others.
Karen Kelsey became a Gold Star mother in 2015 when her son died in a squad live fire exercise at Fort Stewart, Georgia. He was assigned to Company D, 1st Battalion, 75th Ranger Regiment, at Hunter Army Airfield, Georgia, as a Ranger team leader.
She was honored during a ceremony on May 5 by the New Hampshire Military Coaching Alliance (NHMCA) in part to bring attention to Gold Star mothers. The event was sponsored by FedPoint, a federal insurance and benefits administrator based in Portsmouth.
"He was the kindest badass I've ever known in my whole life," Kelsey told Seacoast Current. "And he was the kindest person that I have ever met."
While more mature than most of the the other boys in his class, Aimesbury did not like homework, according to Kelsey.
"He was always the kid in school that the teachers made sit with the kids no one else would sit with because Andrew was so kind. He won a citizenship award in elementary school," Kelsey said.
Andrew failed the ninth grade at Dover High School, and was working towards his GED at the Dover Adult Learning Center. He enrolled at Great Bay Community College for two semesters and at age 17 joined the U.S. Army. By 19, he was a Ranger before his senior class in Dover graduated, after making it through the U.S. Army Ranger Course on his first try.
"An exceptional Ranger leader"
At the time of his death on December 9, 2015, Andrew was a member of Company D, 1st Battalion, 75th Ranger Regiment, at Hunter Army Airfield, Georgia, as a Ranger team leader.
"He became a great leader. He was volunteering for a drill which is where he got killed. He had gotten back from Afghanistan. He had volunteered for a live fire drill. Something went wrong and he was shot. They used live fire during their training," Kelsey said.
Andrew died after being flown to the nearest medical facility.
"Cpl. Andrew Aimesbury was an exceptional Ranger leader and an extraordinary man. He was universally liked throughout the battalion for his competence as a warrior and his caring nature," Col. Brandon Tegtmeier, commander of 1st Battalion, 75th Ranger Regiment said in a statement at the time of Andrew's death. "This tragic event has affected us all and our hearts break for his family. Corporal Aimesbury will always be a member of 1st Ranger Battalion and his memory will make all of us better men."
Kelsey said she found out after his death he had decided on a military career. He was working towards becoming a sergeant.
"He was just really doing well. I think part of it was that coming back to civilian life was not easy for people in the military. He had such great success as an Army Ranger I think that's why he wanted to stay in," Kelsey said.
The NHMCA is an informal group of Seacoast businessmen and retired military who work together in order to help service members leaving the military find the right position that suits their skills, aptitudes, and experiences.
Ready to Share Andrew's story
After six years of processing the family's grief over the loss of Andrew, the family is ready to help others by telling his story.
"Every day is a reminder that it's one more day he's not here and that's really, really hard," Kelsey said.
Kelsey has helped create a fellowship, the Andrew Aimesbury Memorial Fund,  at the Dover Adult Learning Center. Its purpose is to help those who are smart but a little misunderstood and fall through the cracks because they don't know how to communicate their knowledge well, according to his mother.
"We don't want to make it so hard for these people who are so intelligent that they just can't catch a break," Kelsey said.
The biggest qualification is to show some heart. "They just have to show they've got heart."
"The fellowship is open to anyone who's gone through the Dover Adult Learning Center. If they've got their GED or high school equivalency, it doesn't matter what year they graduated. It can be 15 years ago. They can apply for funds from Andrew's fund,"  Kelsey said.
Kelsey is also working a couple of children's books to share Andrew's story.
Jameson and a Cat Named Cooper
The family remembers Andrew every day with a memorial table where the urn holding his cremated ashes is kept.  Kelsey said it makes it seem like he is there.
"We keep a shot of Jameson poured for him all the time. Army Rangers drink a lot of Jameson whiskey so I will only do a shot of whiskey in honor of my son. Any time my daughter and I have a beer, we'll pour out of our glass into a miniature pilsner and pour for him." They'll also order him a beer when they go out.
His cat named Cooper that Andrew was given on his 11th birthday is also still part of the family.
"He loved that cat, and in his apartment on base, the biggest picture was of his cat. All his buddies used to make fun of him because he loved his cat so much," Kelsey said.
Her fondest memory is their Sunday morning tradition of going to McDonald's for breakfast burritos when he was in high school and read the Coffee News. They made the trip during his last visit home in August 2015.
"We were sitting in McDonald's before he went back to base. He was telling me some things about Afghanistan. He couldn't give a lot of detail, but I could tell he know he was doing something important. He told me 'mom, don't cry for me. I know what can happen. Don't cry for me.'"
Contact reporter Dan Alexander at Dan.Alexander@townsquaremedia.com or via Twitter @DanAlexanderNH
Trending Stories for Seacoast Current (May 16-22, 2022)
More From Seacoast Current