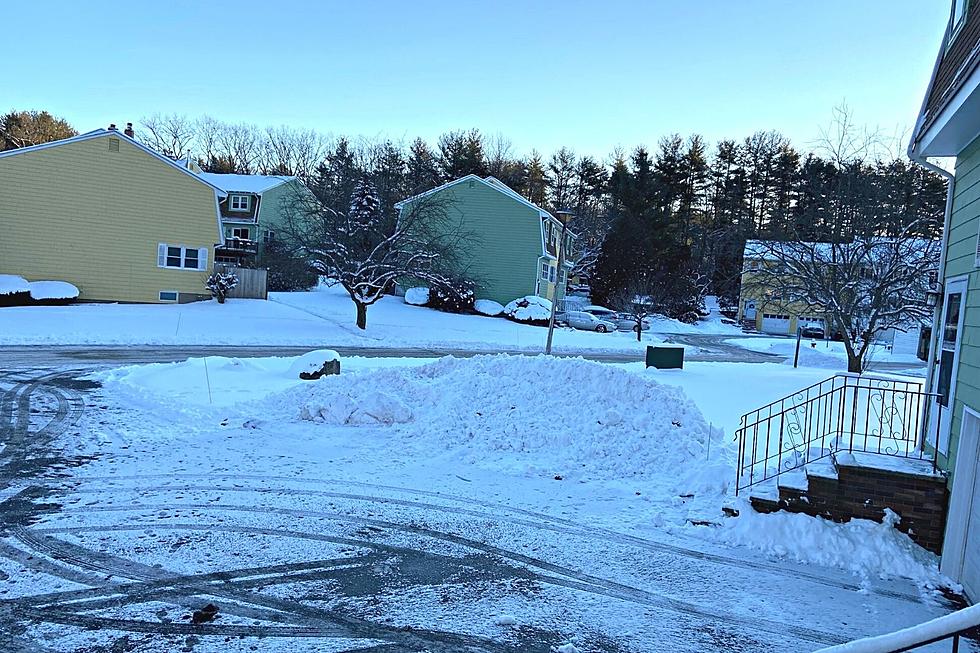 How Much Snow Fell On the Seacoast During Friday's Storm?
Snow in Derry, NH 1/8/22 (Townsquare Media)
The snow is gone, but bitterly cold weather arrives early in the week as the winter's hold on the Seacoast continues.
Parking bans were lifted by Saturday morning in Dover, Hampton, Portsmouth, Salisbury and Somersworth.
Portsmouth residents who parked at the Foundry and Hanover garages have until 10 a.m. Saturday to remove their vehicles before the parking rate returns to normal.
Cape Neddick in York County hit the jackpot for total snowfall, with 8.6 inches of the powdery snow reported to the National Weather Service in Gray, Maine.
8 inches were reported in Dover and 7.8 inches were reported in Stratham. Durham, Lee, Kittery and Rye all reported 7 inches.
Total Snow Accumulation
Maine
York County
Cape Neddick 8.6 inches
Kittery 7.0 inches
2 WSW Ogunquit 6.4 inches
2 NNW Saco 6.2 inches
5 NNW Acton 6.1 inches
4 ESE Limerick 5.1 inches
Berwick 5.0 inches
5 W Arundel 4.5 inches
1 NW Hollis 4.0 inches
New Hampshire
Rockingham County
Stratham 7.8 inches
2 NW Lee 7.0 inches
Rye 1.0 S 7.0 inches
1 SW Hampton Falls 6.8 inches
Portsmouth Airport 6.6 inches
1 N Deerfield 6.4 inches
1 NW Hampstead 6.0 inches
Hampton 6.0 inches
3 NE Kingston 6.0 inches
Derry 4.8 inches
3 N Derry inches
Strafford County
1 N Dover 8.0 inches
Durham 7.0 inches
4 NE Barrington 6.5 inches
2 WNW Newington 6.4 inches
1 SSE Strafford 5.0 inches
Massachusetts
Essex County...
Salem 12.0 inches
Manchester 11.5 inches
Swampscott 10.5 inches
Marblehead 9.9 inches
Peabody 9.0 inches
Topsfield 8.0 inches
West Peabody 7.5 inches
Lawrence 6.5 inches
Haverhill 6.0 inches
Bradford 6.0 inches
North Andover 6.0 inches
Andover 6.0 inches
Ipswich 6.0 inches
Middleton 5.9 inches
Up Next: Freezing Rain, Bitter Cold
Saturday is a break from the wintry precipitation with sunny skies and high temperatures reaching the upper 20s.
Rain hitting cold surfaces could bring icy, slick conditions to the Seacoast on Sunday morning but no accumulations of ice, according to the forecasters in Gray. The rain will continue in the afternoon.
An arctic cold front will bring the coldest temperatures of the season so far, with high temperatures in the 20s on Monday. Temperatures plunge Monday night to single digits under cloudy skies, and will stay there on Tuesday.
Temperatures will moderate back into the 20s by Wednesday and the 30s on Thursday and Friday.
Contact reporter Dan Alexander at Dan.Alexander@townsquaremedia.com or via Twitter @DanAlexanderNH
12 Days of New Hampshire Song
You know the 12 Days of Christmas song; Well here's the 12 Days of New Hampshire
More From Seacoast Current