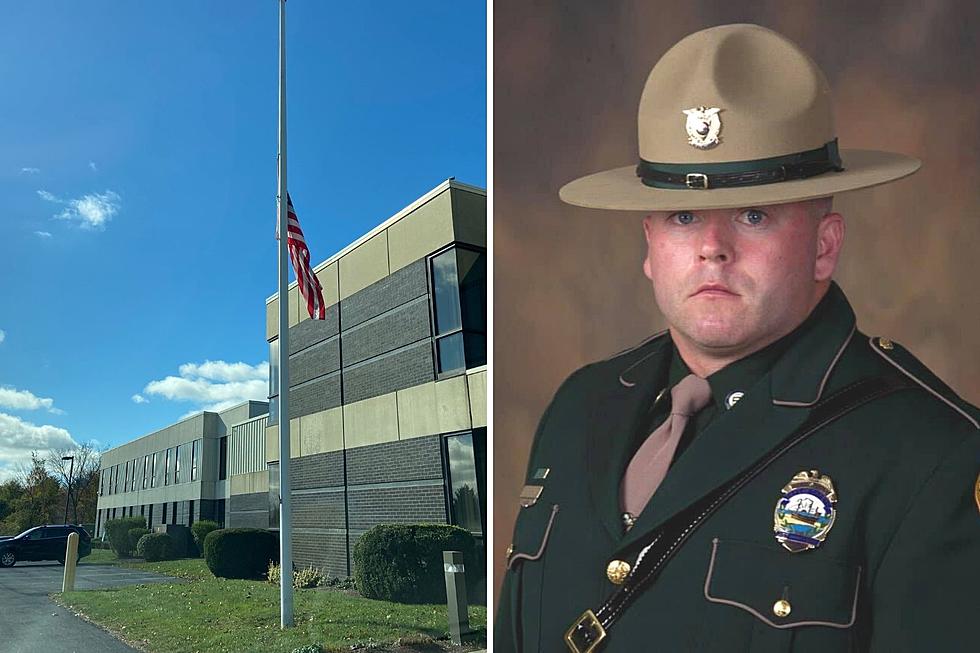 How to Help the Family of Fallen NH State Trooper
Flag at half staff at Pentair in Dover (Jadd Naamani, Townsquare Media) Staff Sgt Jesse Sherrill (NH State Police)
A fund has been created to assist the family of New Hampshire State Police Staff Sgt. Jesse Sherrill who was killed in the line of duty early Thursday.
Sherrill was working a construction detail on Interstate 95 in Portsmouth when he was struck by a tractor trailer near Exit 3 in Portsmouth around 12:30 a.m. He was taken to Portsmouth Regional Hospital where he died.
The Greg Hill Foundation is accepting donations to assist Sherrill's family and matched donations up to $10,000. As of Friday morning $95,000 had been donated in less than one day.
"Jesse was an incredible guy, a family guy, he had kids. He lived in my area on the Seacoast. It's really tough. You don't think stuff's going to happen until it happens and when it does it hits everyone really hard," Sununu told Hill during his show on WEEI radio Friday morning. "The family's going through some really tough times but they're staying strong."
Sununu said that Sherrill was a "trooper's trooper" in that he understood that he was never really off the clock.
"That meant answering the call 24 hours a day, day or night, whatever it was, the call was always answered," Sununu said.
First responders are expected to line portions of the route as Sherrill's body is
escorted from Concord Hospital to the Wiggin-Purdy-McCooey-Dion Funeral Home in Dover on Friday.
Contact reporter Dan Alexander at Dan.Alexander@townsquaremedia.com or via Twitter @DanAlexanderNH
UPDATED 2021 Halloween Trick or Treat Times on the Seacoast
Here's the official time and dates for trick or treat on the Seacoast for Halloween 2021 listed alphabetically by town. All times are subject to change without notice due to weather and other factors. We'll add to the list as we learn of more dates.
More From Seacoast Current