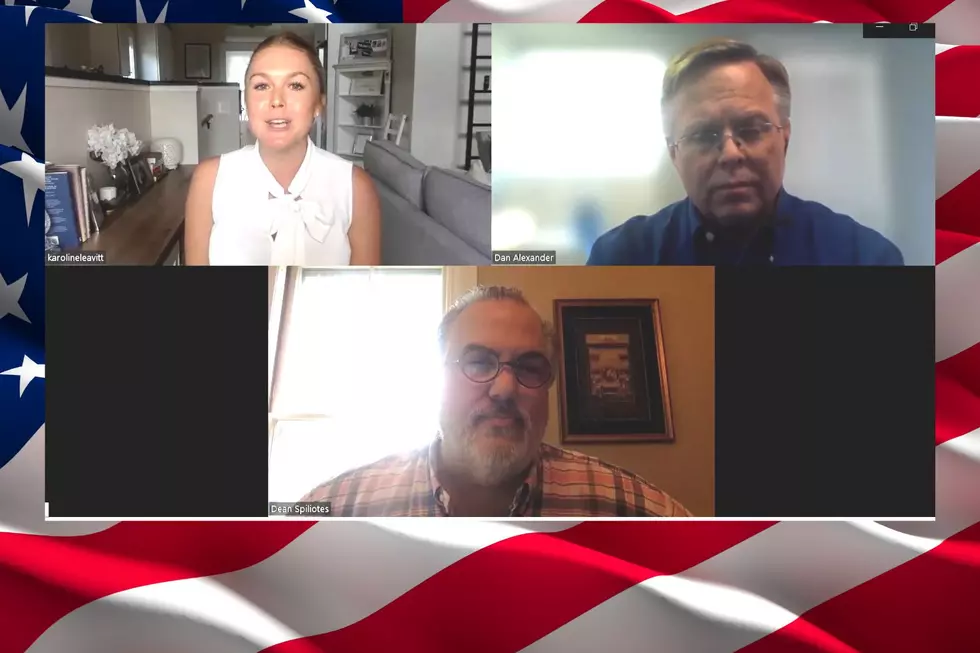 Karoline Leavitt: 'Putting America and New Hampshire First Again'
Karoline Leavitt speaks with speaks with SNHU's Dean Spiliotes and Seacoast Current's Dan Alexander (Townsquare Media)
Seacoast Current invited each of the candidates in the Republican primary for a "live to tape" unedited interview lasting 10-15 minutes with Dan Alexander and SNHU Civic Scholar and founder of NH Political Capital Dean Spiliotes. Candidate Russell Prescott's campaign did not respond to Seacoast Current's invitation.
Of the three candidates in the Republican First Congressional District primary who worked in the Trump Administration, one could make the argument that Karoline Leavitt is the proudest of her time.
The 25-year-old Atkinson native who now lives in Hampton was the assistant press secretary and communications director for New York Rep. Elise Stefanik before announcing her candidacy.
"I am proud to have worked for President Trump, certainly the greatest president in the history of my life, and I know that many voters across this district feel the same," Leavitt said. "The FBI's raid on his home has actually emboldened conservatives across New Hampshire who understand that this was just another action in the corrupt witch hunt against President Trump. The Democrats are doing everything they can to prevent him from running again."
Leavitt sees herself as the "homegrown candidate" who can beat Rep. Chris Pappas and reach out to young voters while supporting conservative New Hampshire values by putting America and New Hampshire first.
Repercussions From Electing Biden
She believes that record high inflation, surging gas prices, disrespect from America's allies, and 87,000 new IRS agents to be hired under the Inflation Reduction Act are the "radicals and scary repercussions" of the Biden Administration's reversal of policy put into place by Trump.
Leavitt said that while there are some elements of the Inflation Reduction Act that are good for people, she would have voted against the measure.
"We have to look at the overall big picture and the current state of our country right now. With 40 year record high inflation, I don't believe it's wise to steal $350 billion tax dollars in an effort to reduce inflation," Leavitt said.
Like primary rivals Tim Baxter and Gail Huff Brown, Leavitt supports a free market for healthcare as she believes it would create transparency in pricing and bring costs down with competition.
"The healthcare system is a mess. There's no doubt about it. It's the only system in the history of the world where you can shop for a service or a product or a good and not know the price of it until after you've purchased that product, service, or good," Leavitt said.
Leavitt said that a way would be found to protect those with pre-existing conditions, and it won't stand in the way of lowering prices, much as it was during the Trump administration.
"The World is Laughing at Us"
She disagrees that Biden is strengthening U.S. interest in NATO by bringing in new countries like Poland, Romania, Finland, and Sweden, and is not giving the president credit for any foreign policy success.
"Anyone who thinks Joe Biden deserves credit for alleged foreign policy successes should talk to the families of the 13 young service members who died because of his botched withdrawal from Afghanistan. They should talk to the people in Ukraine who are being slaughtered by Vladimir Putin and his thuggery in Russia," Leavitt said.
"The world is laughing at us because this president doesn't even know what day it is, never mind leading our military and leading this country into success as President Trump did," Leavitt said.
Leavitt believes the country should return to Trump's policies she described as "peace through strength" by securing the homeland, and tightening up the U.S. southern border against what she calls an "illegal invasion" by two million people crossing into the United States.
The issue of education is one that she found important to voters in her year of campaigning for the primary. Leavitt said she's attended school committee meetings where parents pushed back on "useless mask mandates" that inhibited the growth of children.
"I've sat with countless parents who have showed me some of the stuff that's infiltrating and making its way into our public school curriculum here in New Hampshire. Books that are based on race and gender and sexual orientation being taught at Exeter High School. I disagree with that entirely. I think we need to get back to the basics of our education system," Leavitt said.
Leavitt said she will support a federal ban on critical race theory and "radical gender theory diversity equity training." She will also support a parental bill of rights and the abolishment of the Department of Education.
"You saw it with Joe Biden threatening school lunch monies for our kids here in New Hampshire if our public schools don't comply with their non-traditional gender ideologies. I think that's completely wrong."
Two polls make Leavitt the solid #2 candidate behind Matt Mowers. "Undecided" leads both polls taken in mid-August. If she doesn't win the primary, Leavitt said she will support the winner.
"We need to get rid of Chris Pappas. That's the ultimate goal here. Republicans will band together around our campaign on the 13th of September and I look forward to prevailing in this race," Leavitt said.
Contact reporter Dan Alexander at Dan.Alexander@townsquaremedia.com or via Twitter @DanAlexanderNH
Trending Stories for Seacoast Current (August 15-21, 2022)
More From Seacoast Current