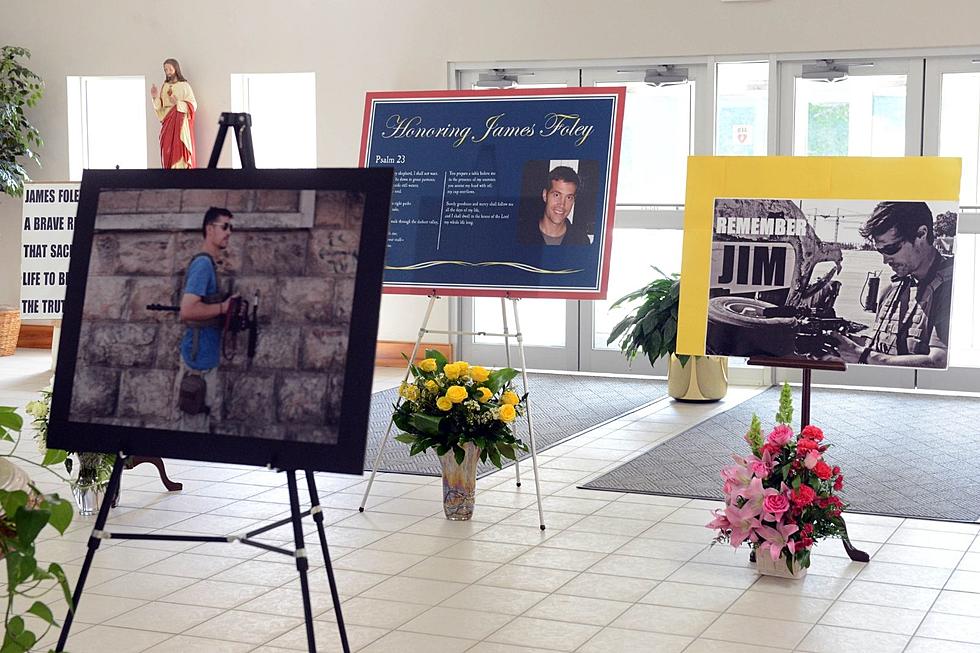 Killer of Rochester, NH Journalist James Foley Convicted
Pictures stand at Our Lady of the Rosary Church in Rochester for a special mass in remembrance of journalist James Foley in 2014 (Darren McCollester/Getty Images)
A jury in Virginia has convicted a British man who belonged to an ISIS hostage-taking group, naming him responsible for the murder of Rochester journalist James Foley back in 2014.
Foley worked as a journalist in Iraq, Afghanistan, Lybia, and Syria before he was held captive and beheaded by ISIS on Aug. 19, 2014. He was in the Raqqa region of Syria.
Foley was 40 years old when he died.
The jury found El Shafee Elsheikh guilty after deliberating for four hours, according to the New York Post. He now faces a punishment that could be life in prison.
The group's nickname came from their hostages, because of their accents.
Sen. Jeanne Shaheen, who has worked on behalf of Foley's family as well as those of his fellow hostages Peter Kassig, Steven Sotloff, and Kayla Mueller, called the verdict a significant victory.
"My thoughts are with Diane & her loved ones, who showed immeasurable strength to seek accountability for terrorists guilty of these horrific crimes," Shaheen said in a statement. "We must continue to ensure remaining ISIS criminals also face the justice system, and we must keep our eyes firmly on those held against their will around the world to secure their freedom."
"There is no court of law that could ever fully bring ISIS and their evils to justice, but may today's conviction bring a degree of solace," Sen. Maggie Hassan said in a tweet. "My heart is with James Foley's, Steven Sotloff's, and all victims' families during this difficult time."
Shaheen has fought to ensure that ISIS terrorists responsible in Foley's murder, as well as that of other U.S. citizens, are brought to trial in the United States. Shaheen has led calls for this on behalf of the family members of James Foley, Peter Kassig, Steven Sotloff, and Kayla Mueller, four Americans killed at the hands of ISIS jihadists.
According to the James W. Foley Legacy Foundation website, Foley was detained by Colonel Muammar Gadaffi's Libyan regime for 44 days in 2011.
Foley was the oldest of five children and the first-born son of Diane and John Foley. He grew up in Wolfeboro, but his parents made the city of Rochester their home for 25 years. That is the community they lived in when Foley was killed.
Previous reporting by Kimberley Haas was used in this report.
Contact reporter Dan Alexander at Dan.Alexander@townsquaremedia.com or via Twitter @DanAlexanderNH
Trending Stories for Seacoast Current (April 4-10, 2022)
More From Seacoast Current