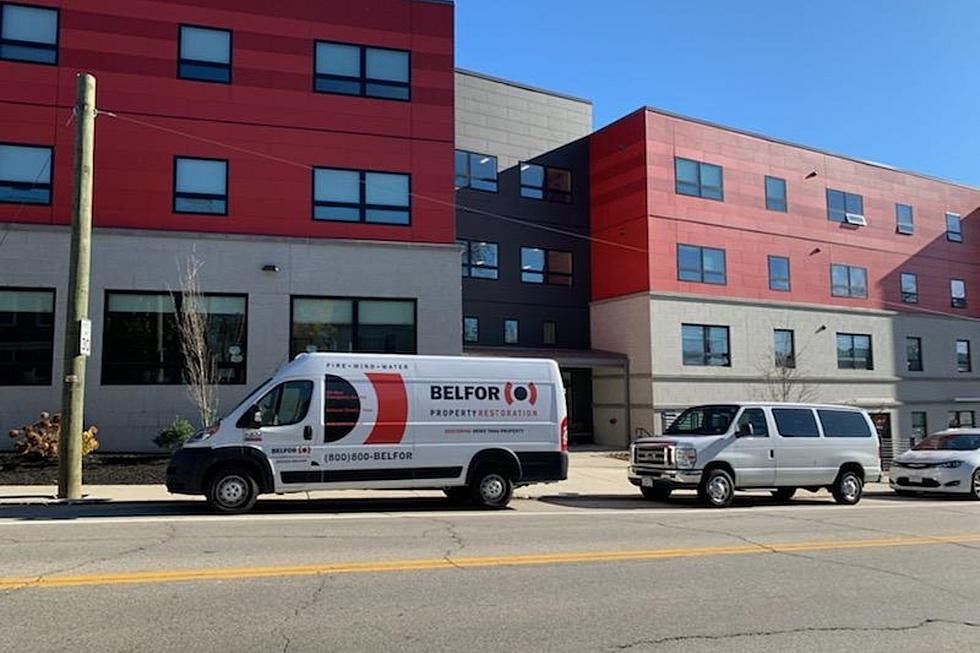 Kitchen Appliance Likely to Blame for Dover, NH Apartment Fire
Bradley Commons on Central Ave in Dover following a fire Friday 11/19/21 (Christine Sieks, Townsquare Media)
Water and smoke damage from sprinklers after a fire inside a second floor apartment temporarily displaced nearly three dozen residents at the Bradley Commons apartments in Dover Friday night.
The fire started late Friday afternoon in a second floor apartment inside the bright red building on Central Avenue, Dover Fire Department Division Chief Craig Chabot told Seacoast Current.
While firefighetrs responding from several surrounding towns were able to contain the fire to the one apartment the sprinkler system was activated throughout the building.
"There was significant smoke and water damage throughout that section of the building so the decision was made by the maintenance and facilities manager they would evacuate the building for the evening until the utilities, fire alarm and electrical systems could be secured because of the water damage and fire damage," Chabot said.
"Sprinklers Work"
35 residents were displaced for the evening, according to Chabot. Most were able to find someplace to stay while the Red Cross of Northern New England offered assistance to those who could not.
"The sprinkler system was activated and that helped keep the fire in check," Chabot said. "Sprinklers work."
The initial cause of the fire appears to be an appliance in the kitchen but the investigation is ongoing, Chabot said.
None of the residents or firefighters were injured in the fire including the cat that lives in the apartment where the fire started.
The exterior of the building does not appear to have sustained any damage. Mulch covered a sidewalk next to a fire hyrdant used during the fire fighting effort.
Durham, Portsmouth and Somersworth firefighters helped battle the fire, according to Chabot
The first floor of the building on the former site of St. Charles Church has a barbershop and the offices of Community Action Partnership of Strafford County and Headstart. Community Action is used as a heating and cooling center during extreme weather.
Contact reporter Dan Alexander at Dan.Alexander@townsquaremedia.com or via Twitter @DanAlexanderNH
Ten Shortages That Could Affect Your Holiday
Consumer experts seems to be adding new items to the list of things in high demand, but short supply every day. These are the top things on their list that could affect your holiday this year.
More From Seacoast Current