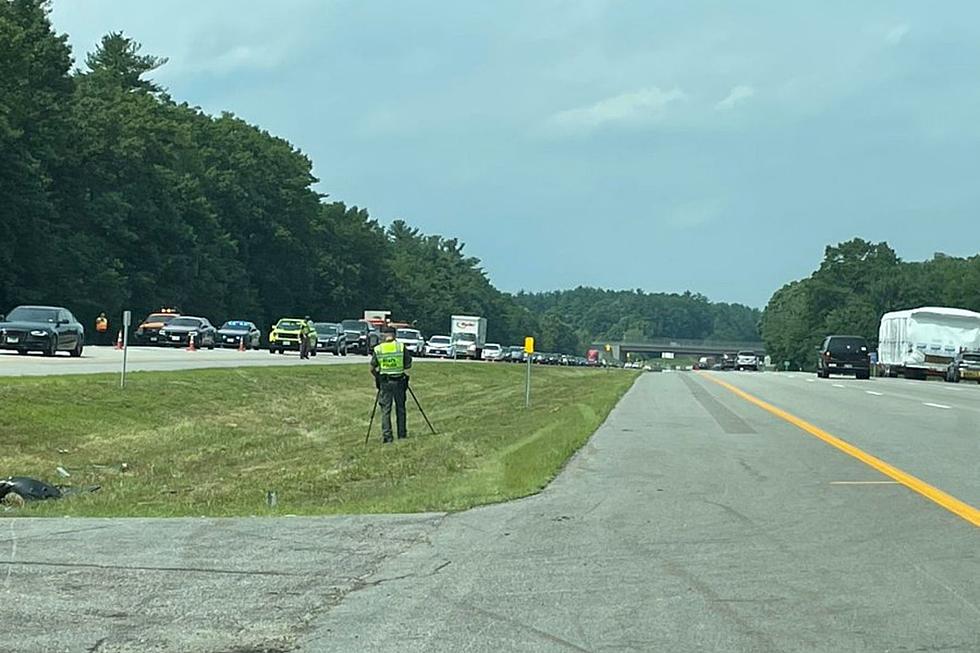 Troopers: New Jersey Man Killed in Route 95 Crash in Seabrook, NH
Delays on I-95 southbound in Seabrook (NH State Police)
A New Jersey man was killed in a crash on Interstate 95 in Seabrook Tuesday afternoon when a car allegedly drifted from the northbound lanes to the southbound side hitting a Jeep and causing it to roll over, according to state police officials.
A Subaru Outback driven by Sue Sargent, 66, of Eliot, Maine, first drifted into the northbound left lane around 12:10 p.m. and hit a Toyota Sienna driven by Shannon Geoghegan, 50, of Franklin, Mass. who had two passengers. No one in the Toyota suffered serious injuries.
Sargent continued across the center median and crashed into a Jeep Wrangler driven by Joseph Hoffman, 29, of the Colonia section of Woodbridge, New Jersey, causing it to flip over onto its roof along the highway, according to police. One of the three passengers, Michael Hoffman, 27, also of Colonia, was ejected from the Jeep. He was taken to the Seabrook Emergency Room of Portsmouth Regional Hospital where he later died.
Sargent suffered serious injuries in the crash and was charged with aggravated driving under the influence. She was released on personal recognizance and left in the care of Portsmouth Regional Hospital.
Three southbound lanes of Route 95 were closed for five hours for an investigation backing up traffic to the Route 33 exit. Route 1 picked up extra volume through Rye, Hampton and Hampton Falls.
Contact reporter Dan Alexander at Dan.Alexander@townsquaremedia.com or via Twitter @DanAlexanderNJ
Graffiti on the Dover Community Trail
Graffiti is back in Dover along the Community Trail but a committee is being created to deal with the issue and look at whether or not it's the work of artists hoping to be noticed.
More From Seacoast Current